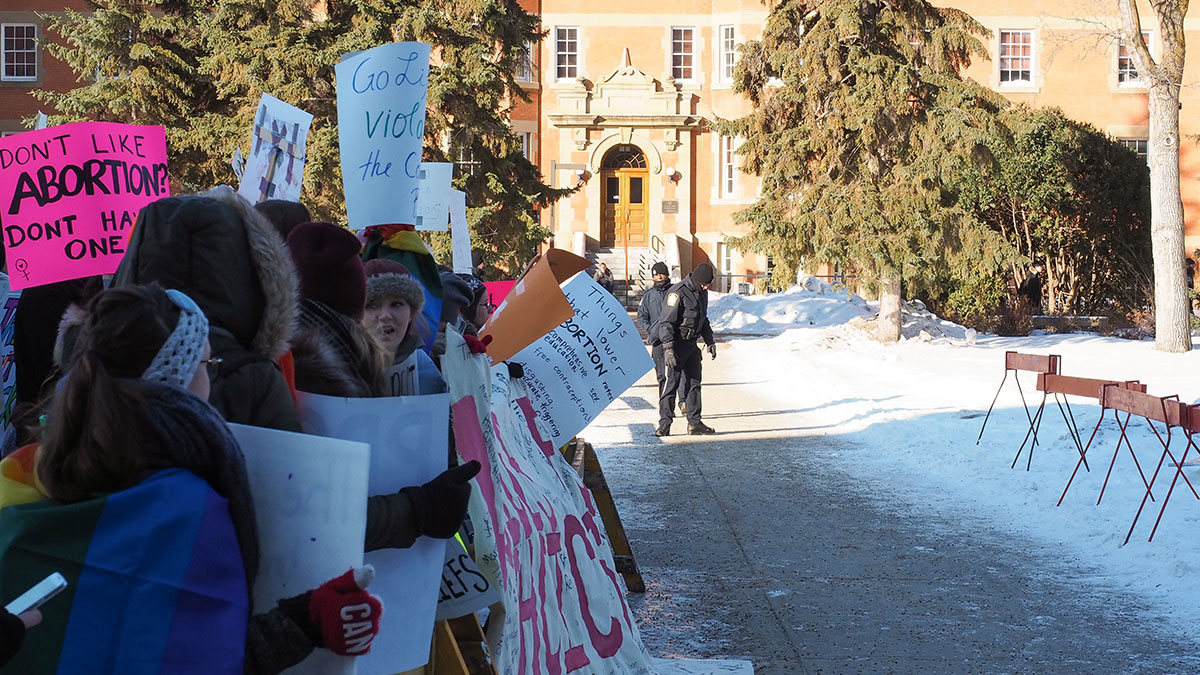 This spring our club, UAlberta Pro-Life, set up a display in quad. The display, approved by the U of A in advance, featured pictures of what abortion does to a pre-born child. Needless to say, the pictures were unpleasant to look at. Naturally, the display garnered significant controversy on campus from those who support abortion.
Unfortunately, rather than engaging us in arguments, rather than attempting to show either that one or more of our premises were wrong or that our premises do not guarantee our conclusion, protestors decided to block our display to prevent others from seeing the evidence that we were putting forward. University of Alberta Protective Services (UAPS) did not stop them. As section 30.3.4(1)b of the U of A Student Code of Behavior states "no Student shall, by action, words, written material, or by any means whatsoever, obstruct University Activities or University-related Functions." It is clear that the mob was in direct violation of university policy.
Following this, rather than investigate those who flaunted the law on campus, or in fact take any steps whatsoever to prevent a crazed mob from shutting down university-approved events in the future, the university decided to impose security costs on our group. Let that sink in for a second. The security costs fall not on the group that broke the law and shut down the debate on campus by force, but on the group which was peacefully trying express their unpopular opinion. Furthermore, based on UAPS' track record of protecting our speech, there seems to be no guarantee that even if we paid for security that we would get any. After all, they stood aside and did nothing when the lawless mob last struck. We have now taken the U of A to court, in the hopes that a judge will require the U of A to live up to its constitutional and contractual obligations.
Some people doubtless don't like the tactics of my group. That's fair. The photos are gruesome and disturbing (perhaps because abortion itself is gruesome and disturbing), but these images are nonetheless factually accurate representations of what abortion does to a pre-born child. These pictures are valid pieces of evidence in the debate considering that the abortion debate centers around two questions, "Are the pre-born human?" and "What does abortion do to the pre-born?" The images perform a role very similar to that of crime scene photos in a courtroom.
So while the pictures are gory and disturbing, they are important pieces of evidence. Blocking the pictures is nothing less than preventing people on campus from accessing relevant information on an important social debate. Even if you think the pictures do not establish what we at UAlberta Pro-Life believe they establish, it is still essential to a fair debate that both sides of the debate be given the power to decide what is the best way to make their argument. In other words, even if you think we are making a mistake in debate, it is still our mistake to make.
We believe we have a right to the same freedom of expression on campus as every other group. We also believe that the university is a place of higher learning, where rival viewpoints are expected to have the freedom to peacefully make their case. Until the University of Alberta changes its behaviour towards pro-life students, it cannot claim to be such a place. That's why we are going to court.