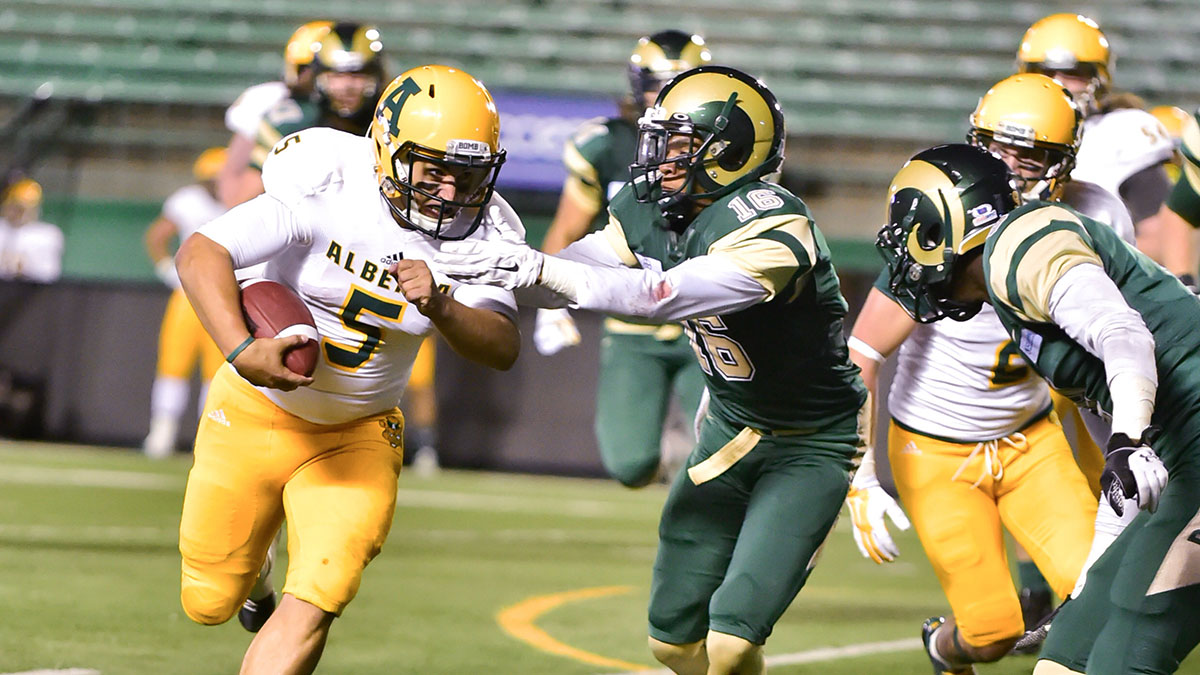 Season openers haven't been kind to the Golden Bears football team in recent years.
Even the opener that they won via forfeit last year against the Calgary Dinos was actually a 71-3 drubbing on the field, and before that, the Bears hadn't won a season opener since 2010.
This all changed Friday night, as the Bears beat the Regina Rams 29-22 to open the 2015 season.
The Bears offence got off to a slow start, managing only seven points in the first half, and trailed by nine as they stepped on the field for the third quarter.
Rookie quarterback Ben Copczynski, who was making his first career CIS start, was shaky to start the game. He attributed his slow start to his nerves.
"I think I started out a bit slow, with a little bit of nerves, but towards the second half we all played well together, and it turned out to be a big win," Kopczynski said.
That third quarter is when the Bears came alive however, outscoring the Rams 14-0, to take a 21-16 leading into the fourth quarter. 
Regina responded with a score of their own to lead 22-21, and were threatening again, but Bears linebacker Brandon Foster snagged a key interception off Rams pivot and Noah Picton. The pick set up the Bears game winning drive, as Kopczynski eventually found receiver Tylor Henry in the end zone for the game winning score.
Head coach Chris Morris said he was excited to start the season off on a winning note.
"It was our first road win as a staff since I'd been here, so it was a good time to get it at the beginning of this season," Morris said."We're all happy we played well and that we were able to fight back and pull that one out."
Overall, Kopczynski had a strong game in his CIS debut, completing 22 of 36 passes for 277 yards, to go along with a touchdown pass.
Morris was pleased with how his new playmaker performed.
"He did a great job," Morris said. "He was very composed, he's just going to keep getting better and better, and we're all very proud of him, he worked incredibly hard to earn the starting job, and we're proud of how he responded."
The Bears were also able to contribute on the ground, as third year running back Ed Ilnicki finished the game with 91 rushing yards to go along with a pair of touchdowns, the second of which put the Bears ahead in the fourth quarter.
Morris was also pleased with how Ilnicki played.
"He's a character guy, and a count on me guy, so absolutely he's a calming influence, and he was a calming influence in his first year as well," Morris said. "I think we have some real good character on this team, and Ed's an example of that, and there's a bunch of other guys on offence that are just like him."
Having a veteran presence at running back is also helpful for a rookie quarterback, something that Kopczynski observed.
"Ed's great… we have really good running backs so that helps us also," Kopczynski said.
The Bears defence was also on its game Friday night, creating three turnovers during the game, highlighted by defensive back Reid Knox's two interceptions. The Bears were also able to make a defensive stand with Regina knocking on the door at the end of the game, as defensive back Tak Landry batted down Picton's last two passes to preserve the win. The defensive showing was an encouraging one, as the Bears allowed 363 points last year, which was the most in Canada West by a healthy margin.
Kopczynski also noted that defensive plays give a boost to the offence when they're on the sidelines.
"Our defence has really come together this year," Kopczynski said "They had a great game, so that really helps us as an offence."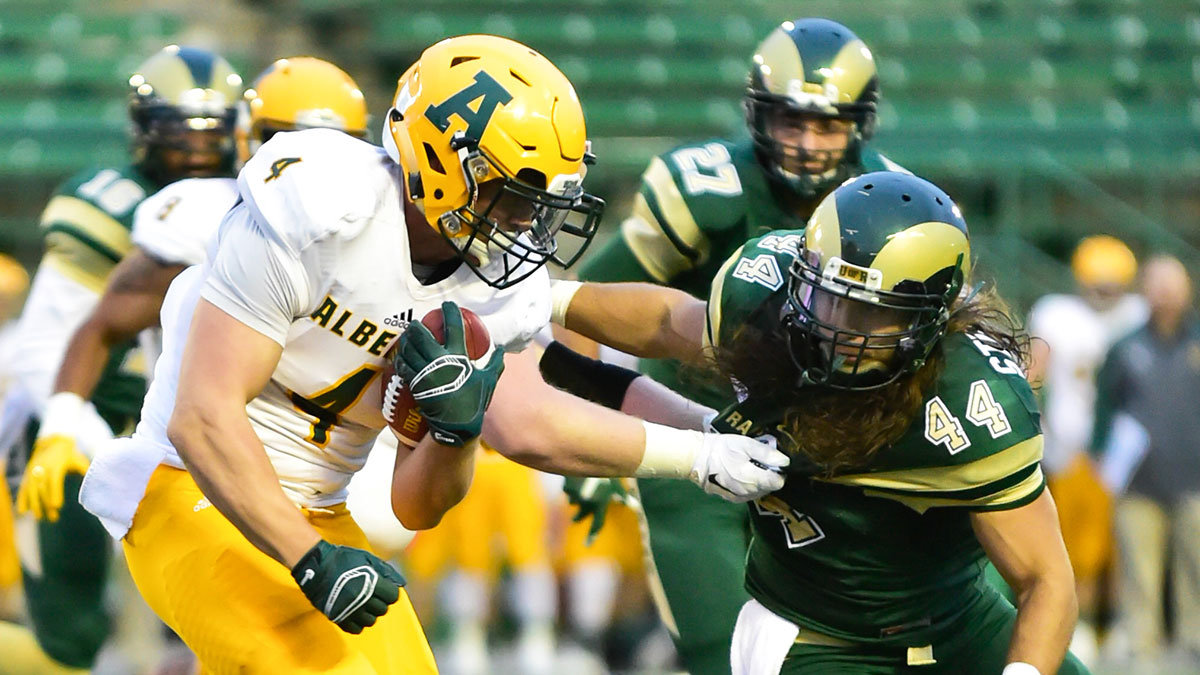 Morris spoke about how the solid play of his defence was an encouraging sign moving forward.
"(Our defence was) a big question mark last year," Morris said. "Them having three turnovers, they won the game, we won the game on defence, so that was a wonderful thing to see."
Despite the season opening win, Morris said that the Bears have room to improve.
"I thought we were okay," he said. "I think we can still be better, and to me, that's sort of the game in a nutshell: we were ok, but we could be a lot better.
"I think as a team this year we need to grow, because we're young, I think we should expect, and I think we should demand of each other that we get better every game, because that's what young teams do if they want to be competitive at the end of the season."
The Bears will look to keep the momentum rolling in their home opener on September 11 against the Saskatchewan Huskies, who tied with Calgary atop the CIS standings last year. The Huskies will be looking for their first win of the season, as they dropped their home opener against Manitoba by a score of 34-28.