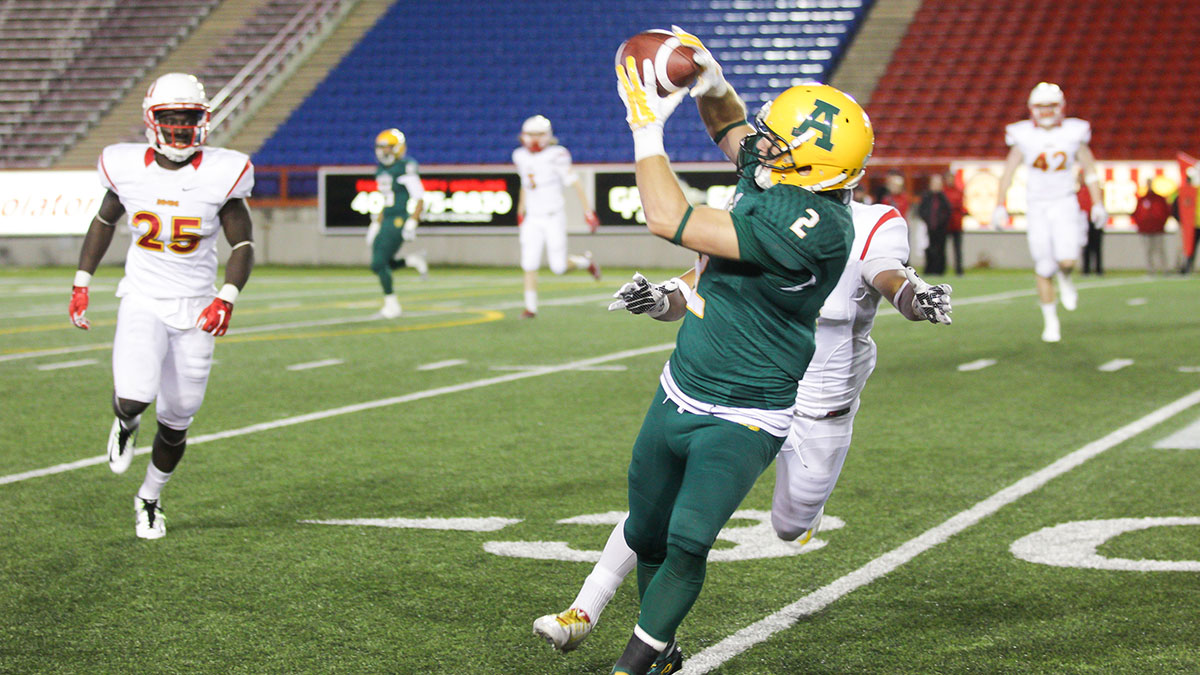 The Golden Bears football team had a flair for the dramatic over the first two weeks of the season, orchestrating comeback wins in back-to-back games.
There was nothing dramatic about their game against Calgary though, as the Dinos took them to the woodshed in an 80-18 defeat on Thursday night.
Head coach Chris Morris spoke about how the Bears just didn't measure up to the dominant Dinos.
"We talked all week about how in order to beat this team, we were going to have to be very good as far as assignments go, and we were going to have to match them emotionally," Morris said. "We didn't do any of that – we didn't match them emotionally, we didn't execute effectively, we made a lot of mistakes, (and) those things come back to me, that's my job to make sure the kids are prepared and that they have a plan that they believe in."
The Dinos started the onslaught early, amassing a 21-0 lead after the first quarter, and managed to score on their first five possessions, building a 42-0 lead before Alberta was able to find the scoresheet.
Quarterback Ben Kopczynski was eventually able to get the Bears on the board, cashing in on a one-yard touchdown run late in the second quarter. By that point, the game was well beyond saving.
The Dinos set at CIS scoring record with 80 points in a game, and also amassed 973 yards of total offence on a young Bears defense that had been able to bend without breaking over the first two games. It's safe to say they were broken by Calgary on this day.
"Their offence was the part that really hurt us," Morris added. "You can't compete with someone when they score touchdowns on you on seven straight possessions."
The Bears attack was far from the worst part of their game, tallying a respectable 412 yards of total offence, including 180 rushing yards, which is the most the Dinos have surrendered in a single game all season.
"We did move the ball fairly well through the course of the game," Morris said, speaking about his offence. "I don't think our offence was incredibly behind the Calgary defence, whereas our defence… when somebody gets close to 1000 yards on you, there's going to be a lot of soul searching."
Kopczynski completed 15 of 32 passes for 231 yards, to go along with one touchdown and two interceptions, while also rushing 39 yards on 11 attempts. Running back Ed Ilnicki also contributed 89 rushing yards on 16 attempts.
On Calgary's side of the ball, tail back Mercer Timmis only had three carries before leaving the game as a precautionary measure, but still managed to rush for 100 yards and two touchdowns, including a 54 yard run that put the Dinos up 14-0. Backup running back Jershun Antwi more than picked up the slack for Timmis, adding two touchdowns of his own, and rushing for 147 yards on 12 carries.
It was also a record setting day for Dinos kicker Johnny Mark, who became the CIS' all time leading points scorer with a convert in the first quarter. Mark would ultimately finish the game with 20 points, making his new record total 442, with five games still remaining in the regular season.
Ultimately, the Bears really can't salvage many positives from a 62-point loss, and Morris maintained that the best course of action would be to forget about the game and focus on Manitoba, who are a very good team in their own right.
"We have to be aware that they've seen us now, and they know what we do," Morris said. "We had some success against them last year, and we have to make sure that we have counters in place in case they do come up with a plan for the things we've been successful with in the past."
The Bisons themselves are coming off a hotly contested 51-48 loss to the UBC Thunderbirds, and sit at 1-2 overall in Canada West. While they have an explosive offense, one that is scoring over 40 points a game, their defense is allowing over 40 points a game as well, which should play well into the Bears hands.
Calgary meanwhile, will go on the road to take on the winless Regina Rams, who are quickly falling out of the hotly contested Canada West playoff picture, on Saturday, Sept. 26. The Bears will play the Bisons at home on Friday, Sept. 25.