Features
Comic book creators being recognized as artists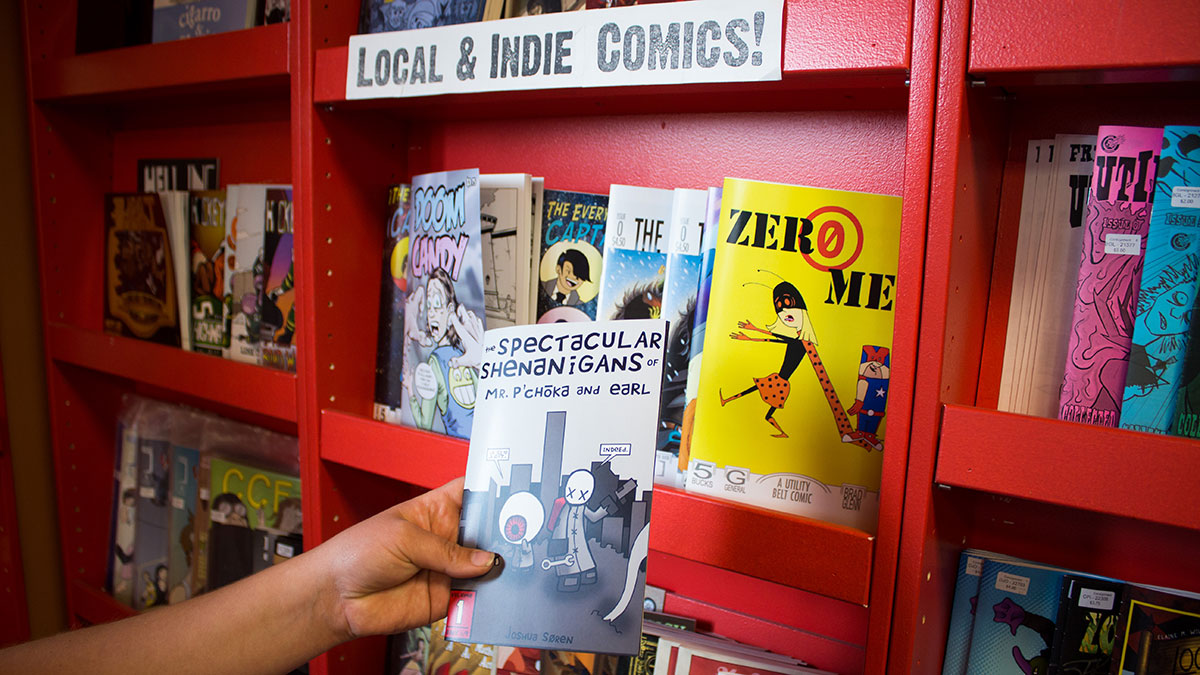 When we first meet Earl, he's freefalling from a window of a mysterious, evil-looking floating base with "SMRZ Industries" spread across the side. He then proceeds to have a phone call with his partner, Mr. P'choka, mid-fall. After crash landing, the two have a one-sided conversation with their boss over the phone.
This is the scene that begins The Spectacular Shenanigans of Mr. P'choka and Earl, a cute comic book that was written and illustrated by local Edmonton artist, Joshua Soren.
The Spectacular Shenanigans of Mr. P'choka and Earl details the namesake characters fighting in a resistance against the evil SMRZ Industry that has overtaken the world. While being grey and dystopian in tone, the animation is cute and lighthearted. The scrappy freedom fighters try to retake their home. While the themes are a little heavy, Soren tries to keep the story fun.
"I wanted this to be something that anyone can read," he says. "There's violence but it's fun violence. People get shot but no one gets murdered.
"It's not a graphic story."
Part of the impressive thing about his book is that Soren self-published it in his spare time. Coming home after an eight-hour day at work to spend another four working on his comic, it took him a year to get the first nine-issue volume of his story finished.
From font-creation, to writing, drawing and inking all the pages, Soren did everything completely on his own. Once his cute brain-child was complete, he decided to self-publish the book, giving him a tangible reward to his labours. His book is now in six stores across Alberta, and has begun the slow hunt for a publisher to produce and distribute his book for him.
"I got my first couple of rejection letters," Soren reveals. "That feels like progress at least, it's better than not hearing back at all."
This struggle to find a publisher is not unique to Soren. At year end in 2014, DC and Marvel had approximately 60 per cent of the market share in the comic book industry. With a few larger independent publishers like Image Comics, IDW and Dark Horse Comics taking up most of the remaining share, there aren't many options to break into the industry, especially considering most comic books being produced today are existing franchises like Batman (DC), The X-Men (Marvel), and Teenage Mutant Ninja Turtles (IDW). There are some publishers that produce "creator-owned" (original) content, but it takes up a small portion of the comic market. With so few publishers wanting original characters, it becomes harder for smaller creators, like Soren, to break into the industry.
Enter Happy Harbor Comics. Located on 104 Avenue right across the street from Grant MacEwan University, it's a huge, bright, impressively laid out comic book store. Full to the brim with comic books, graphic novels, board games and collectibles, it's a haven for all things nerdy.
In one corner of the store, you will find two bookshelves packed with comic books of differing production value. Some look like they have been printed at Staples, while others have been bound and look like they should be tucked in with Happy Harbour's large graphic novel selection. If you look closely, you'll find Soren's first issue of The Spectacular Shenanigans of Mr. P'choka and Earl. This is the local creators section of the store, something that Happy Harbor owner Jay Bardyla has maintained as a staple in house since starting the store in 2005.
"[When we opened] people with existing stuff reached out to us," Bardyla says. "It was without hesitation we put stuff on the shelves and worked out a system for them."
Happy Harbor has a consignment program in place for local comic book artists who, like Soren, push through self-publishing a comic to get a finished product. The store will display and sell the locally-made comic books, and give the creators 80 per cent of the profits from their work. Compared to the industry average of 50 per cent, the program is financially beneficial for the creators.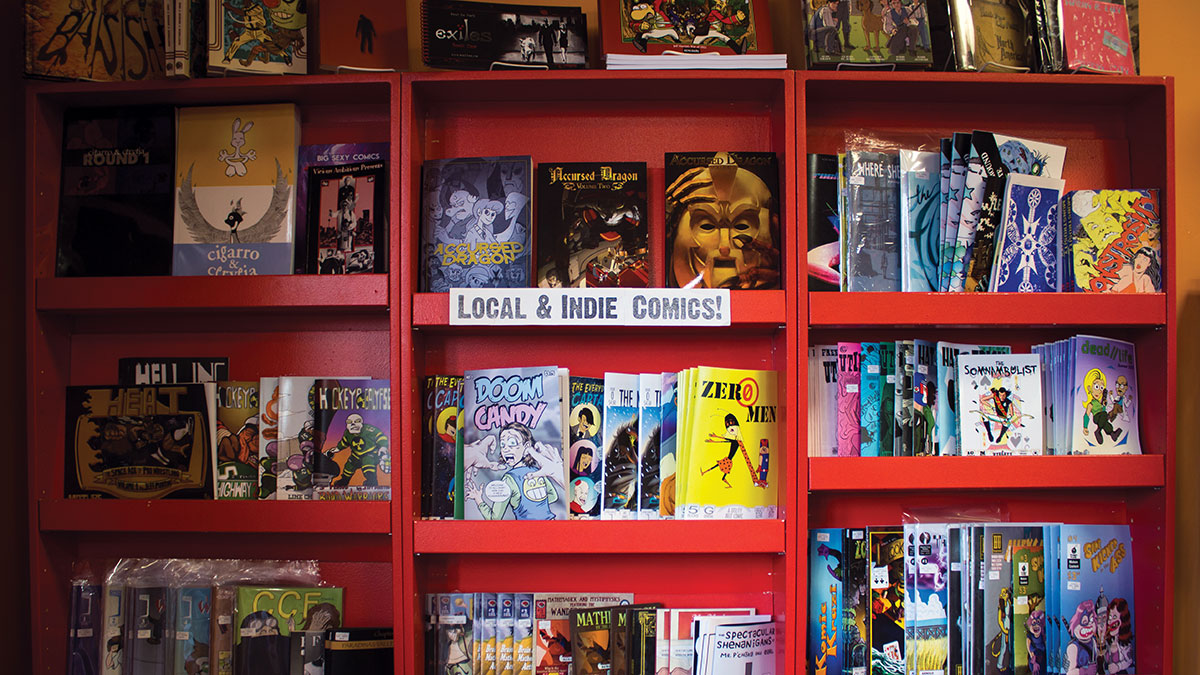 From 2005-2010, the shop saw a boom in local creators bringing in content for them to sell. But the trend has stabilized, and they now see one or two new books per month. For people like Soren, it's mostly used as a way to show off the fruits of their labour.
"I wanted to make the physical copy because it feels more real that way," Soren explains.  "But it's a little exhausting. I haven't sold all the issues I've given away. It's a little frustrating because I was hoping that things would have gone a bit better by the time the second issue came out. But I'm just gonna keep going with it."
While their local showcase is not a place for local artists to get discovered by big publishers, it does help to motivate the creators to strive towards a whole, finished piece. It is easier to pitch a finished product than one in progress, Bardyla says.
The program helps artists trying to carve a name for themselves as Edmonton-based comic book artists. But Bardyla notes that just giving them a place to sell their art is not the only way they can provide assistance.
"We realized giving themselves a place to sell books is one thing, but giving them motivation and resources is another," he says.
This need for resources is what inspired their Artist-in-Residence program, where they hire an artist to sit in-house creating, and being paid to work on their own projects and talk to customers in the store about their process. The compensation is an important part of the program, since most of the artists would not be able to financially support themselves while creating full time.
As well as the Artist-in-Residence program, there is also a collective that meets bimonthly in the store, called "Open Door Comics." The collective works together, critiquing each other's work, hosting workshops and interacting with more creators to further their art.
"There are those events and programs that are more useful to keep people going," Bardyla says. "Selling five copies can be more damaging than helpful."
Every year Edmonton becomes a bigger and better arts centre in Canada. But local comic creators are still having trouble being recognized for the artists they are by the local community.
"In Edmonton, we have a lot of comic book stores," Bardyla explains. "But the art community is resistant to comics. This year was the first year in the history of the Art Walk that they had comic book creators. They didn't consider it to be original work because it's commercialized or mass produced and no, art is art."
Bardyla explains that a former Happy Harbor Artist-in-Resident Daniel Hackborn was the reason that the Art Walk finally included local comic book artists. This year, there was an artist's alley that featured six creators, encouraging them to get to know each other and interact with more like-minded people in the community.
Comics' inclusion in the Art Walk is definitely a step in the right direction, but Bardyla is still frustrated at how long it has taken for the medium to be recognized.
"I've butted heads with art and gallery people before," Bardyla says. "At one time we were billing ourselves as the biggest art gallery in downtown. Because we have ten times the art as they do. They didn't like that."
Recently, an artist collective in the city reached out to Happy Harbor to suggest a collaboration between the two.
"We've only been here since 2005," Bardyla says, regarding the gesture. "But they had an intern who likes comics and suggested a cross promotion. We've been in the downtown core for a decade and that is the first time we've ever had a connection."
It's long-overdue, but the slow acceptance of comic book creators into the Edmonton arts community bodes well for artists like Soren, who would find it easier to make a living off something they love doing.
"It would be really nice to put eight hours a day into something I'm really passionate about."