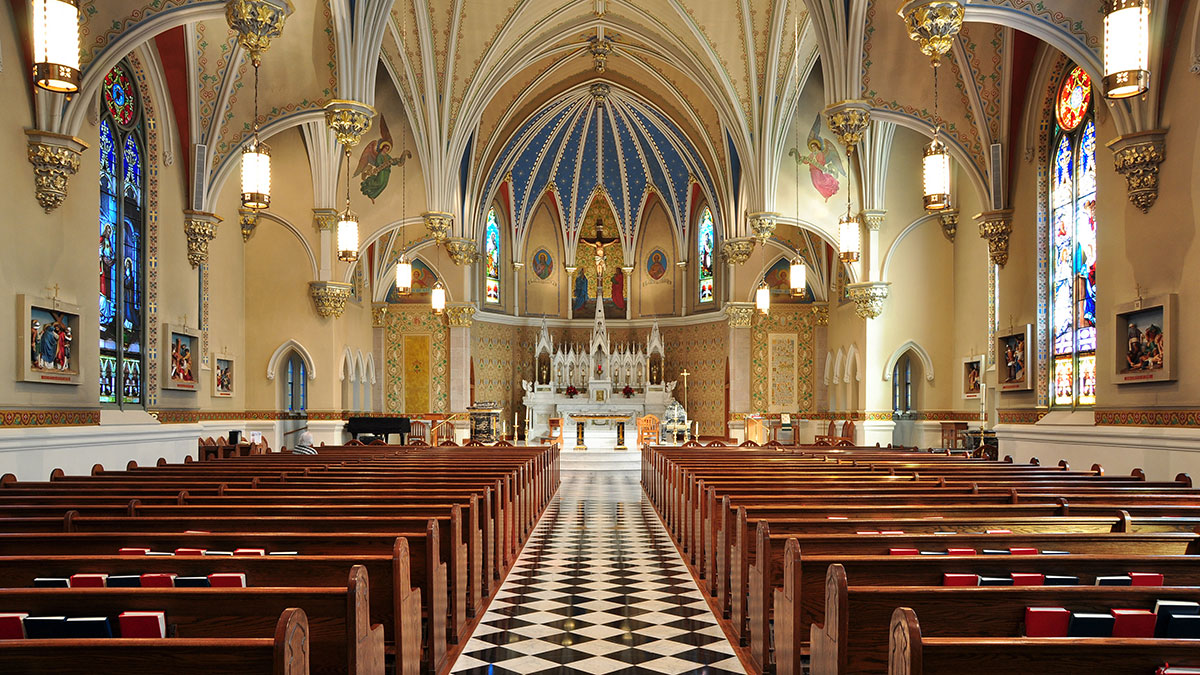 A bored congregation shifted and shuffled in the pews, apparently uninterested in a sermon this past Easter Sunday about Christ's resurrection. Easter Sunday is one of the busiest days of the year at the suburban Roman Catholic church my parents attend.
I'm an atheist and I've long ago stopped pretending otherwise. But after studying different forms of Christianity, I have new insight into the suburban Roman Catholic Church — given increasing secularization and the church's lack of socio-cultural appeal, I don't see how this particular church will continue for very long.
After decisions made by the Second Vatican Council (known as Vatican II) in the mid-'60s, Catholic mass could be conducted in vernacular rather than Latin, the priest could face the congregation instead of the altar against the wall and music became poppy and piano-based rather than chant-based. The spirit of Vatican II also changed the church's visual means of legitimacy, as new churches were built according to modern architectural principles, losing their ornamentation in favor of whitewashed walls.
The Ukrainian Catholic Church, conversely, maintains traditional architecture and chant-based music. A barrier adorned with icons called an iconostasis clearly separates the congregation from the sacred sanctuary. The entire interior of St. George's Ukrainian Catholic Parish on 95 Street and 113 Avenue is painted with icons and symbols to a powerful aesthetic effect. In short, the space instills reverence.
A number of Protestant denominations also appeal to emotions and have political leanings. Southern Baptist services are energetic, impassioned and invite audience participation. In congregations made predominantly of minorities, affective songs and sermons project the voices of the oppressed.
Some churches can also inspire political uprising: Martin Luther King Jr., a Baptist preacher, sermonized about desegregation and in 1955 launched a bus boycott from the Dexter Avenue Baptist Church basement in Montgomery, Alabama. In the Massachusetts woods in the 1833, Native American Methodist minister William Apess fought for the rights of the Mashpee reservation with support from church-goers and helped earn the community a level of self-determination during the presidency of the racist Andrew Jackson.
The rural Roman Catholic church, meanwhile, is fundamentally communitarian. The families of the church builders often continue to attend and everyone knows where each other sits. There is a certain pride in maintaining one's own small church and church-goers are expected to contribute by reading, playing music or altar-serving. After mass, the social aspect of rural or small-town churches is similar to a local bar, although less rowdy.
The suburban Roman Catholic church lacks most, if not all, of these characteristics. The tradition to which they adhere isn't old and doesn't express a strong sense of sacredness or authority. Too often, complacent priests offer simple, inconsequential, unchallenging sermons. Demographically, most attendees of the suburban church are well-off white people who fit into their dominant culture's ideology, the very people against whom many minority groups resist. And while the suburban church is run by a strong core of individuals, there is little community pressure to contribute and participate in the church. The suburban Roman Catholic church is easy to join and attend, but the mass has such weak socio-cultural appeal that it is equally easy to reject.
The main attraction of church is personal faith, and I'm not one to judge personal faith. But those of strong Catholic persuasions will attend regardless of how mass is conducted. Church will also always be a sanctuary for those in times of struggle or need, but for those without social/economic/political struggle or for those skeptical about the faith, there's very little in the week-to-week plod through Ordinary Time to make them attend regularly.
The suburban Roman Catholic church fulfills the spiritual needs of some, but I can't see how those who grew up with this insipid blend of Catholic worship will bother continuing the tradition.