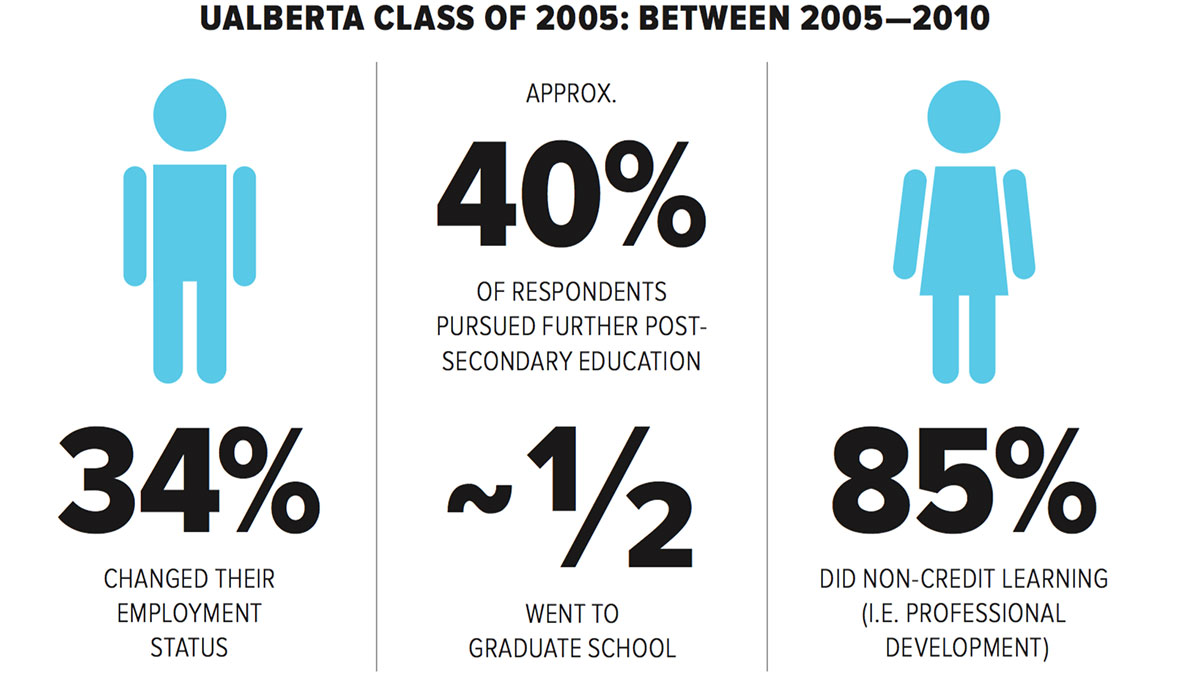 Navigating post-secondary when an uncertain job market lies ahead
When Ruslan Bergenov was 15 years old, his high school English teacher told him he was a promising kid with a bright future.
10 years later, Bergenov woke up and took a long, hard look at his life. He'd spent his entire adult life so far studying education, but hadn't embarked on a career of his own yet. At 25 years old, he still saw himself as just what his English teacher had called him: a promising student, but nothing more. It was at this moment that Bergenov's slow loss of his professional identity truly began.
"Between the ages of 18 and 25, I had always identified myself as a teacher," Bergenov says. "Then I sort of lost this identity and it's hard, especially if you're not from here, if you're an international student."

Bergenov, a native of Yekaterinburg, Russia, experienced this early identity crisis before he had even finished his education. In Russia, he studied to be a teacher from 2004 to 2009, and came to the University of Alberta in 2012 to complete its two-year advanced linguistics Master's program. The plan was to obtain his masters and PhD on his way to eventually working as a professor.
"This is when my quarter-life crisis started," Bergenov says. "This is when I lost my professional identity."
Education had been Bergenov's passion for years. He travelled away from home in 2011 to teach Russian in the United States before continuing his studies in Canada. But the difficult job market teachers face in the current economy and the U of A's own financial struggles discouraged Bergenov from continuing this pursuit.
In 2012, when he started his Master's program, he saw the U of A going through budget cuts, and began noticing that the labour market in academia was only going to get worse.
"So I thought 'I need to change my occupation.' Not just get a job, but change my occupation. I need to change my professional identity, because I lost that previous identity," he says.
Bergenov researched a variety of different career paths and settled on marketing his new pursuit. But though he's found that he loves working with numbers, his new career path is a far cry from what he originally expected for himself and what he originally thought he wanted when he was younger. Now, he works as a digital asset management intern in the U of A's Office of Advancement, conducting research to find potential donors among the university's alumni — far from any classroom work.
Bergenov says it's common for students to feel stress, anxiety and even depression — not just about academic demands and expectations, but stress when faced with the question of what to do next once the safety net of returning to university every September is gone.
"You feel anxious when you just do your degree and you know there's no jobs in your degree," Bergenov says. "Most graduate students who do masters or PhDs in humanities, they're very anxious because they're just afraid you graduate and you become unemployed, or you'll end up doing a job in some mall, some job you don't need to have a degree for."
—
Overall, the current unemployment rate in Canada is slowly going down. In January 2015, it dropped to 6.6 per cent, with Alberta specifically experiencing a small upswing in employment. Finding work, though, doing exactly what a student had always envisioned and dreamed for themselves is still a challenge. But no university student needs to see any statistic to understand how difficult job prospects can be.
The service on campus that helps guide students through these problems most often is CAPS, the U of A's career centre. The service helps students prepare for their first job interviews, put together a resume, find job shadowing opportunities and career mentors, and even critique students' LinkedIn pages.
CAPS Career Education Manager Blessie Mathew says stereotypes persist that it's difficult to find a career after pursuing different degrees, like Philosphy or English, that don't have a clear application in today's job market. But Matthew says the job market is more inaccessible for a variety of students than that stereotype
indicates.
"We're kind of in a spot in the economy now where there's not one professionthat's really, really suffering," Mathew says. "If you take nursing for instance, that's one that's not-so-easy at times to find work. Those students are really left trying to find alternative ways to apply their degree … For education students in particular, we have a whole suite of resources for other ways to apply that degree, and it's the same thing for nursing."
CAPS helped Bergenov find a new career path after he stopped pursuing education by setting him up with job shadowing and career mentoring services.
Mathew says they often see students come into their office with similar career crises to what Bergenov experienced. The effects of these crises can go deeper than just stress or anxiety about the future. Even though CAPS isn't equipped for personal counselling services, Mathew says the service often sees the students showing signs of depression.
"The stress of school, the anxiety of a transition and the rejection you can sometimes face in your work search can really snowball into terrible things sometimes for students," Matthew says.
—
While it's naturally seen as a time for celebration, volunteers at the Peer Support Centre, an emotional support service on campus, are well aware that graduation also presents a loss to students moving on from their studies and from the routine they've grown accustomed to.
"That can be really overwhelming and (students) can grieve that loss, and a lot of people really don't associate a loss and grieving with graduating," says Peer Support Centre Program Manager, Katie Allan.
Individual ideas of success may differ, but the trials and tribulations of entering into the job market is troubling to every student, regardless of what they graduate with. In Matthew's experience at CAPS, she says she's seen periods of time where even fields thought to be as lucrative as engineering go through hard times for students and young aspiring workers.
The best students can do for themselves, she says, is make themselves fully aware of every way their degree can be applied to work in the job market, even outside of their traditional expectations. She also suggests finding as many opportunities as they can to gain experience working outside of the usual hours they spend on schoolwork.
"The more prepared student will have gotten involved in multiple activities during university that allows them to combine and leverage their skills in unique ways. If they can recognize that and communicate that to employers, that automatically opens up options that aren't available to their fellow student," she says.
This was exactly the situation Bergenov found himself in nearly three years ago. But, he was lucky to not only find another career path to follow, but to find a new passion, a new line of work that he truly enjoys.
From Bergenov's perspective, though, this just means that there's more prospective U of A students should keep in mind the reality of their career prospects when they're applying for school and prepare themselves for future setbacks.
"The best way to find something that you like is to do it. And when you start doing it, you're going to fail, maybe a few times," Bergenov says. "Find something that you really like, but at the same time, make sure that it's in demand on the job market."
It's simple advice, but there's not much more a student can tell themselves when deciding what path they want to take their education and their future career.
There's no secret to solving this mystery. Even when you think you have your future all figured out, like Bergenov had hoped, any student — regardless of faculty or year of study — could still find themselves in a new career miles away from what they'd ever expected for themselves.