News
U of A alumnus remembered for life-long service to Canada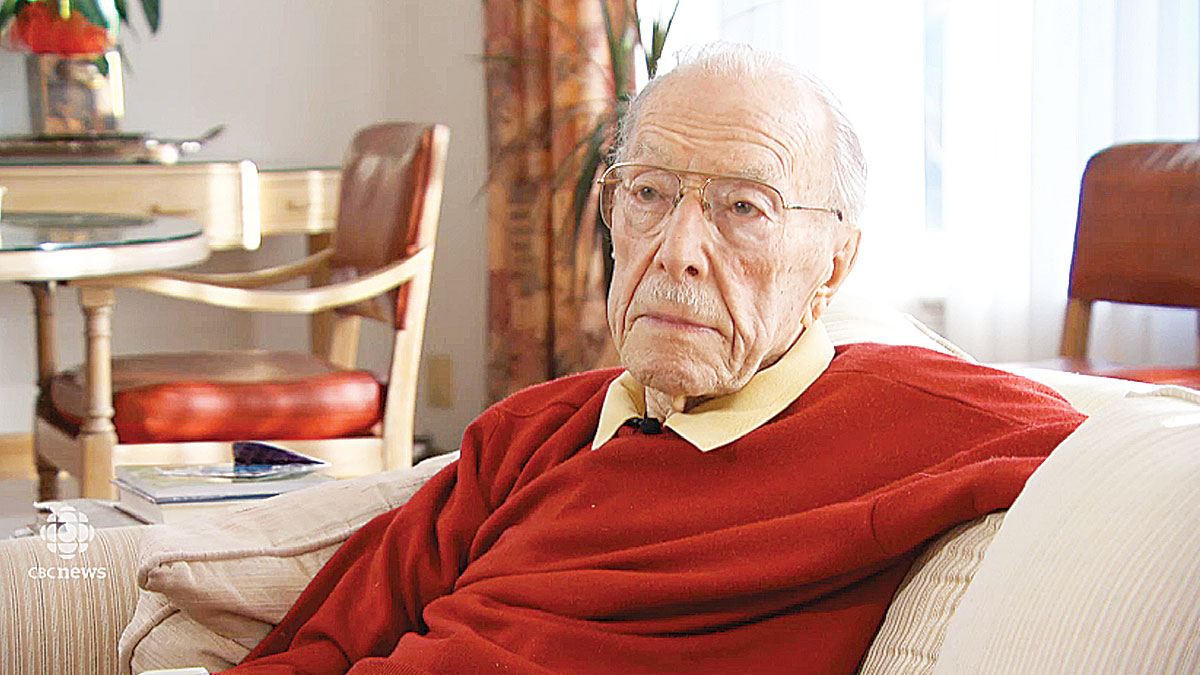 A University of Alberta alumnus and Second World War veteran recently died at the age of 101, leaving a legacy of unwavering dedication to his country.
Born in Edmonton on June 12, 1913, Ernest Côté graduated from the U of A's LLB law program in 1938 before going on to become a celebrated veteran who helped plan the invasion of Normandy with the 3rd Canadian Division, landing on Juno Beach on June 6, 1944.
He participated in initial meetings for the United Nations General Assembly in London, Paris and New York and contributed in drafting the charter of the World Health Organization.
He was awarded the Most Excellent Order of the British Empire by King George VI, a memento Côté's friend of 20 years Serge Durflinger said hung on the wall in the hallway of his home.
"It was really quite revealing to see him and his modesty," Durflinger, a historian at the University of Ottawa, said.
"He is a piece of Canadiana and his life intersected so many critical moments and junctures in our national history."
Côté's career after the war spanned into public service and education. He was deputy solicitor-general during the FLQ crisis in 1970, and reportedly knew each Prime Minister since Mackenzie King.
A Franco-Albertan, Côté established the Jean-Léon Côté Scholarship in memory of his father, a Canadian senator. The U of A recognized him for his contributions to Campus Saint-Jean in 2011.
Côté was a regularly featured speaker at Remembrance Day ceremonies, Durflinger said, adding he enjoyed speaking about his experiences at the Canadian War Museum in Ottawa, where he lived.
"His service in Normandy gets the highlight, but his service to Canada continued for decades after that," Durflinger said. "He became a success at everything he did."
Durflinger said Côté would never acknowledge the "astounding" responsibility he had for the success of the Canadians after landing in France, instead always remaining humble about his major role in one of Canadian history's biggest moments.
On more than one occasion, Côté returned to the beaches of Normandy, including last year, for the 70th anniversary of the D-Day landings.
He was somewhat of a local celebrity there, Durflinger said, and he would always make time to speak with students about his experiences during the war.
"What a thrill it was for these young people to be at Juno Beach, at hallowed ground in our history, and be in the company of Ernest Côté, who was able to recreate the scene in his mind's eye," he said. "It was a moment of immense importance to them."
Côté made headlines across Canada in December when he survived a violent home invasion in which he was tied up and robbed in his Ottawa apartment. He managed to free himself without injury, and was later commended by Stephen Harper as hero.
His attacker was charged with attempted murder, and evidence found at the scene led police to also charge him with murder in relation to an unsolved triple homicide in 2007.
Even until his recent passing, Durflinger said Côté remained dedicated to participating in organizations focused on the memory of the Second World War and was well respected among the community.
"He was a very, very special person," he said. "He had a formality to him that bespoke an earlier era. There was a sense of presence there, and when he spoke it was with authority and grace.
"He had a very long, full and rewarding life, and his devotion to the country, to the memory of those who served the country, was very powerful and inspiring."