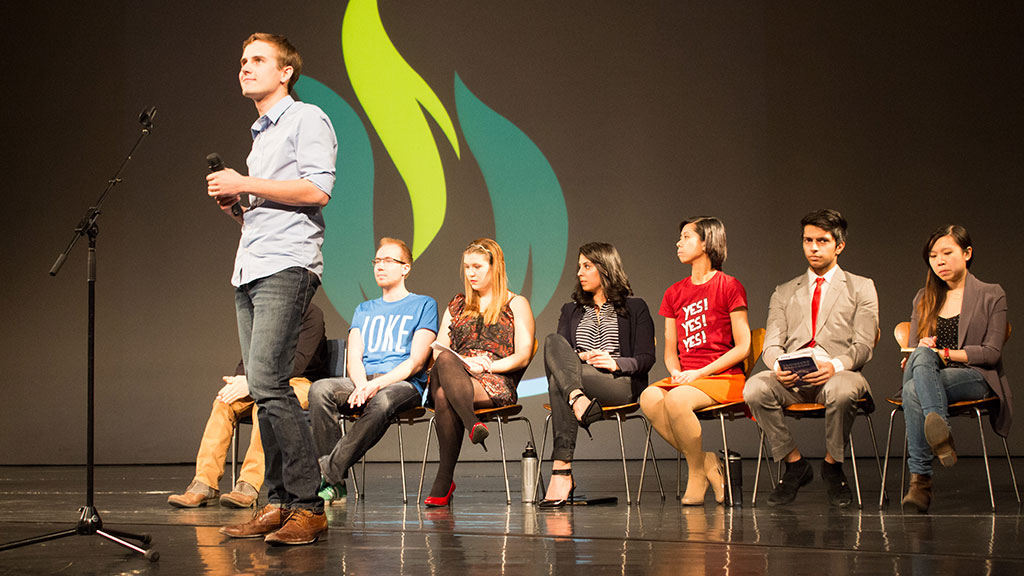 Classes were cancelled Monday at noon as Students' Union executive candidates pitched their platforms at the Myer Horowitz Theatre during the last forum before election day.
About 100 students arrived for the forum, which included a timed question and answer period between contenders, as well as an opportunity for audience questions near the end.
President
Presidential candidate Navneet Khinda took to the microphone first, criticizing romantic notions of university life and the issue of increasing tuition.
"Our government is actively disinvesting in post-secondary education," she said in her opening pitch, adding the possibility of more tuition hikes means some youth may be "shut out of their own potential" of attending and completing university.
Khinda said as President, she would advocate for affordable post-secondary education as the province faces an upcoming election. She also recommended a review of the Code of Student Conduct and in how the university deals with sexual assault.
Faced with a question about how to improve communications between the SU and the student body, Khinda said she would aim to revamp the SU communication plan and create a video and multimedia production space for use by students and the SU.
Joke candidate Omnibot warned students about the perils of "singularity," saying many students will perish, but that as a student body, "we will survive."
Omnibot argued they are best prepared for the position because they are equipped with an AM radio and a cassette deck.
Joke candidate Frank Daniels said the provincial government has "grabbed us by the balls" with last year's budget cuts, and advocated for fracking in quad and a free Left Shark costume for every first-year student. Daniels pitched the construction of a campus "sky palace," before dropping an actual microphone and returning to his seat.
When asked by Khinda what his vision is to help students succeed, Daniels pulled out a homemade fortune-teller, and, with audience participation, responded with "Thanks, Obama."
Vice-President (Academic)
Candidate Fahim Rahman advocated for cheaper textbooks and relaxation programming on campus during the most stressful times of the year. Rahman also emphasized the importance of equality on campus, and voiced support for a method of identifying excellent instructors and finding ways of having them share their methods with other instructors.
Candidate Shakiba Azimi said she would focus her efforts on a centralized mental health resource and cheaper textbooks, saying acknowledging the SU and university's past mistakes is valuable in creating a better future for students. Azimi said her platform rests on collaboration and cooperation between students and the SU, and that buzzwords and inaction from fellow candidates won't help accomplish these goals.
Vice-President (External)
Tension was felt throughout the auditorium as both VP (External) candidates vied for audience approval by honing in on their opponent's perceived flaws.
Candidate Dylan Hanwell said he has spent three years at the U of A trying to answer his own question: "Who do you want to see sitting across the table from Jim Prentice?" Hanwell said he embodies the characteristics of the person who should be in that position, and that he understands all sides of the issue when it comes to post-secondary education at a institutional and provincial level.
When asked how he could assist students with financial aid, Hanwell said awareness is key to students understanding their post-secondary fees, because many students don't know what a tuition cap is.
Candidate Blue Knox said she is prepared for the role of VP (External) because of her lobbying and advocacy experience, adding she has multiple perspectives outside of the "SU bubble." Knox focused on her travel experience and prior connections with students and the government as being assets to her campaign.
Knox also responded to a question about ensuring financial aid for students, saying lobbying for a tuition cap is necessary, but legislation surrounding the tuition cap also needs to be improved.
Vice-President (Student Life)
Candidate Vivian Kwan took to the podium first, saying her experience with stress, anxiety and depression resonates with many students on campus facing similar issues. Kwan said despite the mental health challenges she's faced, she has learned a lot from it and is eager to represent students who may be facing similar issues.
Kwan said advocacy and awareness of these issues is key, but said class talks aren't the most effective way of doing this.
Candidate Param Singh said his platform is focused on diversifying social events for students to make the student experience more enjoyable. Singh said some students might not know about the mental health services available to them on campus, and said he would work on raising awareness of them.
Vice-President (Operations and Finance)
Candidate Cody Bondarchuk presented a platform focused on providing safe spwaces, accessibility and respect for students on campus. Bondarchuk said revenue could be increased by focusing on increasing ad sales for the 70 SUTV screens across campus.
Candidate Samer Sleiman said working from a young age taught him the value in working hard despite having the odds stacked against him.
Sleiman advocated for a second winter Week of Welcome and a Dewey's renovation, saying a facelift to the worn-out power plant could increase traffic and revenue from food and beverage sales.
Undergraduate Board of Governors Representative
Uncontested candidate Azhar Khan began his pitch by explaining the position, saying some students might not be aware of what the BoG Rep position does for them.
Khan urged better financial disclosure from the university on where money is being spent on different faculties, and said he hasn't used the entire budget allowed for his campaign.
"I shouldn't be wasting your money more than I am," he said.
The Landing "yes" campaign
A safe space on campus supporting gender and sexual diversity, The Landing is presenting a referendum vying for $1.50 per semester from undergraduate students to fund programming and workshops. Linh Lu said ze founded the group after hearing concerns from students about feeling unsafe on campus. A vote "yes" is a vote to allow freedom of self expression, Lu said.
Single-source cold beverage agreement "yes" plebiscite
As the U of A's decade-long Coca-Cola beverage agreement expires in July, the SU is gauging student interest in the next single-souce cold beverage deal with a plebiscite question on the ballot. Representative Nicholas Diaz said this agreement is necessary because without it students would no longer has access to $300,000 in scholarships and bursaries.
When addressing sustainability concerns, Diaz said reusable bottles are an option in negotiating a new agreement.