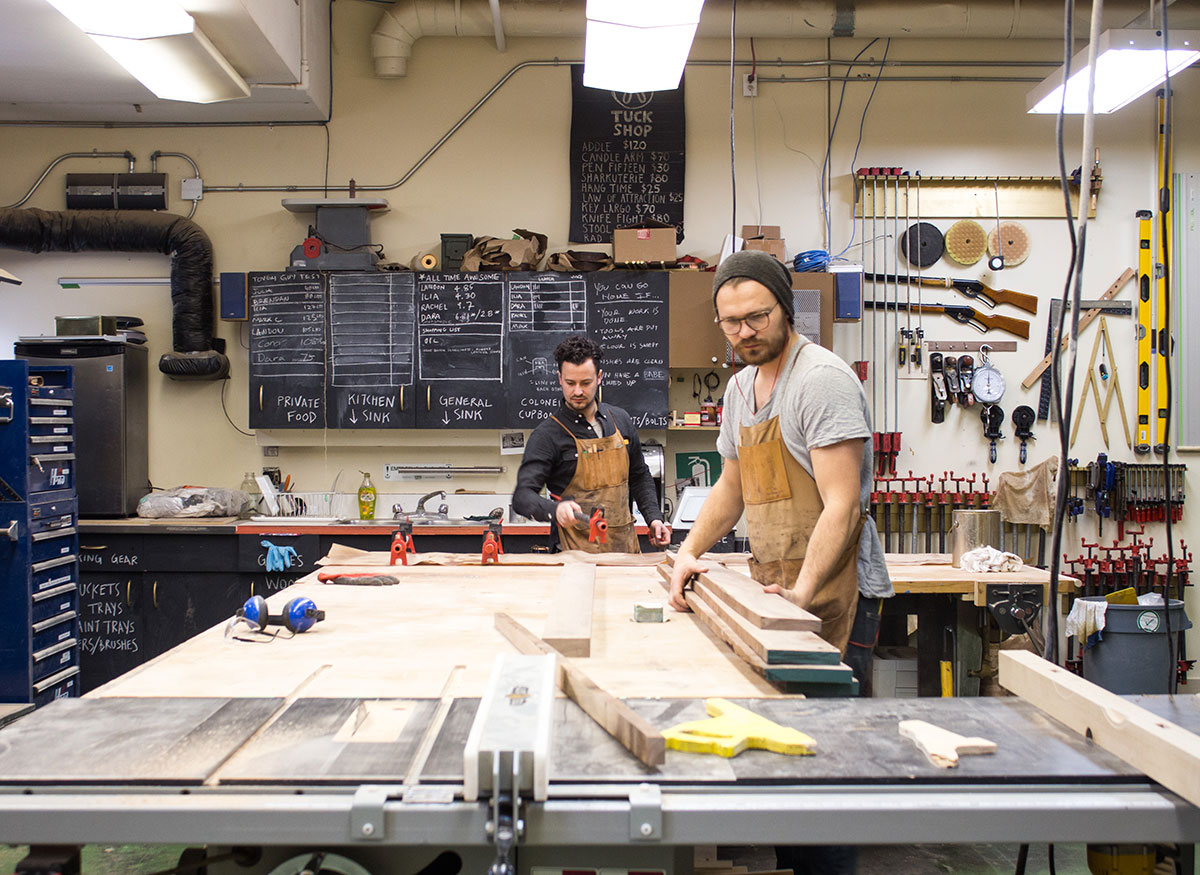 Located right off Jasper Ave, down a few flights of staircases and a maze of hallways is a small but passionate workshop — Oliver Apt., an urban woodworking company redefining spaces in the Edmonton community with elaborate handcrafted pieces.
Founder Landon Schedler, is a carpenter with a community vision. He created Oliver Apt with the intent to beautify small apartment spaces with simple, elegant furnishing. Their work varies from commissioned pieces for Edmonton restaurants to a selection of artisan furniture that can be purchased on-site.
For Schedler, his fascination with craftsmanship began after his first piece.
"After feeling the accomplishment and the pride of standing back from something I built – I was sold. I was captivated to keep building," Schedler says.
He's come a long way since starting, but for a vision to be fulfilled, the artist must first be noticed. For Schedler, much of his fanfare started with the carpentry work that Oliver Apt. did for Edmonton's Duchess Bakery on 124 Street. They created most of the interior, from the ceiling details, to posts and pillars to the shelving from start to finish.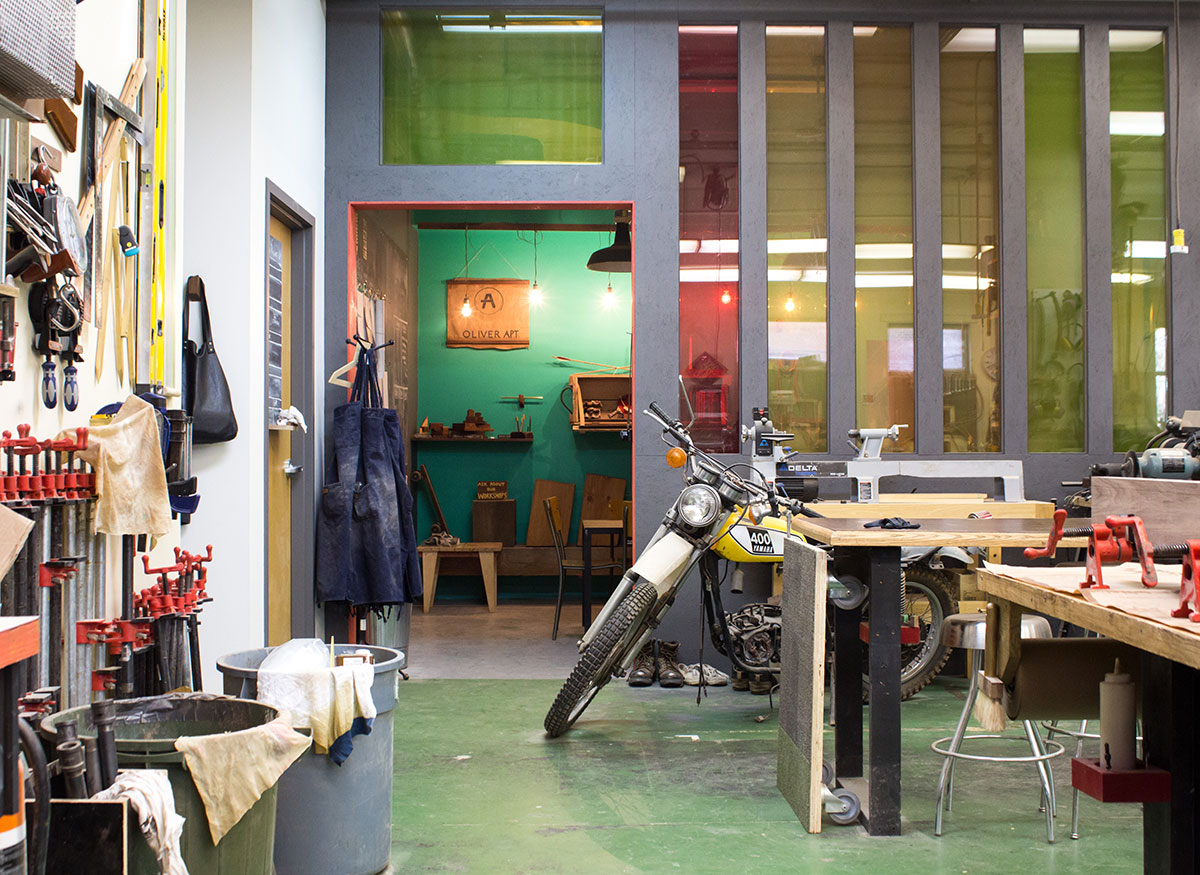 "Duchess was an elaborate, hands-on project," Schedler reminisces. "With Duchess … it was like 'I'm your guy, I'm building out everything.'"
It didn't stop at Duchess for Schedler, who's gone on to build quality pieces for other Edmonton hot spots such as Meat, Bar Bricco, Farrow and Woodwork.
While their products look exclusive, you don't have to be a restaurant owner or a high roller to be involved with the artisan carpenters. Accessibility is integral to Schedler's vision of crafting in the community. Students on a budget can commission their own coffee table, nightstand or record shelf to fit within their budget. Or they can simply choose to relive their high school days with Oliver Apt.'s ever-popular selection of gym-floor tables, made from old-school gymnasium hardwood.
"We don't just add our style to a project. We build it. We make it a reality," Schedler says.
For those wishing to have a hands-on experience in what Oliver Apt. is doing and why they're doing it, there's several opportunities for them to get involved and go down to visit. Schedler has recently started running serving board workshops, where participants can create their own to share their space and knowledge with the community, and give back to their supporters. Schedler hopes to impart knowledge in a fun, informative process.
"I want to show that not only can I build something, but I can give people the instruction and knowledge that goes with it. When you come in, we won't send you home with 'here's step A, here's step B, here's product C' but rather we will show you what you're doing and why you're doing it."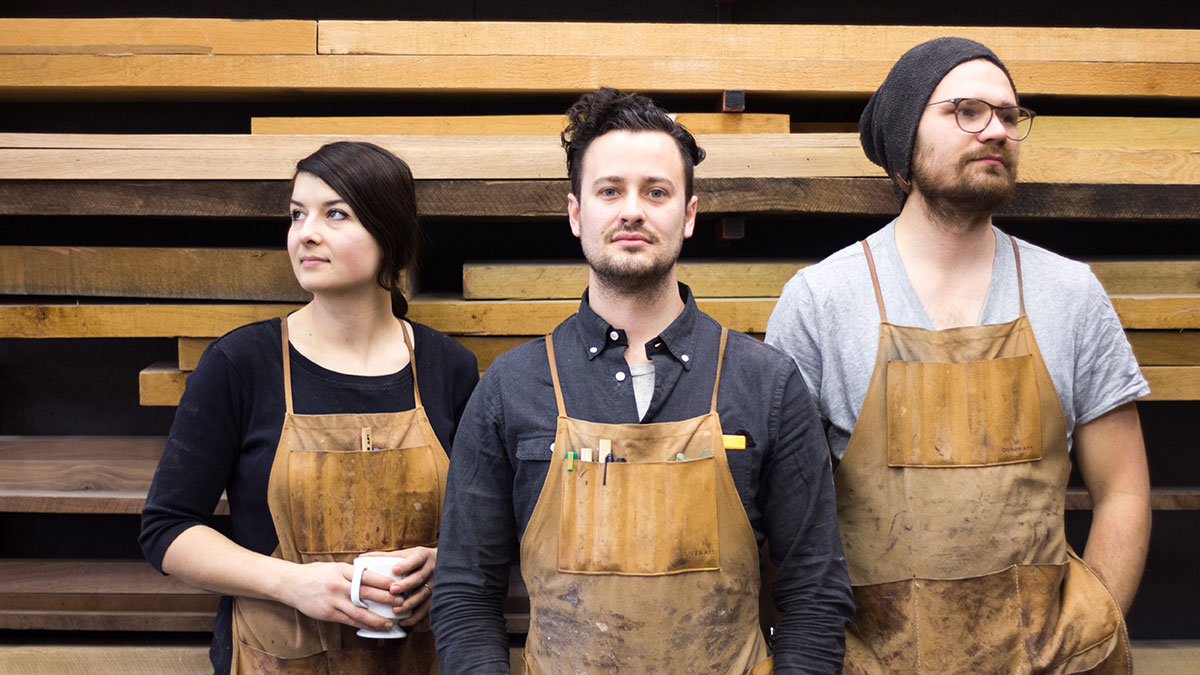 Of course, since building a serving board from scratch may not be for everyone. There's more opportunities to go and hang out with their crew. The most appealing may just be "BB's and Beers," a weekly event where the community can visit the workshop and see what the artists have been working on through the week.
"We've always had a pretty open policy on sharing what we do — Fridays for us are usually spent opening up doors, you want to see what we're doing, great, come on by, there's no point keeping what we're up to a secret — whether its a product or a project," Schedler says.
Whether you're looking to add an unforgettable flair to your hip new restaurant, furnish your new home or dorm room, learn a new skill or hang out with friends, Oliver Apt. is a studio willing to put in the time in effort to help Edmontonians succeed with any of the above.
"We enjoy what we do, we're proud of the community and space that we've created around our business and we think it's important to share that," says Schedler. "I've grown to appreciate the knowledge I've gained over the years."