News
U of A project breaking gender stereotypes in new campaign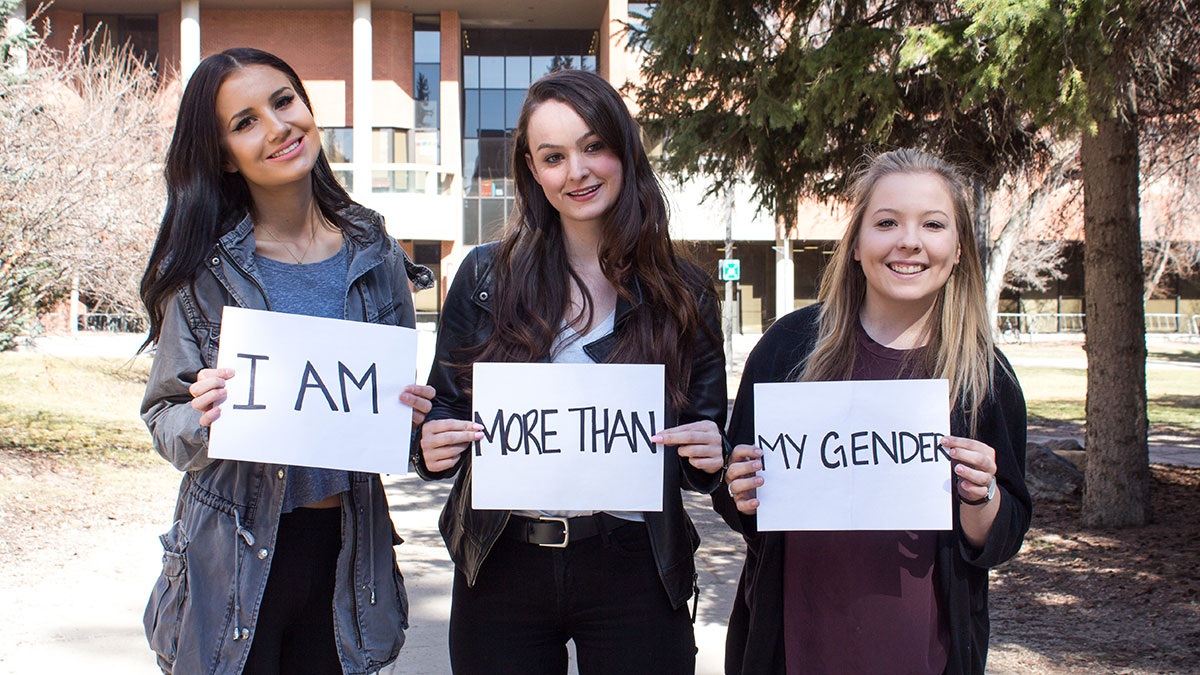 Women can excel in masculine fields, and men can relish items that have been traditionally associated as feminine, three University of Alberta students say.
This modern reality is what inspired Alex Hidebrandt, Ana Kolic and Madeline Askwith to create 'I Am More Than My Gender,' a campaign started in their Introduction to Women's Studies course that challenges the gender stereotypes imposed on men and women.
Hildebrandt said they chose gender as the topic for their campaign because they noticed how people within society are constrained by a gender binary, which automatically assigns masculinity to men and femininity to women.
"We think that it's important that people know it's okay to go against what our society's culture makes us want to believe is male or female," Hildebrandt said.
Kolic added that this stereotyping starts as early as birth – where parents buy blue items for their sons and pink items for their daughters.
"It makes people feel stuck between the two," Kolic said. "There are so many (gender expressions) and we wanted to do something that would break the traditional norms."
The social media intervention project started as a class assignment in January 2015 and involves taking pictures of people holding up signs that describe how they personally break gender stereotypes.
Since it began, the project has taken pictures of women who "kick-ass in Call of Duty" and "operate heavy duty equipment." Similarly, there have been many men who "like flowers," "like pink," or "wear Ugg Boots."
Hildebrandt said her favourite image was one of her own father — described as a 'tall muscular military man' — who wrote, "I cook and clean while my wife works" on his poster.
She said that she too has also had a few personal encounters with gender discrimination since she was a wrestler in high school.
"The first time you tell a guy that, you usually get a sexual comment back or a 'oh that's so manly,' or 'gross' or 'butch,'" Hildebrandt said. "No, it's not. It's a sport that anyone should be able to participate in.
"It is a really important thing in our society, and it is necessary, that people feel comfortable."
Since it's inception, the project has attracted positive feedback, the women said, but Kolic said she hopes that the few individuals who turned down the opportunity to take a photo will at least think critically about what gender norms mean, and how they may still conform to them.
But for the most part, their project has helped people realize that they aren't the only ones who "go against the grain."
"We encourage people to embrace their individuality," Kolic said. "We want to be more accepting of people who aren't stuck between the two."
She said that there are still many issues in pop culture and society that promote gender differentiation, including products that are marketed and sold to specifically male or female markets. The issue should be challenged from a primary level when children are being raised, Kojic said. She plans to be a parent who raises her child in a gender-neutral atmosphere "because you don't know if your daughter is going to hate Barbies and like Lego."
The two students said that they were glad to have carried out the project on campus, where there are inter-faculty gender divides.
And although they have a project deadline at the end of the school term, they said they may continue the campaign after the semester to help spread their message, which goes beyond the university.
"Everybody can do whatever they want, everybody is capable of everything and we really wanted a project that showed that," Hildebrandt said. "It is essential that people embrace the difference amongst themselves."