News
Campus Crime Beat — Mar. 11 to 17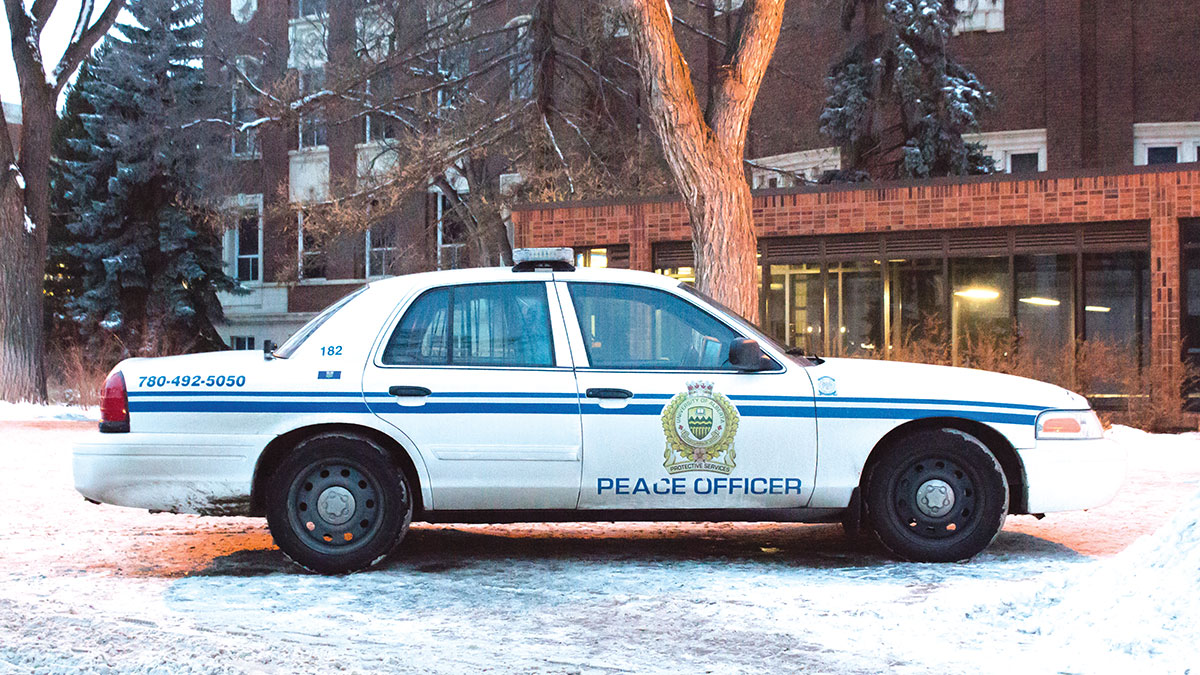 Definitely Awkward
A 19-year-old woman with no affiliation to the U of A was found inside the Second Cup kiosk at about 11:30 p.m. in Tory Atrium on Feb. 26. When UAPS officers walking by confronted her, she said, "Well, this is awkward."
She was arrested and turned over to the Edmonton Police Service EPS), who charged her with break and enter. She was also banned from all U of A property.
UAPS Acting Inspector Marcel Roth said this is the fourth time the kiosk has been broken into this academic year. Officers have met with food services company Aramark to discuss ways to better secure the coffee shop.
"It was poorly planned," Roth said about the security measures around the business. "Anyone with too much time on their hands who was staring at that would probably figure out how to get into it"
Roth said the business was broken into using the same method each time this year, and is in the process of being better secured — a warning for the young woman found inside, and for anyone else thinking about breaking in.
"Hopefully she tells all her friends it may not be a good place to go," Roth said.
Sticky fingers
U of A staff called UAPS on March 5 just before 11 a.m. to report a break-in at an office in Education North. UAPS officers found pry marks on a hallway door to the office, and staff reported cash, keys and electronics were stolen from the office.
EPS was contacted and investigated the area.
Two suspects known to UAPS were identified. The EPS forensic unit seized numerous items from the scene, and collected fingerprints for further examination.
This kind of property crime has been fairly common this year, Roth said.
"What we've been seeing this school year is certainly a lot more in the way of property crimes," he said. "But most of them, unlike this one, haven't been forced entry."
A student also reported their belongings missing from an unlocked locker in the Van Vliet men's changing room around 4:20 p.m. on March 6.
The student's clothing, backpack, some cash, an iPhone 4 and tablet were missing after he left them unattended for about an hour. The value of the items was about $440 total, and the student was referred to EPS to report the theft. The items have not yet been recovered.
Roth said it's a good reminder to keep your belongings locked up — or risk losing them.
"Whether the student is in the library and leaves a laptop or some valuables and just leaving for a few minutes, or whether they're going to the gym, this stuff either needs to be secured or taken with you," he said.
Nowhere near the North side
UAPS was called to the south end of HUB Mall at 12:30 a.m. on March 5 where a man, woman and a baby were found wandering around. The couple said they were trying to find their way back to their home in North Edmonton. The five-month-old baby appeared to have a fever and was sweaty to the touch, so EMS was called and the child was taken to the Stollery Children's Hospital.
UAPS officers don't mess around when it comes to the health of a child, Roth said.
"They were mulling over a cab versus transit," Roth said about the parents. "(But) you don't really want to play around with what might happen, so they just called an ambulance and took the baby to the Stollery. As far as we know, (the baby) is alright."
Roth said trespassers and lost commuters are often found in HUB Mall because of its close proximity to both the LRT station and bus transit loop.
Meth pipe mistake
A man known to UAPS was found trespassing in HUB Mall on March 5 around 1 a.m. and wouldn't stop when officers asked him to. He was arrested for trespassing, and upon being searched, officers found a meth pipe and break and enter tools on him.
The man admitted to breaking into the U of A in the past to find places to sleep at night. EPS was called to deal with the man, but no criminal charges were laid.
A pipe is personal property and is not illegal, but the drugs used in them certainly are, Roth said. In some cases, UAPS ask those in possession of drug paraphernalia to simply throw out the item.
"The concern is if he is carrying that around he might also be in possession of a narcotic," he added.
Camped out criminals

A U of A student contacted UAPS on March 5 around 11 p.m. to report a man and woman hanging out in a storage space in the HUB Mall locker room. UAPS determined neither the man nor woman were affiliated with the U of A, and that both were known to campus security.
Both were detained and escorted from the property after being given a summons for trespassing.
As a result of this discovered, a large amount of lost or stolen property was recovered, and EPS came by the next day to record the event as a break in.
Roth said it appeared the troublesome twosome had been hanging out there for a while — possibly weeks.
"There was quite an accumulation of property — garbage, food wrappers," he said. "They obviously found a little hiding place and felt comfortable enough to come and go.
"We rely on staff and students to phone in suspicious activity. Good on the student for calling us."