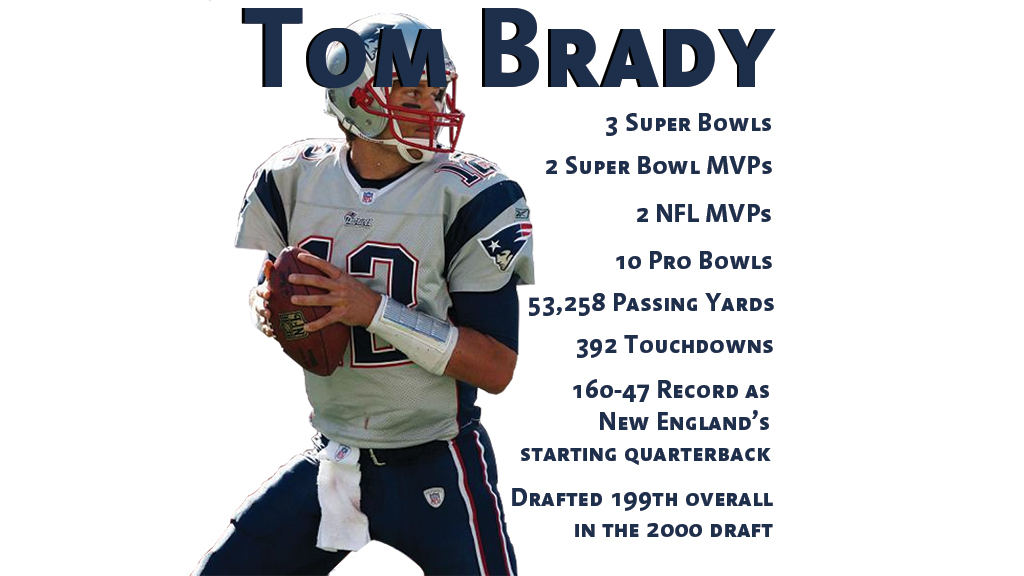 Tom Brady is back in the big dance for the sixth time in his career, seeking his fourth Super Bowl victory. Although he's arguably the best quarterback of all time, had it not have been for an injury to Drew Bledsoe in 2000, he may never have been given the chance to start.
Anyone who watches the NFL knows it's a quarterback's league. Nine of the top 10 highest paid players in the league this season play under centre, and quarterbacks comprise 12 of the past 17 first overall draft picks. From the moment every quarterback steps into the league they're dissected in every move they make, heralded by their team's fans as saviours, and perpetually argued about until the day they retire. Given the microscope under which the football community puts these passers, it comes off as quite ironic that arguably the best quarterback of the 2000s is one that nobody saw coming. In fact, it's entirely possible that under slightly different circumstances, Tom Brady would never become a household name and would never have hoisted his three super bowls, two super bowl MVPs, or two league MVP awards.
Selected 199th overall in the 2000 NFL draft, Brady was expected to be a long-term backup for the New England Patriots at best. They already had their franchise quarterback in Drew Bledsoe and had little interest in finding a replacement. Just two weeks into the 2001 season, Bledsoe took a gruesome hit to the chest that sheared a blood vessel, sidelining him for the majority of the season. Luckily for the Patriots, that was all their sixth round pick sophomore needed to put the franchise on his back, steal Bledsoe's starting spot, and go on one of the greatest stretches in NFL history by winning three of the next four Super Bowls.
Obviously, this was a best case scenario for any New England fan, but it lead some to wonder what exactly would happen if Drew Bledsoe never went down?
First and foremost, this likely makes for three new Super Bowl champions. Each Super Bowl was won by a last second field goal, so it seems pretty fair to say that the St. Louis Rams, Carolina Panthers, and Philadelphia Eagles would end up being Super Bowl champions, but other arguments could easily be made. For example, the Patriots beat a dominant 15-1 Ben Roethlisberger-led Pittsburgh Steelers team and no one can forget the continuous defeats handed to Peyton Manning's Colts in the AFC Championship Game. In fact, if there is anyone to benefit from Tom Brady having a career as a backup, it's Peyton Manning.
Obviously at the concrete level, he likely becomes the 2010 MVP and could have made a Super Bowl run had he not lost to Brady's Patriots, but the abstract creates a much more interesting alternative. What makes Manning and Brady such a good rivalry is the fact that they make for terrific character foils. Without Brady, Manning's career of coming up short in the playoffs is not nearly as relevant since there isn't another polarizing figure to compare him to, his stats become even more eye-popping by virtue of having no parallel and he becomes the undisputed face of the NFL for his entire career instead of having to share the spotlight with Brady.
In terms of the Patriots, they're likely stuck in mediocrity with Bledsoe for the rest of his career. Instead of being one of the NFL's flagship franchises, they are no more relevant than any other nondescript team. Also, it's worth mentioning that the many players that benefitted from Brady's presence have significantly different careers. This could mean that Rob Gronkowski is slightly less superhuman, Randy Moss basically flames out in 2006 with the Raiders, Deion Branch never gets his Super Bowl MVP, and potential future hall of fame teammates like Ty Law, Rodney Harrison and Vince Wilfork won't have any Super Bowls to their name. To top it off, without his star quarterback, Bill Belichek might not be revered as the best coach in football like he is now.
Today, Brady stands a game away from his fourth Super Bowl win and is in the midst of a 14-year stretch of leading an elite team. Without him, the Patriots aren't a playoff team, or even worth mentioning. But all because of that Mo Davis hit on Drew Bledsoe, New England has three shiny rings, a pristine reputation in the NFL, and an unlimited amount of memories surrounding one of the game's greats.