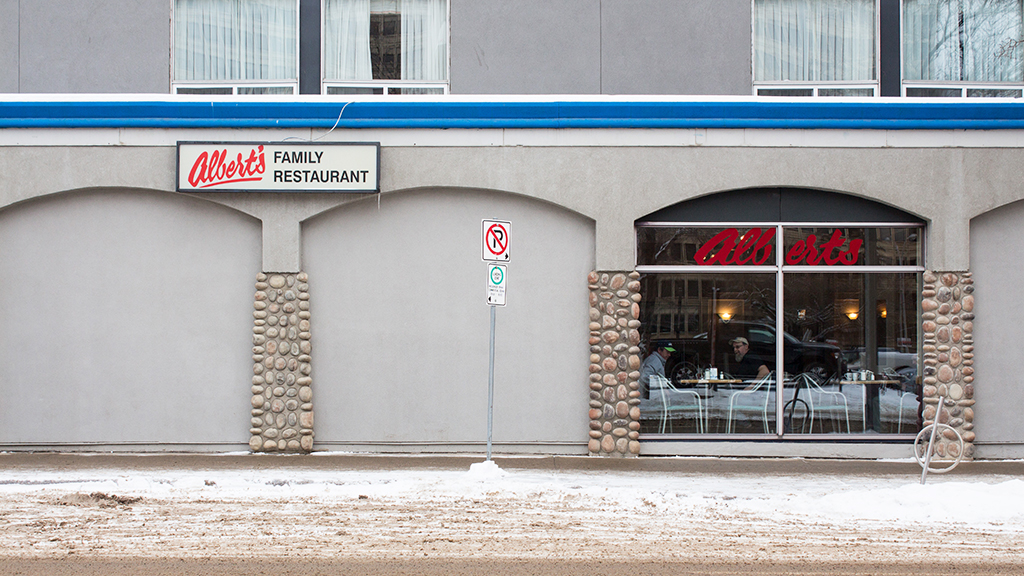 Breakfast is definitely the best meal of the day, simply because of the sheer amount of flavour combinations available. Do you like sweet foods? Then delve into some pancakes or waffles covered in whipped cream and maple syrup. More of a savoury person? Wrap yourself in some salty bacon and perfectly seasoned eggs. You can even mix everything together and have a meal that involves every breakfast dish imaginable a-la Denny's Grand Slam.
Just like your breakfast food selections, there are also an almost infinite amount of spots to hit up to soothe your broken heart or your hungover body. Here are some of our favourite spots in the city to get our fix of Hollandaise and hashbrowns.
Cora's
There's something about battered cinnamon-raisin brioche, fresh fruit, and bright yellow walls that fills each and every void I have from living in this desolate winter flat-land we call Edmonton. Although Cora Tsouflidou probably never knew what Cora's could achieve when she first founded the breakfast joint in Montreal 25 years ago, she must had known she had something going for her with all that damn fruit.
Unless your diet consists of only chicken strips and fries (all the power to you, my friend), you have to be able to appreciate the fruity variety Cora restaurants offer. Not only is there lots of fruit, but also every breakfast desire is fulfilled with crepes, pancakes, bacon and sausages, chocolate dips, vanilla creams and Hollandaise sauce for days.
Unlike other breakfast resta-urants where one week you're enjoying an egg scramble with spinach and smoked salmon, and the next you're choking down an egg scramble with E. coli and salmonella, Cora's is always consistent. From Leduc to the big T.O., the cheery environment is always welcoming, and the food served is always hot and fresh.
Cora's maintains its authenticity while remaining a dependable place for a variety of occasions. I've gone to Cora's for reunions with friends, for birthday brunches with my mom, and for casual Saturday mornings with my boyfriend after the gym. – Taylor Evans
Commodore
Edmontonians love brunch. Because of this, there are seemingly endless options around the city for breakfast foods and hangover drink specials. And really, since eggs benedict is about the same wherever you go, the most important aspect of brunch dining is atmosphere. Personally, I'm a big fan of the unpretentious-yet-trendy Commodore on Jasper Ave. Right next to everybody's favorite party tavern Knoxville's, it's a hole-in-the-wall breakfast nook that's guaranteed to save you money and disappointment.
Although it's cash only, the prices are so reasonable that you probably have enough left in your wallet from your weekend outings that you won't need to visit an ATM. The interior is like time-travelling back into a 1950s diner, which makes for a nostalgic atmosphere ideal for laid-back brunch outings. Fancy stools along a bar and some pretty decorations give the restaurant a charming and positive vibe. Being right along Jasper also allows for some wicked people-watching, which is totally the real essence of brunching.
To top it all off, the staff at Commodore are some of the most pleasant people under the sun. As Aly A. from yelp.com said, "I forgot to ask for no butter on my toast and without making me feel guilty, she brought me new toast with a smile." It's not very often than you find a place with such thoughtful staff. With all of the positivity that radiates from Commodore, there's no better choice for brunch in Edmonton. – Maggie Schmidt
Albert's
Two words can make even make any wizened old grouch jump joyously like some sort of human-kangaroo hybrid: all-day breakfast.
Albert's may not have the most adventurous, or even the most delicious breakfast, but it's perfectly good for what it is: simple breakfast food. In quite a few instances I've been hungover and craving eggs and bacon, but it's 2 p.m. and I can't be bothered to make them. Enter Albert's, which pretty much remains open because it'll serve breakfast to even the latest and most hungover of risers.
It's comfort food in its most basic sense, and admittedly not the healthiest of choices. But it's food that everyone can relate to, and there's nothing that's out of the ordinary, so it's perfect for the people in your circle who don't want to broaden their breakfast palates beyond anything that doesn't involve eggs. If you really want to be a snob, you can dismiss it, but nobody goes looking for breakfast past 12 p.m. being a snob, at least nobody that I've ever met. Long live Albert's, and long live eating breakfast after noon — our society is better because of it. – Zach Borutski
Barb and Ernie's
Barb and Ernie's, a quaint German joint, is located on 9906 72 Ave. and dishes up the best damn breakfast food in Edmonton. Opened in 1975, the reasonably priced and family-run restaurant offers incredible pancakes (potato or regular), German sausage and eggs. In particular, their German Bacon Pancakes (whole strips of bacon inside the most delicious pancake the size of your torso) and Eggs Benedict will blow your mind. They serve kickass hashbrowns, have mastered Hollandaise sauce, and pour endless coffee.
Whatever your breakfast food favourites are, this place is bound to satisfy while introducing new flavour combinations coupled with old German family traditions. Barb and Ernie's will forever ruin you for other breakfast joints, leaving you saying "Nein!" to any pancake not filled with bacon. Few places can compare to Barb and Ernie's. They have great friendly service, incredible food, great prices and a homey atmosphere. Barb and Ernie's have achieved perfection. – Mikelie Johnston
Hathaway's Diner
Tucked away off 127 Street lies the greatest hidden gem in the history of yegg's breakfast scene. Hathaway's Diner is a family owned restauraunt with the most welcoming servers and the most fire hashbrowns in the city.
Only open from 7 a.m. to 4 p.m., diners have a limited time to enjoy the delicious food and warm atmosphere. However, you'll find a selection of breakfast  and lunch items sure to satisfy whatever your food-based desires can think of. With everything from breakfast skillets to burgers to the most decadent homemade pies, there is something for any kind of hungry that diners might be feeling.
The best part of Hathaway's is easily their Egg's Benedict Saturdays. Only having the item available once a week, they have easily the best Hollandaise sauce in the world. Apparently their not-so-secret-secret recipe is the bottle of white wine that goes into the sauce. The most surprising part of the sauce is how willing they are to tell everyone why their Hollandaise is so good.
If you want a homey atmosphere coupled with some fantastic home cooked eats, make sure you hit up Hathaway's diner. You will not be disappointed, no matter what you choose from their extensive menu. – Kieran Chrysler