Arts & Culture
Nation & World
Psychedelic Cowboy: The Story Behind Boy Golden
Amid his first headline tour of the US and Canada, the Winnipeg artist guides The Gateway through his experiences in the music industry thus far.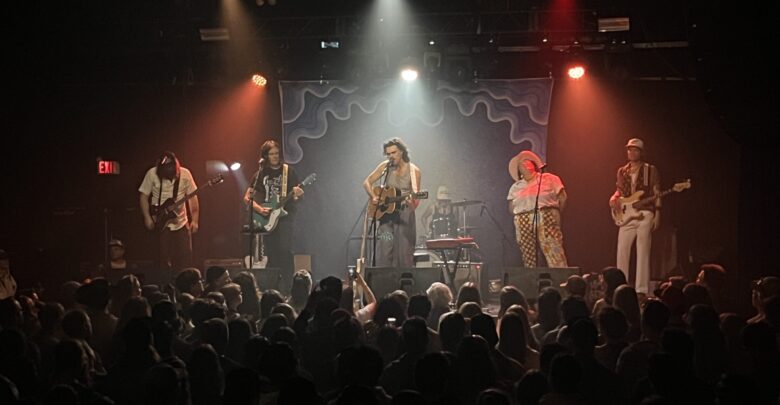 If Woodstock was still an existing festival, Boy Golden would be the perfect headliner. Known off-stage as Liam Duncan, his artistry captures the essence of the free-expression era in all aspects.
His music combines the comforts of country music with warm psychedelic guitar riffs. His personal style is thrift-shop cowboy meets 80s music television. To top it off, Duncan's commitment to artistic expression among today's ever-capitalist-driven music industry puts him at the forefront of what promises to be the next counter-cultural movement. Move over flower-crowns and tunics, it's time for bolo-ties and overalls.
Duncan's early impressions of the professional music industry were similar to that of many small-town Canadian musicians. You can play for enjoyment, but don't count on making a career out of it. His hometown, Brandon, Manitoba, was not exactly a hub for up-and-coming musicians. Only after a few eye-opening experiences with his high-school band, The Middle Coasts, did Duncan's aspirations begin to change.
"We started touring, meeting more people in Winnipeg. I started to realize that this [music career] is a possibility. Around 21, I started writing in earnest and knew I would be writing songs for the rest of my life."
With his newly invigorated passion for songwriting, Duncan became a magnet for inspiration. In addition to music, he looked to paintings and books when channeling his inner-creativity. Those early sparks of inspiration shined through on Duncan's first solo-album as Boy Golden, Church of Better Daze, released in 2021.
Duncan describes Church of Better Daze as "the spiritual home for [his] creative output." Not only is it the title of his debut album and the album's first track. It is also the name of his touring band and fan community.
While the phrase itself is a not-so-subtle play on words, Duncan's own spirituality — "some blend of optimism, stoicism, and Buddhism" — is a constant undercurrent of his artistry. It intertwines meditations on the acceptance of change and living in the present moment.
"When things are good, you don't want them to go," Duncan said. "But you have to be able to lock them down in your memory and realize that without a doubt, things are going to change. You have so little control over so much of your life. The real pocket to sit in is right in the moment. Then you don't need to worry about any of that stuff."
Not only are Duncan's artistic philosophies eloquently reflected in his music. They're also written straightforwardly in his "ministerial musings," a work-in-progress personal blog on The Church of Better Daze website.
In a captivating piece titled "Reframing Success," Duncan shares his thoughts on the cookie-cutter nature of the music industry and it's countless limitations on artistic freedom. Cautioning other artists that "the music industry was not built to support [their] music," Duncan suggests these creatives "dissociate themselves from their release of their music." It is up to the artist, he contends, to find artistic satisfaction within themselves. The capitalist-driven confines of the industry show minimal concern for the art itself.
"The music industry is just that — an industry. It wants to churn out more and more and more. Making music and writing songs is a separate thing. Some people write for the industry [and] they're trying to write hits. But I'm trying to write songs that help me understand my life."
Although Duncan is quick to critique the industry, he doesn't disapprove of all commercial practices. For example, he enjoys the creative process behind promotional packages for a new album. It is the numbers specifically that Duncan chooses to stay away from.
"If your song didn't get picked up by a Spotify playlist, it's not because your song [necessarily] sucks. I don't consider it a reflection of the art I'm making."
The lessons learned while promoting Church of Better Daze culminated in the release of Boy Golden's latest EP, For Jimmy, in July. The themes of his first album are matured, especially the idea that living a life is a conscious decision, as explored on the EP's first single "Mountain Road." Fans of Boy Golden have reason to be excited because, as Duncan explains, the EP is only a taste of what's to come.
"I think the writing [on For Jimmy] is better overall, more personal. On the new stuff that I'm gonna have coming out, it gets even more personal," Duncan said. "Sometimes it feels like I'm leaving the Boy Golden character behind but really, I think I'm just merging with it."