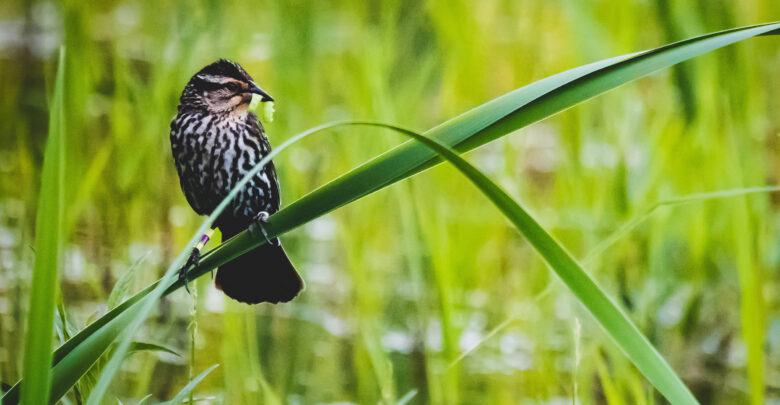 Researchers at the University of Alberta's Augustana Campus have created an artificial intelligence (AI) program that will reduce the amount of hours it takes to analyze bird field data.
Ivana Schoepf, an assistant professor of biology, studies the effects of parasites on birds and evaluates certain behaviours through video analysis. She said that videos are great for the amount of data they produce, but require many hours to go through.
Thibaud Lutellier, an assistant professor in the computing science program, recommended using AI as a way to pull essential data from videos. To help them accomplish this, Lutellier hired Priscilla Adebanji, a fourth year-student in the computing science program, as a research assistant.
"The challenge here is to find a way to actually split up the process. Perhaps even optimize it in a way that we are reducing biases when we analyze video recordings of wildlife," Schoepf said.
"Sometimes you don't even know where the nest is because there is so much vegetation in front," Schoepf says
Adebanji, Lutellier, and Schoepf all stressed how difficult Schoepf's videos were to analyze. Poor camera quality and obscured nests were common barriers. Different videos showed different habitats, while rain and wind created additional variables.
"It's not like … watching a David Attenborough documentary where everything is super clear and you see the bird entering the nest. Sometimes you don't even know where the nest is because there is so much vegetation in front," Schoepf explained.
Adebanji's role was to develop a program that could pull the required data from each video. Schoepf and her research assistants would report the important information to Adebanji. This included when a bird entered and exited the nest, the type of visit, and the bird's species and gender. Adebanji would then try to get the AI program to pull the same information.
"The goal of my program was to generate that report," Adebanji said. "[And], to see if I could get exactly what [Schoepf] and her researchers were able to get from watching the videos."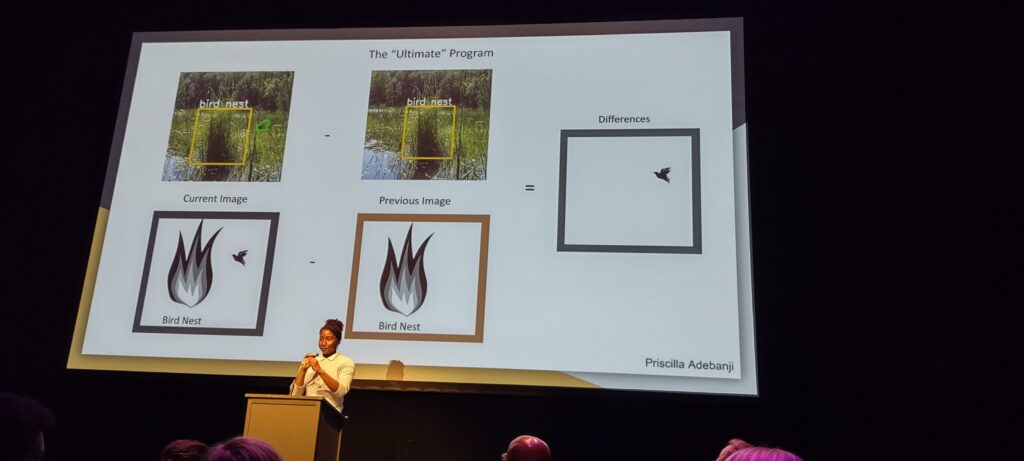 Although Adebanji created a "baseline," more work will need to be done to improve the program
The developed program is not yet as accurate as it needs to be, Lutellier said. He explained that making the program for practical use was always going to be a large project. He, Schoepf, and future students will continue working on it.
"[Adebanji] was creating a baseline. It was working well for some videos [but] it's not working well for others. We may hire another student next summer to use AI to improve the accuracy and the generalizability of [Adebanji's] algorithm," Lutellier said. 
Although the program is not yet ready for Schoepf to use, she has high hopes about the amount of time it may save her in the future.
"Typically with analysis of this type, we would have two different students watching the videos to validate what we see," Schoepf said. "Having an AI program that can do this would save an immense amount of time and training power. We could get these students to work on something else instead of spending all these hours on video analysis." 
Lutellier said that Adebanji's work is one example of applying theoretical knowledge to real-world application.
"That's one of the key [things] for [Adebanji's] work. It's applying existing algorithms to a real-world program — refining them so that they can work well."