Arts & Culture
Campus & City
Harvest Book Fair: Stonehouse Publishing and Paper Birch Books
The fair allowed for insightful interactions with members of Edmonton's literary community.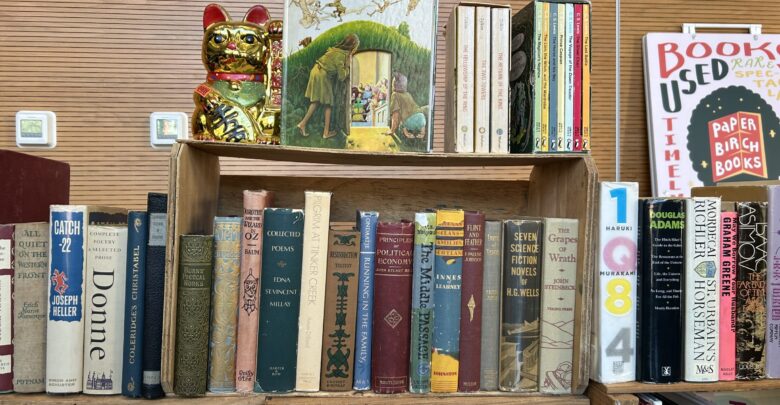 Edmonton's artistic and literary community came together on October 14 to 15 at Harvest Book Fair, organized by Hungry Zine. The event showcased local bookstores, publishers, and art and community organizations.
I was most intrigued by the books, and I got to interact with representatives from Stonehouse Publishing and Paper Birch Books. The fair provided amazing opportunities for learning more about Edmonton's abundant book culture.
Stonehouse Publishing
Amongst the many books and art displayed, Stonehouse Publishing's table, an Edmonton-based publishing house, caught my eye first. Their table showcased beautiful books written by local authors in Alberta. I purchased two books: "Evelina" by Frances Burney, and "Mary Green" by Melanie Kerr.
I had the opportunity to speak with Netta Johnson, the publisher and managing editor at Stonehouse Publishing. For Johnson, a publishing house was the best way to impactfully get involved with books and literature.
"I wanted to be able to choose to publish books because they were great books. I could see that it was a difficult market for authors, and I wanted to help make a difference," she explained.
Johnson emphasized the positive impacts Edmonton and Alberta's literary community has had on Stonehouse Publishing. The publishing industry as enthusiastic and supportive, she said, and readers are excited about local literature.
"The Edmonton and Alberta literary community is uniquely co-operative and supportive. It is nice to be a part of something that is more supportive than competitive — a real community of people."
Paper Birch Books
Another table I found intriguing was Paper Birch Books, as they showcased all sorts of classic second-hand books ranging from theory to children's stories.
I had the opportunity to learn more about Paper Birch Books from Céline Chuang, a co-founder of the bookstore. The local, independent, and used bookstore was founded by Chuang and her partner, Benjamin Hertwig. They opened in December 2022 in McCauley, and offer diverse vintage and contemporary books.
"We intentionally incorporate a diverse array of voices traditionally marginalized in English literature," Chuang explained. "Representation matters in literature. I know from personal experience that it can be a transformative experience to see yourself reflected in stories."
Although Chaung is new to Edmonton, she is familiar with the literary community through Hertwig's work as a writer. He's found it to be "warm and friendly, with many lovely people." The pair work to give back to their neighbourhood, hoping to create a community hub out of the bookstore.
"The Boyle-McCauley area … gets a bad rep, but it's full of heart, characters, creativity, activism, and people taking care of each other. As part of our business, we give a portion of proceeds every month to organizations working with houseless folks in the neighbourhood. We hope to do more as our capacity grows," Chuang said.
The overall atmosphere of Harvest Book Fair was warm and welcoming. Everyone was excited to share what they had to offer, and I discovered many new book vendors and publishers in our city. The literary community in Edmonton is strong and supportive, which I got to see first-hand. Speaking with people in the community showed me how words have a profound impact in our lives and can bring people together.