Arts & Culture
Campus & City
From porches to fame: AV and the Inner City's "Nobody Is You"
Formed in McCauley off a porch during the COVID-19 pandemic, the six-woman soul and folk group has garnered critical attention with their first single, "Nobody is You" — and they're only getting started.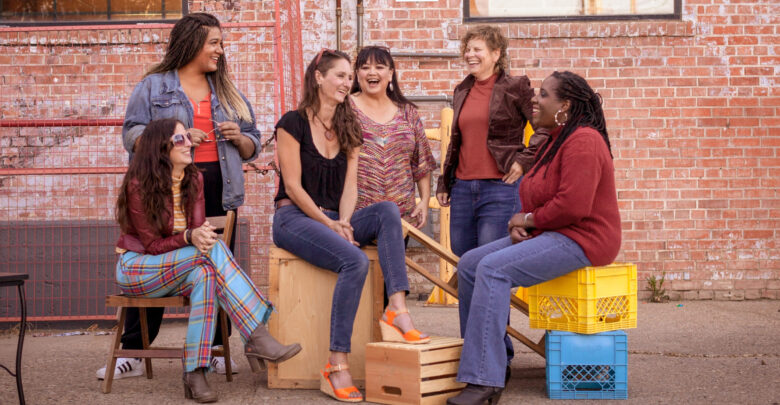 Between the COVID-19 pandemic, Edmonton's ongoing opioid crisis, and the growing economic disparity, the inner-city community faces more challenges than ever. Formed in an Edmonton neighbourhood greatly affected by these social crises, AV and the Inner City got their start right in residents' backyards — or more accurately, on their porches.
Formed and fronted by Ann Vriend (AV), AV and the Inner City also includes Johwanna Alleyne, Crystal Eyo, Jenn Dahlen, Debbie Houle, and Alenka Lundell. They released their first song, "Nobody Is You," on September 8, written by AV and co-produced by touring drummer Elie Mercier.
AV, who attended MacEwan University, has over a decade of experience with music and inner-city life.
"The neighbourhood that I live in, McCauley, I've recently learned is the economically poorest neighbourhood in Alberta," AV said. "I have been living here for … 13 years. It's a neighbourhood that affects you." Many of her lyrics, including her 2019 album Everybody Matters, deal with socio-economic issues prevalent in her neighbourhood.
AV started her career volunteering at the Edmonton Folk Music Festival, at which she carried demos of her first project.
"I met a producer from New York who was managing a band from New Orleans. About half a year later, I ended up recording at Sony Studios in New York," AV remembered. "It kind of catapulted me into the music business."
In 2020, her international tour for Everybody Matters was cancelled because of the COVID-19 pandemic. Rather than live-streaming musical performances, AV used a different approach.
"I decided to just put my keyboard out on my front porch and start playing music for people walking by," she said. Alleyne sang backup vocals two metres away from AV, and by July 2020 there was "a mini festival every Sunday."
The group grew to include the four other members. AV hadn't known any of them prior to the pandemic. But, she wanted to continue performing with them once restrictions started to ease.
"I didn't feel inspired to do [festivals] solo because it had been so much fun having singers sing with me. So then I said, 'do you guys want to actually form a group?' They all said yes," AV explained. "I didn't start a group intentionally with any sort of plan. It just evolved organically."
After making things official, AV and the Inner City toured folk music festivals across Western Canada in the summer of 2023. They took home the Emerging Artist Award from the Edmonton Folk Music Festival — the very same place AV started her music career. In September, they released "Nobody Is You" and its music video.
Now, the group is focusing their efforts on recording its first official album together. "It's still daunting at the beginning, but I'm very motivated and inspired to do it," AV said.
What makes the group so captivating is its diverse musical talent and life experience. For AV, she now thinks of each member's life story when singing and writing, not just her own.
"Going forward, it's going to be a whole other thing because I'm writing with the intention of, it's this group. It's these people. We were talking about doing some writing together for our next album too, not just me."
The group plans to incorporate collective percussion into their sound as well. "The groove is coming together. I think we're going to be able to delegate parts of the drum kit to every member now. It's going to be empowering to do it ourselves, and also be more unique to us," AV said.
The group's bucket list also includes playing more festivals. "So far we've only really hit Alberta and British Columbia and we'd love to expand beyond that," AV said.
AV and the Inner City's diverse musical background and festival success are certain to keep them on the radar for some time. The group's story is packed with memorable moments, which will surely only be added to after the release of their first album.