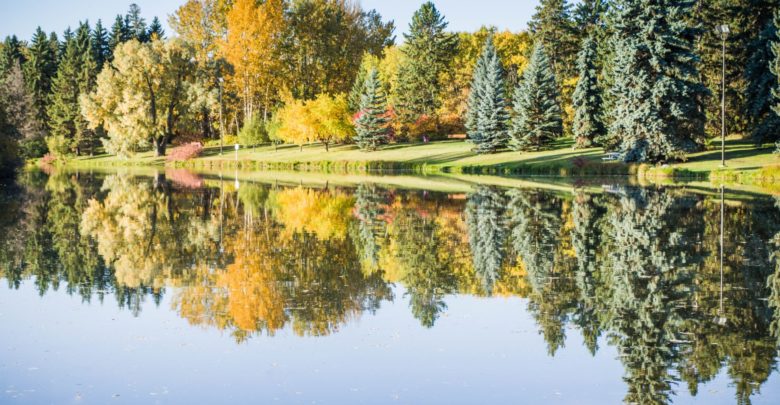 Over the summer, Edmonton's city councillors have been promoting parks across the city with their Pick-A-Park Campaign. Councillors have also been sharing their favourite parks on social media with the tag #pickaparkyeg. I've decided to participate in the fun with my top five favourite parks across Edmonton.
1. Northeast River Valley Park
Of course my current favourite has to be Edmonton's newest park, the Northeast River Valley Park. This park provides picturesque covered bridges, lakes, a playground, and tons of new trails — all spanning over 190 acres of land.
This park has so much to explore and is conveniently connected to the rest of Edmonton's river valley. A brand new park to explore in the coming fall days seems like a perfect way to spend my Saturday afternoons.
2. ᐄᓃᐤ (ÎNÎW) River Lot 11∞ Indigenous Art Park
Mayor Amarjeet Sohi and I have one thing in common and it's our love of ᐄᓃᐤ (ÎNÎW) River Lot 11∞ Indigenous Art Park. Located within Queen Elizabeth Park, this beautiful park includes stunning artwork by Indigenous artists. The name itself, ᐄᓃᐤ, is Cree for "I am of the Earth," reflecting the history of the land the park resides on. Developed through a partnership between the City of Edmonton and the Indigenous community, ᐄᓃᐤ honours Indigenous peoples and reflects their relation to the land. I find myself going to this park to use as a space to reflect upon reconciliation.
3. Terwillegar Park
Terwillegar Park is definitely a park I love to visit as well. This large park has an off-leash area I love to take advantage of, as well as plenty other amenities. Whether you want to take a walk with your pets, go biking, or need a convenient place to launch your canoe, this park is the perfect place to be. Plus, in my experience, this park tends to have really great sunset views. With all of these perks, this park is one my dog and I continue to frequent.
4. Mill Creek Ravine
Mill Creek Ravine has been one of my favourite parks since high school. With many cafes located nearby, I love to grab a coffee and head out for a leisurely stroll through the park. Mill Creek Ravine is the home of Mill Creek Pool, my favourite outdoor pool to spend time in over the summer. It also hosts the Flying Canoe Festival in the winter. No matter the season, Mill Creek Ravine always has something fun to offer.
5. William Hawrelak Park
If there ever was a quintessential Edmonton park, William Hawrelak Park is truly a classic. I frequented this park growing up, often spending summer days enjoying paddle boating on the lake, and it remains one of my favourites. Though it's closed for rehabilitation right now, I'm eagerly awaiting it's reopening in 2026. Whether it's for picnics, festivals such as the Heritage Festival or the Freewill Shakespeare Festival, or just going for a run in-between classes, I love spending time at this park — especially during the warmer months.
I truly enjoyed the #pickaparkyeg campaign this summer, and loved reflecting on my favourite parks throughout the city. Spending time in city parks is a great way to experience Edmonton and appreciate nature while remaining close to home. Be sure you don't overlook Edmonton's parks this fall — head out to attend an event, appreciate the art installations, or simply go for a walk to enjoy the changing leaves.