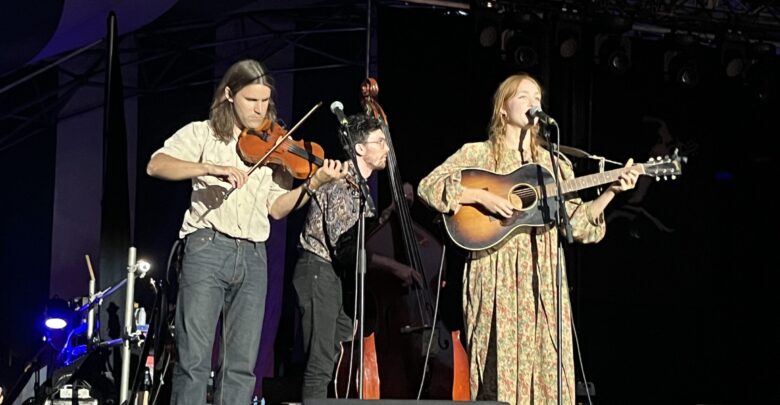 The song "Rhododendron" by Bella White appears on a Spotify playlist titled "Mountain Air." But, for a deeper reason than you might think. It isn't that the song's production is greatly atmospheric, or the overt references to nature. Truthfully, it is the structure of the song. The way White's relatable lyrics float effortlessly above the traditional acoustic soundscape feels like fresh air gliding through an established mountain chain.
Blending personal lyrics with the musical conventions of country and bluegrass is the foundation for White's second album Among Other Things, released earlier this year. Relatable themes, especially from White's youthful perspective, make what some might consider a traditional listening experience both accessible and exciting to the modern listener.
Recorded in the Los Angeles' Topanga Canyon, the secluded, natural surroundings inspired White's deeply introspective mindset. Her experience was not far from that of the Laurel Canyon trailblazers during the late 60s and 70s.
"For me, a huge part of feeling inspired and creative is [living in] the present moment [and] allowing space for your brain to breathe and think. I feel that nature can often create that space," White said of her writing process.
The opening track titled "The Way I Oughta Go" is one of the more instrumentally upbeat tracks on the album. It details the struggles of knowing the right path to take on the journey to self-discovery. It's easy to raise an eyebrow as White sings in the final bars, "dreaming never met me in Alberta, so I packed my bags, Tennessee I did go." This lyric isn't meant to diminish her home province. Rather, it emphasizes the importance of community and its ability to foster individual growth.
"Nashville has a very iconic music scene," White explained. She revealed the move was necessary in "broadening [her] perspective and opening [her] eyes" to the music industry.
On "Dishes," White explores the simplicities of young love and the concoction of emotions that accompany such relationships. The song serves as a subtle reminder to listeners that intrusive thoughts can poke their head in at any moment.
White begins by painting a peaceful scene of herself reading a book on the couch, as her significant other cleans dishes in the kitchen. The serene mood takes a turn at the chorus. There, White questions the too good to be true nature of the moment: "And I don't wanna ask myself what it is that I think I'm doing here."
"I definitely struggle with imposter syndrome," White said of the lyric, which examines the conflict of overthinking and living in the present moment. She admitted her sense of "uncertainty" was only amplified by writing during the pandemic.
White continues on the theme of relationships. This time, telling the story of a foreseen breakup on the track "Break My Heart." With lyrics such as "I knew I saw it coming, it don't hurt less because of it," or "you watched me burn out so slow," it is hard not to sympathize with White over what was undoubtedly a painful experience. Luckily for White, there is no better form of catharsis than songwriting.
"I've heard people say, 'if you need to grieve something, l write a letter to it and light it on fire.' I feel like that's what making songs is."
The overwhelmingness of life is another theme that is returned to across the album, most notably on "The Best of Me." White sings, "there's a hand on my shoulder and it's pushing down on the light I knew before." Although White revealed this hand is a metaphor for the pressures of the music industry, the broad lyric allows the listener to tailor White's words to their own experience.
When writing with metaphors, White shares that, "you'll write a song and then a year later you'll feel like it happened to you. You'll have that experience that you were writing about in a different way."
After listening to Among Other Things, White hopes listeners will feel "empowered in their sensitivity" and understand that "being an emotional human is a good thing."
Fortunately for listeners, White's album is just one body of work in what is gearing up to be a 21st century revolution in traditional music. Citing an impressive list of peers including Alison Degroot, Tatiana Hargraves, and Molly Tuttle, White shares her hopefulness for the resurgence of bluegrass and country among young artists.
"There's so many young people playing traditional music, and that's pretty freakin' cool. It's having a moment right now."