Arts & Culture
Campus & City
Social Intercourse: August 2
Our festivals are at their peak this month, so get out there and discover what they have to offer!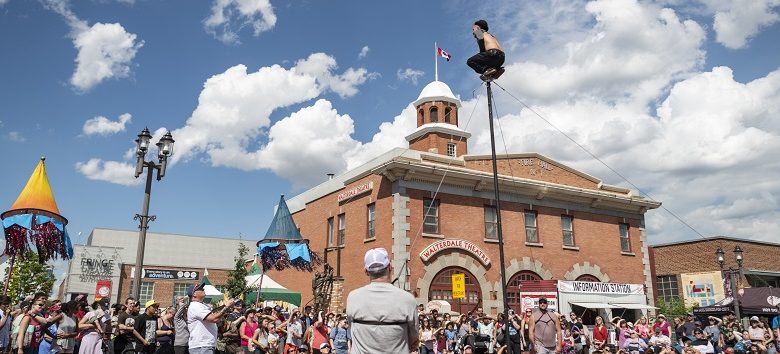 In our biweekly column Social Intercourse, we share our picks for notable things happening on campus and in Edmonton. Check out all these amazing local events!
What: 杞子茶屋 Goji Berries Tearoom
When: August 3 until September 17, Wednesday through Sunday 10:00 a.m. to 5:00 p.m.
Where: Reed's Bazaar, Fort Edmonton Park
Admission: $26.20 for adults
This new exhibition at Fort Edmonton Park shows visitors the significance of goji berries in Edmonton. The history of goji berries in the city intersects with Chinese history, as the first berries were brought by Chinese workers in the late 19th century. Yong Fei Guan, who is currently in the U of A Masters of Fine Arts program, has create participatory artwork that showcases the parallel displacement and rerooting of this plant and the Chinese community in Edmonton. The artist will host tea conversations every Friday in August from 10:30 a.m. to 12:00 p.m..
What: Heritage Festival
When: August 5 to 7
Where: Edmonton EXPO Centre
Admission: Free admission
The world's largest three day multicultural celebration is in our very own city this upcoming weekend, celebrating its 50th anniversary. Heritage Festival intends to promote cultural contact as well as celebrate the diverse cultures in Edmonton through a showcase of dance, music, arts and crafts, and, of course, plenty of food!
What: Freewill Shakespeare Festival 
When: August 8 until September 3, Weekend Matinees at 2:00 p.m.. Nights at 8:00 p.m.
Where: The Cristal Palace Spiegeltent at the Edmonton Convention Centre
Admission: $5 for students on Sundays, otherwise $35 for adults
Shakespeare in the Park is back at a new venue! Tickets can be bought on the website, where you can also find a list of special performances, such as ASL interpreted shows. They are putting on two shows this year, one of which is the tragic love story of Romeo and Juliet on odd nights and even matinees, and the other a rambunctious comedy, Twelfth Night, that has loads of laughs and will be playing on even nights and odd matinees.
What: Edmonton Folk Music Festival
When: August 10 to 13
Where: Gallagher Park
Admission: $97.50 for Thursday day tickets
If you missed out on buying tickets for this year's Folk Fest, you are in luck! There are still single day tickets available for Thursday on the FolkFest website. DakhaBrakha, Watchhouse, and Feist will be performing on August 10. If you are still hoping to grab tickets for the full weekend, you can join the waitlist.
What: Edmonton Indigenous Fashion Week
When: August 3 to 5
Where: River Cree Casino
Admission: $39.69 for one day access
This is the first annual event that showcases and celebrates Indigenous Fashion in Edmonton. Twenty four designers will be featured, and attendees can also grab some food at one of eight food trucks, and enjoy performances by 30 Indigenous entertainers.
What: Disco in the Park
When: August 4 to 6
Where: Louise McKinney Riverfront Park
Admission: $79.38 for single day passes
Disco in the Park is Edmonton's summer House and Disco music festival with dancing, food, and clubbing afterparties at various venues. Details of the lineup, schedule, and separately ticketed events can be found on the website, but just some of the events include the new ROLLERDISCO zone and live art from Min Bid Art Gallery.