News
Students' Union
Notes from Council: Motion for SCF to fund design report for new washrooms in Dewey's postponed
"When people equate sustainability, it's usually environmental. But social sustainability and economic sustainability are just as important," vice-president (operations and finance) says.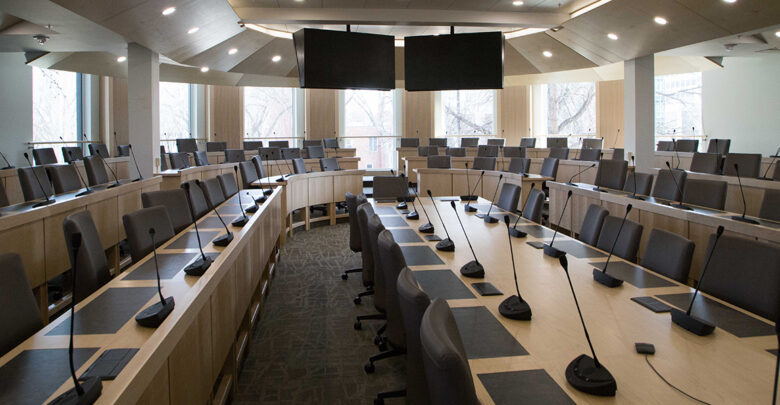 At Students' Council on August 15, council received a presentation from Jacob Verghese, the University of Alberta Students' Union (UASU) chief returning officer (CRO). A presentation was also given on the Canadian Alliance of Students' Associations (CASA).
Council also sent back a motion to Finance Committee. The motion was to release funds from the Sustainability and Capital Fund (SCF) to pay for a schematic design report for accessible and gender-neutral washrooms in Dewey's.
Wasiimah Joomun, the director of operations and membership and interim executive director of CASA, gave a presentation on the federal advocacy body. CASA has 23 member student associations, representing over 365,000 students.
"The effect [of CASA] is pretty significant to you and your students in the constituent," Joomun said. "We advocate for students using policy research, partnerships, government relations, and campaigns."
Elections Office aims to have turnout of 22 per cent in fall by-election
Verghese presented on the Elections Office's advertising strategy for the 2023 UASU by-election. The by-election aims to fill vacancies on both Students' Council and General Faculties Council (GFC). There are currently six vacant seats on Students' Council and 18 vacant undergraduate seats on GFC.
The advertising approach will focus on three questions in hopes of increasing voter turnout. "Why do we need a students' council? What are the differences in council positions and what do they do? When are elections even happening?" Verghese said.
According to Verghese's presentation, "the decline in student engagement is drastic" when looking at voter turnout from the past four executive elections. He presented that in 2020, the turnout was 25 per cent, 2021 saw a turnout of 21 per cent, and the turnout in both 2022 and 2023 was 19 per cent.
"For at least this election, my goal is to have at least a 22 per cent [voter turnout]. An increase of three per cent from previous years," Verghese said.
Advertising strategies include using Instagram and TikTok to post about candidates, council positions, nomination packages, deadlines, and election results.
The Elections Office wants to increase university involvement by asking professors to promote election engagement. Other strategies include working with faculties with vacant seats, and asking the university to post about the election on Instagram.
The Elections Office also plans to use UASU Perks as an incentive for students to research candidates. Verghese clarified that voters will not receive points for voting.
Motion to release funds from the Sustainability and Capital Fund toward washroom upgrade in Dewey's postponed
Levi Flaman, vice-president (operations and finance), and science councillor Laurel Ford sent in a motion "to approve the release of funds from the Sustainability and Capital Fund (SCF) not to exceed $10,000 to pay for a Dewey's washroom upgrade schematic design report."
According to the submitted motion, installing accessible and gender-neutral washrooms in Dewey's is a priority for the executive team. The Finance Committee approved the recommendation to release funds from the SCF to hire an architectural firm that can draw up an architectural plan for new washrooms.
Students maintain the SCF with a $25 fee per semester according to the UASU website. The website also says that "Students' Council will determine which projects receive support from the fund," and "all supported projects must have environmental, social, and economic sustainability priorities at their core."
Board of Governors (BoG) representative Stephen Raitz asked for clarification on the SCF and its relation to the proposal.
"What is the intent of the SCF and how does that intent overlay with this upgrade? This is a really important project and it's about providing dignified, open, and accessible spaces for folks. I just want to make sure we're all on the same page of how this fund … relates to that."
Council refers motion back to Finance Committee with instructions
Law councillor Damon Atwood also commented on the purpose of the SCF.
"I feel like the source of the funding is a little off of the intent of the fund."
Flaman replied that students raised concerns about the washrooms in Dewey's in the 2023 UASU Election. He said if students "don't want to patronize Dewey's anymore" because of the washrooms, that can impact Dewey's' revenue stream.
"We're trying to be social in the social sustainability aspect, where we want to create these positive, inclusive, [and] welcoming spaces," he said. "When people equate sustainability, it's usually environmental. But social sustainability and economic sustainability are just as important."
Councillors raised concerns that only one quote for the architectural design was done. According to Flaman, the company hired quoted "$8,000 plus tax, so $8,400."
"If council wants to get more quotes, I wouldn't be opposed to it," Flaman said. "But [$8,000] seems reasonable to me, given the work involved. I don't know how much of a benefit we're going to get by pushing it off even longer."
Atwood motioned for Flaman and Ford's motion to be referred back to Finance Committee with instruction to acquire two additional quotes and funding options. Council approved Atwood's motion with 14 in favour and three against.