Arts & Culture
Nation & World
Making music that matters: Interview with Aysanabee
One of the stand-out performers from this year's Folk Fest sat down with The Gateway to talk about his rapidly growing career and the collaborations that helped him along the way.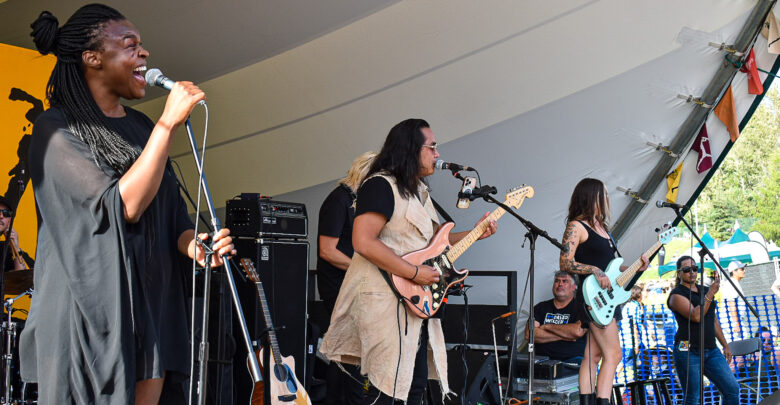 Despite the fact that most of us enjoy music in passive circumstances, like while taking the bus or as background noise for study sessions, some songs make you drop everything and just listen. This is the kind of music that Aysanabee makes — telling profound, difficult stories with emotive melodies and captivating vocals.
The rising singer, multi-instrument musician, producer, and songwriter is based in Toronto. Although he is relatively new to the music scene, Aysanabee has already won several awards. He's won three 2023 Summer Solstice Indigenous Music Awards and was nominated for a JUNO Award for Contemporary Indigenous Group or Artist of the Year. He was also short-listed for the 2023 Polaris Music Prize.
Aysanabee is Oji-Cree, Sucker Clan of the Sandy Lake First Nation in Northwestern Ontario. His family history has played a key role in his musical journey. He described how he started playing music at the age of 12. His passion developed out of circumstance — there was no electricity in his childhood home, but there was a guitar. 
"Some people say that you are born to do certain things, but I don't know. [If there was] a paintbrush there maybe I would have gotten good at painting. When I started writing music I wasn't good at it, I was pretty bad. But like with everything it comes with practice."
'Watin'
Aysanabee named his first album, Watin (2022), after his grandfather. The concept for this project came about after he moved his grandfather into long-term care, directly prior to the lockdowns during the COVID-19 pandemic in March 2020. In hopes of helping his grandfather adjust to the new environment, Aysanabee started calling him.
"I called him every day to see how he [was] and what's new. That kind of sparked these moments. I asked him to tell me more about our family, stories that he told me as a kid … I've always struggled reconnecting with my roots. I think with a lot of people in my position it's been the same thing."
Aysanabee explained that his grandfather was a residential school survivor and fell in love with Aysanabee's grandmother while they were in school. Their parents did not approve of their marriage so they decided to run away together, and "they were kind of shunned from their own communities."
Aysanabee was working as a journalist at the time, surrounded by the news that the rest of us found draining just to consume. During these phone calls with his grandfather, Aysanabee said "the journalist kicked in." He asked if he could record their conversations to document his grandfather's story.
"I didn't know what would come of it. I wasn't thinking about making music, I wasn't thinking about making a record. I just wanted to have these stories recorded so they [wouldn't be lost]."
While listening to the recordings, Aysanabee became struck. He found out his grandfather did not know what Seeseepano, his own father and Aysanabee's great-grandfather's name, meant.
"It was not because he forgot what his father's name meant. It was because he was taken as a kid and he didn't get to know his family. I was noodling on guitar while I'm listening and I write a song. And I write another song and I think, 'this is what I can do. This is how I can record our family history.'"
This eventually led to the first musical track, "Seeseepano," on the album. There is a numbered interlude between each song that features Aysanabee's grandfather speaking about his family and experience in residential schools.
Sharing important stories through performance
Aysanabee's musical career kicked off when he applied to play at the International Indigenous Music Summit where he met the founders ShoShona Kish and Amanda Rheaume. They reached out to sign Aysanabee to their new record label, Ishkōdé Records, just from his application video.
"[At the time] I didn't have many streams. I didn't even have a record, I had two demos. They signed me out of just that video because they believed in me. We recorded the record and look what happened a year and a half later. I did not expect it to get as big as it did."
He was initially nervous to put out this record because of the difficult subject matter. However, Aysanabee received many appreciative reactions. "Residential school survivors reached out and they [said] it's really cool that our stories are finally being told by our people," he said.
Though performing the songs after his grandfather passed away has been difficult, Aysanabee expressed that "it's a privilege to do this.
"Because of the context of the record it's not like I'm just doing it for myself. So it's nice to play and share these stories."
Edmonton Folk Fest attendees were lucky enough to witness one of Aysanabee's gripping live performances on August 13. His latest single, "Somebody Else," jumped nine spots and sat at number 5 on CBC Music Top 20 on August 17. He said that there will be more music to come soon.
If you aren't able to make one of the live performances in Eastern Canada on the rest of his tour, take some time to listen to, respect, and feel the exceptional artistry of his music. These are stories we all need to hear.