Job Postings
Job Posting: 2023/24 Managing Editor
Apply to be our next Managing Editor!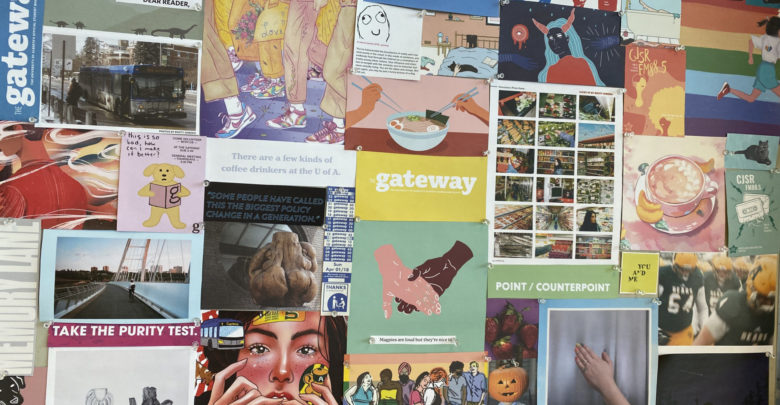 Position: Managing Editor
Reports to: Editor-in-Chief
Closing Date: August 9, 2023 at 10 p.m.
Terms of Contract: September 1, 2023 to April 30, 2024, with option of starting earlier
Expected hours: Spring/Summer: 20-25 hrs/week, Fall/Winter: 30-35 hrs/week
Hours may fluctuate from week to week.
Salary: $1,166.67/month
Job Summary:
The Managing Editor shall be responsible for managing the quality and quantity of The Gateway's online content. The Managing Editor shall provide support to the Editor-in-Chief in respect to editorial workflow and administration for online content, and shall be an educational resource for line editors and volunteers. The Managing Editor must operate in accordance with the Gateway Student Journalism Society bylaws at all times.
Duties and Responsibilities:
Coordinate and ensure the completion of web-specific content.

The Managing Editor will be responsible for managing line editors and deputy line editors;
as well as soliciting content from line editors and deputy line editors.

Edit and/or approve all online-exclusive content before posting, including articles, blogs, videos, and podcasts. Coordinate with the Editor-in-Chief an effective method of online publication and editing.
Write and edit copy for the Arts and Culture section.

Ensure that matters of interest for university students are covered in the Arts & Culture section.
Coordinate at least one arts-specific training workshop each semester, two if possible.
Recruit and train volunteers to write arts and culture articles.

In conjunction with the Editor-in-Chief, endeavour to generate and/or solicit from volunteers story ideas that may be worthy of in-depth coverage in the features, guest column, and visuals sections.
Monitor The Gateway's Facebook, Twitter, Instagram, and Reddit accounts regularly and report any libellous and abusive comments to the Editor-in-Chief.
Meet with the Editor-in-Chief weekly to discuss any relevant online topics and activities.
Meet with Editor-in-Chief and any other technical staff regularly to discuss website upgrades and maintenance.
Continually monitor all online content and maintain a strict level of quality control across the site.
Produce for the Gateway Student Journalism Society Board of Directors, 72 hours prior to each meeting, a report on website traffic and other online initiatives, which shall be presented at each meeting of the Board of Directors.
Create and send the biweekly The Gateway newsletter.
In the case of an unanticipated temporary absence of the Editor-in-Chief, ensure that the duties of the EIC are completed.
In the case of any vacancy in the office of Editor-in-Chief, assume the role of Acting Editor-in-Chief until such time as hiring of a new Editor-in-Chief is conducted in accordance with the Bylaws.
Perform other job-related duties as required by the Editor-in-Chief.
Qualifications:
Must be registered in the equivalent of at least one (1) course for credit at the University of Alberta during the Fall and Winter term of their term in this position.
Must be available to work various hours.
Must have excellent computer skills and an interest in social media and the web.
Must be able to deal effectively with Gateway and university staff, students, and the general public.
Training in data journalism, programming, and video and audio editing software such as Adobe Premiere Pro is an asset, but not required.
Please submit a cover letter, resume, and portfolio of up to five pieces to Editor-in-Chief Katie Teeling at [email protected]. Applications are due on August 9, 2023 at 10:00 p.m. MST.
Interviews will be scheduled on a rolling basis, so don't delay in sending in your application. The interview process consists of a 30-minute editorial test and a 30-minute interview, five minutes of which are dedicated to a job pitch by candidates.