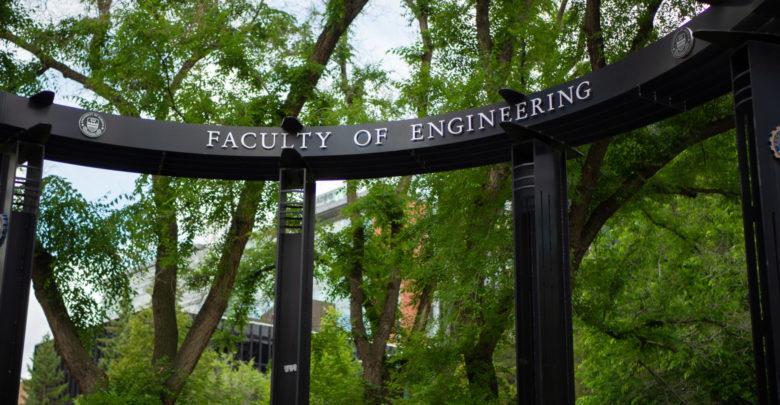 Hassan Dehghanpour, a professor in the faculty of engineering and petroleum engineering researcher at the University of Alberta, is researching the possibility of storing hydrogen in Alberta's underground salt caverns.
More than 2,000 tonnes of compressed hydrogen gas can be held in underground salt caverns. Storing hydrogen at a large-scale could aid the province's goal of "integrating clean hydrogen across [Alberta's] economy," and becoming a "major supplier of clean hydrogen," as outlined in Alberta's Hydrogen Road Map.
Salt caverns in Alberta have been used to store natural gas and other hydrocarbons for the past 50 years. According to Dehghanpour, this is because of the large storage space that salt caverns provide.
"The diameter of the cavern can be around 60 metres, and the height can be around 80 metres, allowing for a very large tank underground. We did some calculations for hydrogen that showed we can store around 2,000 metric tons of pressurized hydrogen in a single salt cavern," Dehghanpour said.
Natural gas stored in salt caverns helps address the fluctuating supply and demand throughout the seasons. Dehghanpour said that the main reason salt caverns are needed is because natural gas is used less in the summer, but production of natural gas does not stop.
Hydrogen can be produced by natural gas or excess electricity generated by renewable energy sources, such as solar panels and wind turbines. If hydrogen is going to partly replace natural gas, there needs to be a storage facility for hydrogen, Dehghanpour added.
"We need to have a storage facility for natural gas to address seasonal and daily demand fluctuations. So we always need to have a storage facility to smooth out the curve," he said. "Now, the idea is that part of the natural gas economy can be replaced by hydrogen."
There are challenges when it comes to storing hydrogen compared to natural gas and other hydrocarbons. Of all elements, hydrogen has the smallest molecules. This makes the gas more explosive and capable of penetrating the salt cavern walls.
"A need for expanding the hydrogen economy is having sustainable, safe, and efficient storage facilities. Since hydrogen molecules are small and reactive, we need a storage tank that is impermeable to hydrogen," Dehghanpour said.
According to Dehghanpour, the U of A will be the first lab in Canada to test salt rocks for hydrogen storage capabilities. Researchers will be working to ensure safety, and optimal operation and design in salt caverns. They will also be looking into the risks of storing hydrogen in salt caverns, such as leakage and reactions.
"We are using the expertise within the university for geochemical analysis and rock mechanic testing on hydrogen permeation," he said.
Although there are risks, salt caverns have safety benefits as well, Dehghanpour added. Salt caverns can have a depth of two kilometres below the surface, "ensuring some level of safety."
"Salt rocks are also known to be impermeable to fuels. That has to be investigated for hydrogen, but in general they are known to be impermeable. This ensures that hydrogen or any other fluid won't leak through the cavern walls."
"There are uncertainties about hydrogen related to reactions and leakage. We would like to ensure the purity and containment of hydrogen in the cavern. But, with proper engineering and design, these risks can be addressed."