Arts & Culture
Campus & City
From the page to production: Interview with U of A student playwrights
Elyse Roszell and Spenser Kells, playwrights for the New Works Festival, discuss their experience watching their plays come to life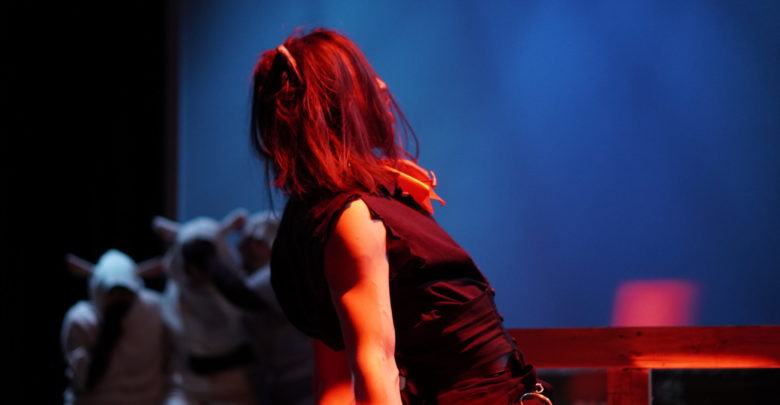 Theatre, for most viewers, is all about the acting, especially if actors are good enough to make us forget that they are playing a role. It is easy to miss the immense work that goes on behind the scenes, from lighting and set design to writing the production itself.
In February, the U of A department of drama hosted their annual New Works Festival. This project features plays that were written, directed, and performed by U of A drama students. New Works also gives students the opportunity to work with professional playwrights that advance their original and unique production ideas.
All aspects of theatre are developed during this festival, and students collaborate to create a final product that unifies all of the various elements of putting on a play. This year's festival featured four productions, two of which I attended: The Hand That Feeds and Sheep Play.
Written by Elyse Roszell, The Hand That Feeds centres around the violent, gendered complexities of folktales. A young girl, Anne, is dared by her brother Jack to go into the haunted woods and enter a cabin their grandmother has told them gruesome stories about. A hunter, his wife, and the hunter's strange companion lived together in the cabin, until the companion's obsession with the hunter's wife takes an ugly turn.
Spenser Kells' Sheep Play imagines what would happen to farm animals, namely sheep, if humans completely disappeared. While three of the four main sheep characters intend to continue their routines, expecting the farmer to eventually come back, one (Angus) is determined to get over the fence that pens them in. Despite the warnings from his friends, Angus leaves the pen and faces the dangers of wild wolves to save his friends from being suffocated by their unsheared wool.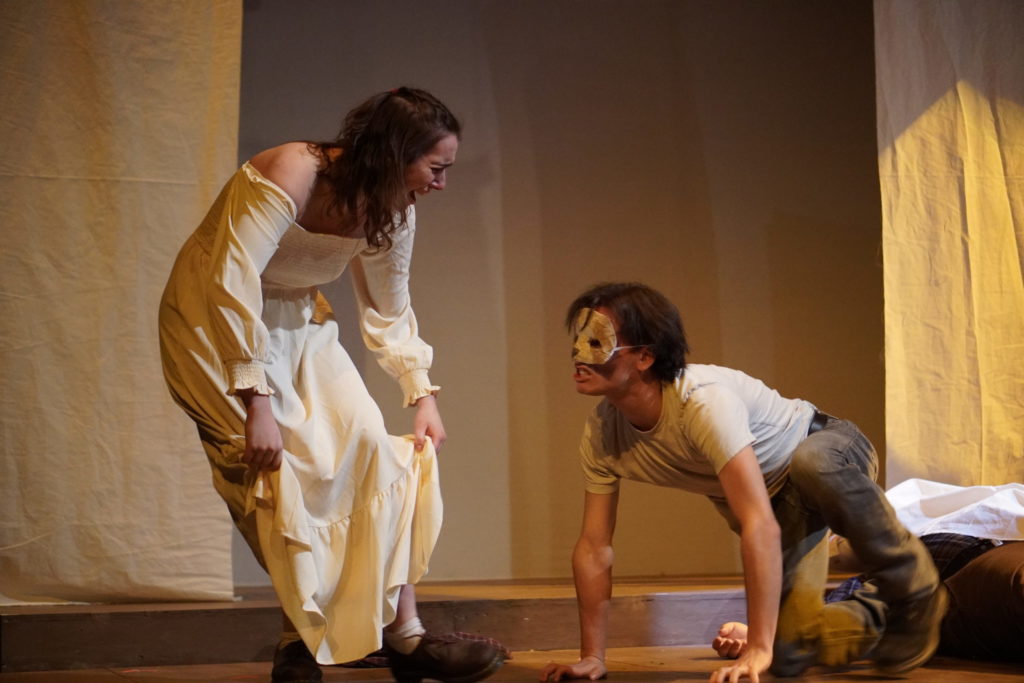 Both writers are in the BFA acting program at the U of A and have been involved in New Works in previous years. Their unique productions came about in equally unique ways: Roszell's play came out of a short story they wrote in high school that has been adapted into a production, while Kells' started as a joke about the concept that turned into a full-fledged play.
After their plays were accepted to New Works, Roszell and Kells worked with student directors who helped transform their written pieces into staged productions. Daisy Brazil and Sable Billings-Boltz directed on Sheep Play, and Aidan Jones and Kelsey Bertrand directed The Hand That Feeds.
Kells said that they were initially nervous about the reactions that their collaborators would have to the production because of its dark humour. Fortunately, they were pleasantly surprised to be working with a team that completely understood the concept and helped make it come to life.
"[The first table read] was one of the best table reads I have been a part of. The words were just flowing off the page they sounded great. I was just so thrilled."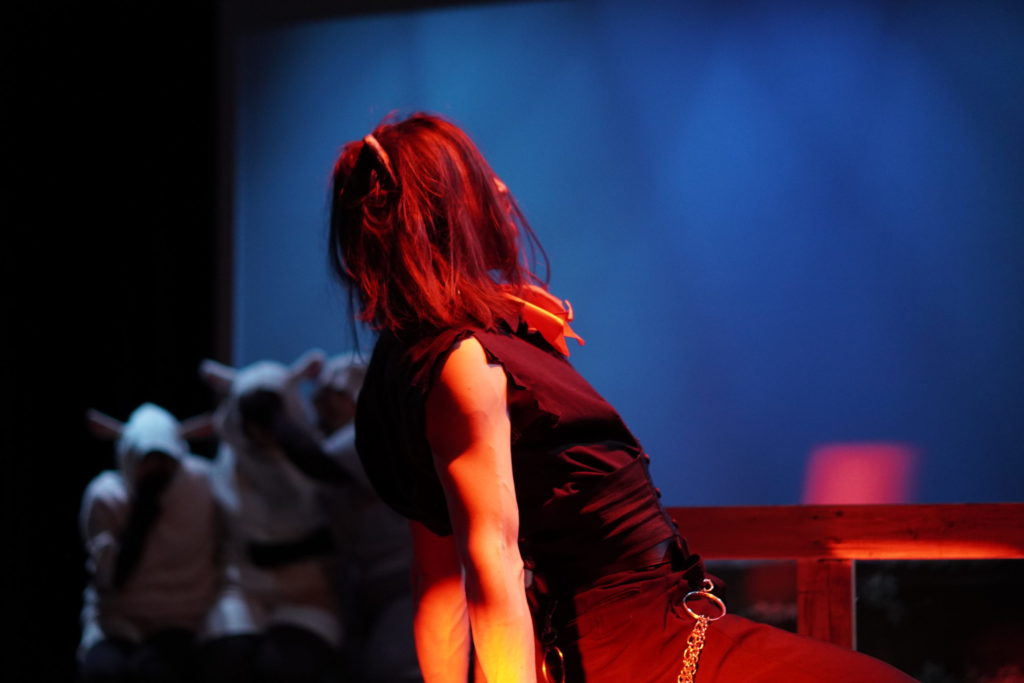 Roszell expressed a similar gratitude for the cooperation on the project, particularly because it was extremely difficult to stage with technical elements like puppetry and other complex theatrics. Some of their influences, such as English playwright Sarah Kane, are notorious for writing plays that are difficult to stage, but create a powerful impact when staged effectively. The collaboration really shaped Roszell's story into a layered final product.
"[In theatre] so many voices will emerge throughout the process … it was so interesting to see how other peoples' interpretive lenses really change your words or create new meanings for your words."
Both productions are presented from unique perspectives. The Hand That Feeds is based on the experience of a young girl, Anne. Roszell mentioned that as a female-presenting actor, it is more difficult to get roles, and the roles that are available are often shallow.
"I really [wanted] to write a character who is the driving force of the story [and] is a young woman." Roszell also expressed that the story is about different manifestations of misogynistic violence.
"To not have that be told through a female lens I think would be doing a disservice to those themes," she added.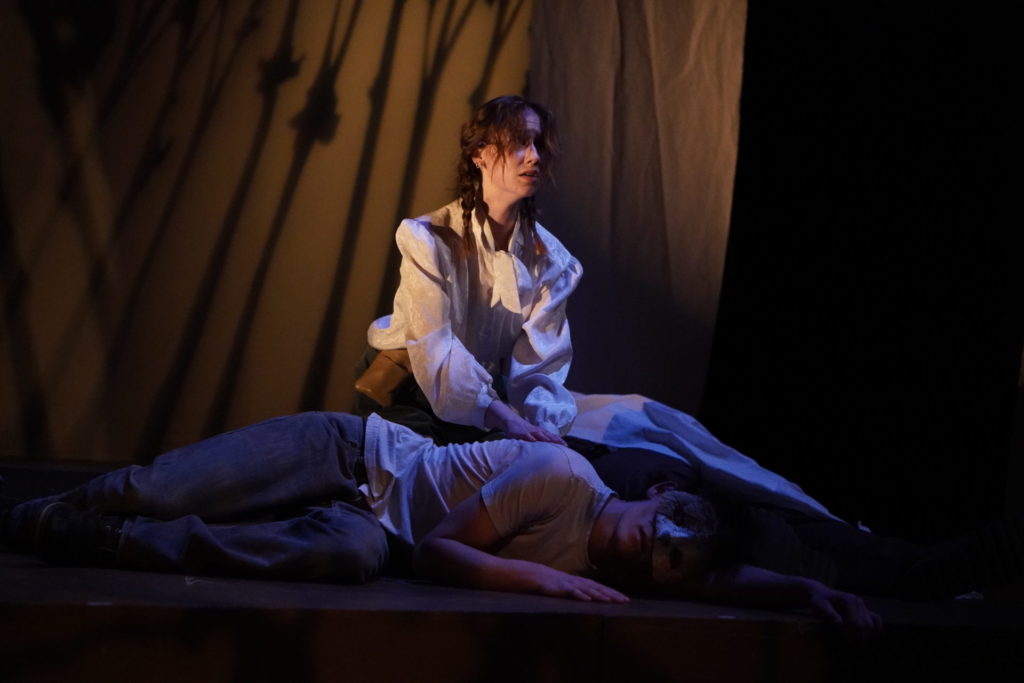 Kells mentioned the importance of relationships and connection in their play, as they emphasize the sheeps' human attributes and emotions. They said that "[Sheep Play] is a lot about community [and] changes in the world, environmental and otherwise," creating an empathetic connection between the sheep and the human audience.
"There's something very sad about a sheep being trapped behind a fence because there is not very much they can do about that, even if they want to."
Roszell and Kells hope to take these plays to the Edmonton Fringe Festival in the coming years. Thanks to the New Works Festival and their emphasis on professional development in the theatric arts, Edmonton theatre lovers may have the chance to experience fresh plays from young writers while celebrating the city's culture each summer.