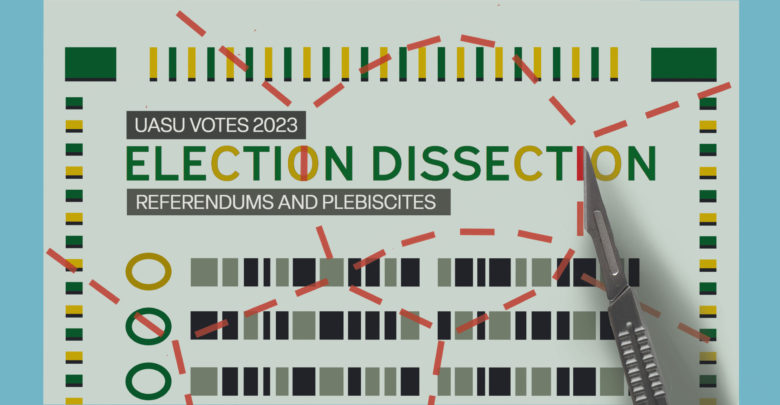 Every year The Gateway hosts a panel to determine who should and who will win in each race for the Students' Union elections to assist those undecided on who to vote for. Our election dissection panel is here with their insights on student politics and their takes on this year's candidates.
Opinions expressed by the panellists do not reflect those of The Gateway.
Due to time constraints, panellists were unable to discuss the Business Students' Association Fee (BSA), Education Students' Association Fee (ESA), HUB Community Association Fee (HCA), Kinesiology, Sport, and Recreation Student Society Fee (KSRSS), Law Students' Association Fee (LSA), Lister Hall Students' Association Fee (LHSA), and Nursing Undergraduate Association Fee (NUA).
The Panel
This year's panel for election dissection included: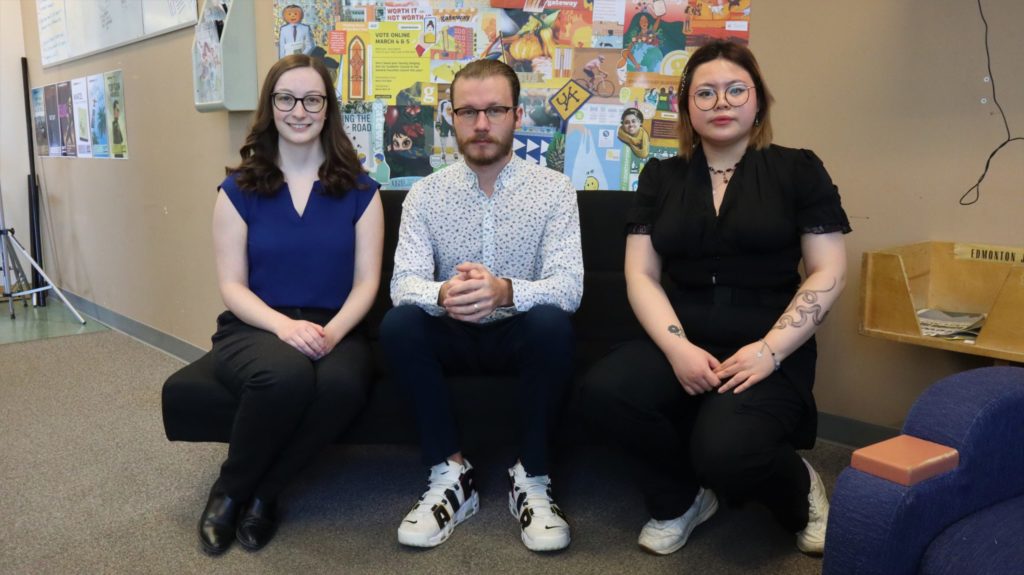 Jin He: first-year pharmacy student at the University of Alberta, former production editor at The Gateway
Jared Larsen: U of A alumni (BCom '20), former Students' Union vice-president (student life), former Residence Association President
Emily Briand: third-year political science student at the U of A, current president of the University of Alberta Conservative Club
---
Panellists agreed that the Alberta Public Interest Research Group (APIRG) has been underutilized and unknown within the U of A student population.
He mentioned APIRG's improved forum performance in comparison to their plebiscite campaign last year, which did not pass.
"I think APIRG has left a lasting impression this time, especially because every candidate running is endorsing them, and I think the pressure from a loss has really lit a fire under APIRG's ass."
All of the panellists brought up that APIRG's projects and funding opportunities have not been advertised to U of A students to its fullest extent.
"I think that kind of work is underutilized because people don't know about it, or just because people who aren't part of those student groups don't get to know about EDI training and stuff like that," He said.
Briand echoed this sentiment by discussing the need to increase engagement.
"I think their relevancy on campus hasn't really been explained to students well enough and I think that they could be doing better things to actually engage our students," she said.
"I think my biggest thing is [that] they don't provide the value to students that they should for the money that they're taking," Larsen said.
Briand and Larsen agreed that APIRG's dedicated fee unit (DFU) of $3.50 per semester for full-time students, and $1.75 for part-time students, should be an opt-in model instead of an opt-out model. This would mean students by default don't pay and would have to chose to opt-in, rather than the other way around.
Briand said that students don't know how to opt-out. "[APIRG] said that they're going to do more to tell people that they can, but people still don't know how."
Larsen pointed out that APIRG's funded projects can be seen as partisan without meaning to.
"You would inherently expect [APIRG] to be nonpartisan. But I see a lot of the material coming out from them as being partisan or partisan-adjacent that anybody with a political mind can very easily see as partisan. And that I have big issues with that if you're taking money from everybody."
During a Students' Council meeting, APIRG was asked if they were nonpartisan and if the perception of being partisan has affected why their plebiscite last year did not pass. In response, Tristan Turner, APIRG's office coordinator, said that APIRG is explicitly nonpartisan as a component of their bylaws. He also said that part of this conversation is that anti-racism organizing is sometimes perceived as a political threat.
Concluding the conversation, He mentioned that APIRG still has a role to play, despite that some students might be rubbed in the wrong way about APIRG's perceived stance.
"I can see why that might happen but I don't think it's useful to change the way APIRG operates in that sense, just because of where they come from what they're supposed to do."
Will this pass: Three votes for "no"
Should this pass: One vote for "yes", two votes for "no"
Panelists agreed that the Campus Recreation and Enhancement Fund Fee (CREF) should be more transparent in how the grant process works and the financial aspect of the fund.
Larsen elaborated on the work that CREF has done by mentioning their projects such as the pride crosswalks around campus and the outdoor gym near the Humanities Centre. He also talked about his experience with the CREF, as he had used their fund to help renovate two gyms in residence during his time as a Residence Association president.
However, he has issues with how this work is communicated to students.
"I think the fund does a terrible job of communicating what it is, how to do it, and the application process sucks," Larsen said. "But I think that has a place on campus that provides a lot of money for students to empower themselves to make a difference on campus, especially when it comes to sustainable choices."
Building off of Larsen, He wants for CREF to provide transparency in their finances in terms of how much money they are giving out and taking in, especially since CREF's fee is not an opt-out model.
"I would really like to see how much of that money is actually utilized. And honestly, if further review comes about or an opportunity comes along, I would like to review if we could lower that cost."
Briand agreed that CREF should increase transparency and communication about their program's initiatives. She also expressed that CREF's fee of $4.70 per semester, with yearly increases to match the Canadian Price Index (CPI), should be lower.
"I have no beef with the program. But I do think it should be less expensive for students."
Will this pass: Two votes for "yes", one vote for "no"
Should this pass: Three votes for "yes"
---
Every year, The Gateway publishes hundreds of articles like the one you just read that are free for everyone to access. But The Gateway needs your support to continue publishing its award-winning journalism. Please consider donating today, even a small amount can help the University of Alberta's only newspaper continue serving the campus community. Thank you.