Arts & Culture
Campus & City
Photography
Photostory: U of A Pride Parade 2023
On March 13, U of A's North Campus turned colourful as university students and staff paraded with various pride flags and rainbow clothing.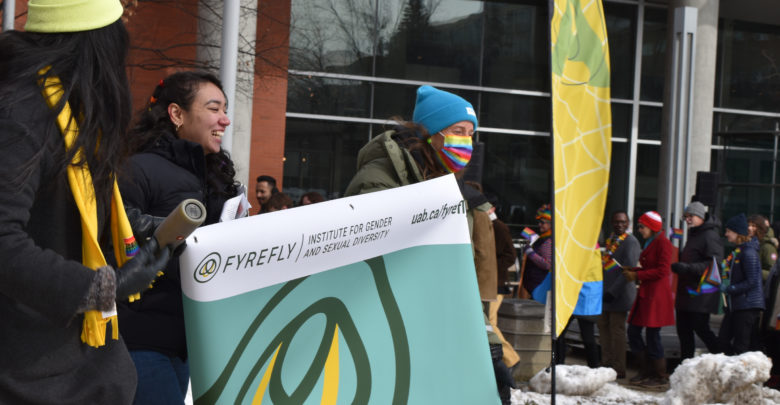 To start this year's Pride Week at the University of Alberta, university students and staff donned the colours of the rainbow as they paraded around North Campus on March 13. Hosted by the Fyrefly Institute at the U of A, Pride Week is a week-long event highlighting the university's 2SLGBTQ+ community through a large range of activities for people to participate in.
The parade started on Main Quad at the south side of the Centennial Centre for Interdisciplinary Science (CCIS), with speeches from various speakers.
After the speeches, they started heading their way towards the Arts/Business Quad by going through the Central Academic Building (CAB) underpass towards Dewey's. Then, the route directed parade participants along HUB mall and the sidewalk beside the University Commons before reaching the final destination at Van Vliet Complex's (VVC) Social Street.
As people arrived at VVC's Social Street, there were booths from various student groups, with The Landing's booth being the first one people saw as they entered the building. Later on in the day, the booths made way for a drag show performance from local drag performers Dana Cree, Etherea, and GoGo Fetch.
More information about this year's Pride Week schedule can be found here.