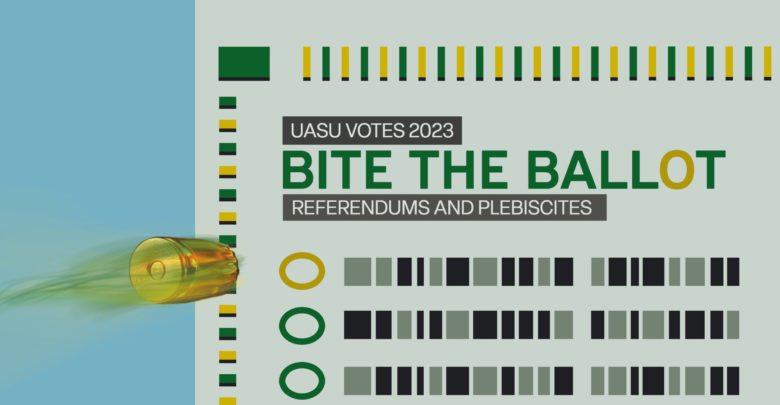 This year, only one plebiscite will be on the ballot: the Campus Recreation and Enhancement Fund.
Campus Recreation and Enhancement Fund (CREF)
The Campus Recreation and Enhancement Fund (CREF) is up for renewal in this year's Students' Union (SU) election. If it passes, students will pay $4.70 per semester for the next five years, but the fee will increase yearly based on inflation.
Only Augustana students are exempt — if you're online, off-campus, or on-campus, you will be expected to pay the fee to the CREF. Annually, the CREF has a fund of $290,000 that's available for students to apply to receive.
The fund is meant to increase financial accessibility for recreational opportunities on campus. According to Krystle Johner in her Q & A with The Gateway, the fund can be applied to clubs, sports and intramural programs, and the physical recreation facilities themselves, like the Fitness Centre.
Physical activity is important for all aspects of your health, so it's important that students have access to recreational services. Plus, some of the projects funded in previous years have been pretty cool — in 2021-22, the CREF went towards building a gaming room for e-sports, which isn't something I knew existed.
However, there is limited awareness of this projects, and the fund itself. On the Campus and Community Recreation Instagram, there aren't any posts dedicated to the CREF or the plebiscite. Plus, CREF didn't attend any of the forums.
It is worth noting, however, that a plebiscite is non-binding. If they lose this plebiscite, that doesn't necessarily mean they will lose the funding. A plebiscite helps the university consider what decision they should make. So even if the CREF loses, students might continue to pay the fee.
Will it pass?
I don't think so. The CREF didn't attend any forums, and did very little outreach to show students why their fund matters. It's also really hard to find any information on the plebiscite or the projects this funding goes towards.
Should it pass?
Recreation is obviously important, and students should be encouraged to have these funds at their disposal. But, if the CREF doesn't do any outreach, and students don't know it exists, what's the point of voting on it?
I think it should pass, but it's hard to justify payments to something you barely understand. This is especially true when it's not possible to opt-out of the fee.