News
Students' Union
SU Elections 2023 Q&A: Board of Governors Representative
There is one candidate in the 2023 Students' Union Board of Governors Representative race - Stephen Raitz.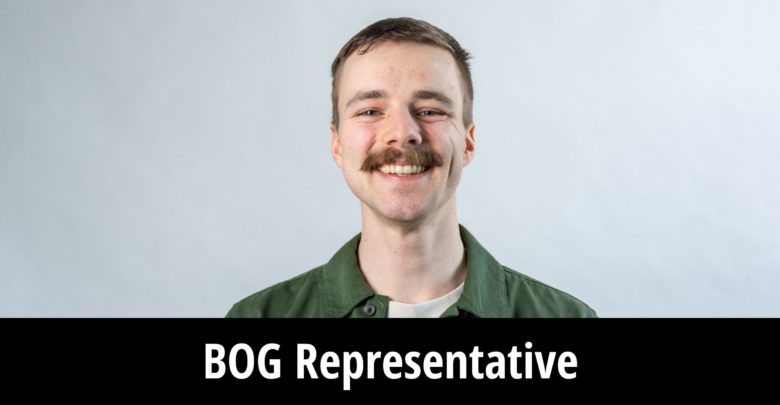 The Board of Governors (BoG) determines tuition fees, manages university property and finances, and is responsible for the strategic direction of the university. The BoG representative acts as a voice for the undergraduate student body at the University of Alberta, by filling a seat on the voting board. They work closely with the Students' Union president, and they act as a voting member on Students' Council and General Faculties Council (GFC).
There is one candidate in the 2022 Students' Union BoG representative race:
Stephen Raitz, a second-year law student.
The following interviews have been edited for brevity and clarity.
Why have you decided to run for Board of Governors representative?
Stephen Raitz: I've been very involved on campus — I've done close to two degrees now — and have been helping students advocate on behalf of their needs, and helping create a community on campus. I see sitting on BoG as a really valuable opportunity to act on those interests and raise some of the concerns that we're seeing across campus.
What would you say are the three main takeaways from your platform?
Raitz: My platform is set up in a way where I'm demonstrating that I understand what this position is, and how it's a more unique position in comparison to the other ones. I have a set of priorities that reflect students' interests with regard to affordability, to academics, and with the experiences on campus. I've also demonstrated how I'm going to engage, how I'm a unique individual to approach this work, and that I will hopefully be able to do a good job of it.
Why should students trust you to represent their interests, and advocate for their needs?
Raitz: I really, really try hard. I want to put my absolute best effort into this work. I have always been passionate about community on campus and students' experiences, and I can be trusted because I have years of experience doing this kind of work. I'm going to give it my all to make it the best possible year for the BoG representative position, and for improving students' experiences on campus.
Although student leaders have been advocating for no tuition increases, there is a proposed increase for the 2023-24 year. How will you ensure students' voices are effectively heard when the board makes fiscal decisions for the university?
Raitz: I think there are several stages to this kind of work. There's the BoG representative working with the Students' Union, and the president of the Students' Union, to compile data and stories to persuade board members on ideas that they find important in making these decisions about retaining and attracting students. I also think that it's about, to an extent, mobilizing students at the right time. I would want to use my prior experiences of reaching out to a ton of students on campus and bringing them into the fold, trying to get them engaged on an issue and mobilizing them. I've been part of a protest on campus in the past, and I would want to bring back that kind of energy at the right time for these kinds of decisions to make a change.
How do you plan on communicating your advocacy to the student body?
Raitz: There are many stages to this. There's the same old, working with Students' Council, with GFC, using those tried and trued ways of disseminating a message. There's being active on social media, like TikTok and Instagram to explain things. I also think it's a day-to-day experience like when I go about campus, I'm talking about these kinds of important issues already and how to improve the student experience. That day-to-day interaction of just running into people on the street kind of thing, is where I also want to thread in that outward communication.
---
Every year, The Gateway publishes hundreds of articles like the one you just read that are free for everyone to access. But The Gateway needs your support to continue publishing its award-winning journalism. Please consider donating today, even a small amount can help the University of Alberta's only newspaper continue serving the campus community. Thank you.