Arts & Culture
Cultural Affairs
Hildur Jónasson's exhibition 'synthesis' delves into the ecopsychology of the Anthropocene
Through printmaking, synthesis dismantles the artificial divide between humans and nature, while revealing to us new ways of looking at the ecosystems we are actively shaping.
synthesis debuted at the Society of Northern Alberta Print-artists (SNAP) on January 21, and was featured in their gallery until February 18. Originally from Iceland, Hildur Jónasson created an exhibition that unifies the natural and artificial elements found in the high Arctic.
Jónasson's prints encourage viewers to reflect on their internal perceptions of human-nature relationships, while the effects of the Anthropocene become visible in every place on the planet.

"This exhibit was a long time coming. It's a continuation of a body of work that I started about five years ago, when I was a participant in the Arctic Circle artists residency," she expressed.
This residency takes place in Svalbard, Norway, which is the northernmost settlement on Earth. During her first excursion to the icy walls of a calving glacier, Jónasson noticed a white rosy triangle embedded in the pebbles beneath her feet.
She and the other artists committed to picking up and re-using the plastic that they found. One piece of plastic, in particular, shaped the prints featured in synthesis.
"With my printmaking brain seeing something textured, I could ink [the plastic] up and run it through a press. The first marks that came from this ugly hideous pollution were these beautiful marks that looked more natural than they did human," Jónasson revealed.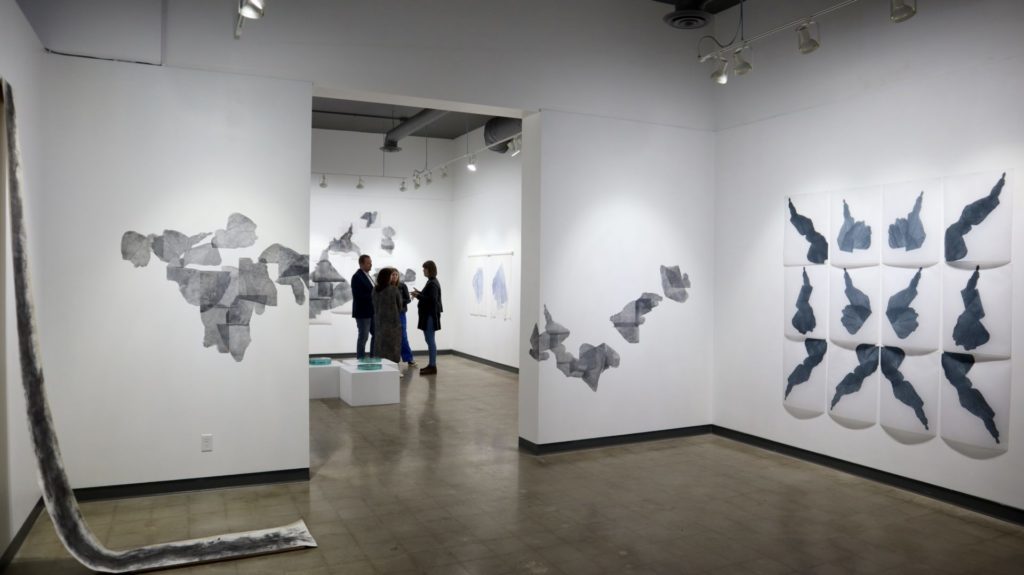 psychoterratic is the most monolithic piece in the exhibition, with paper tendrils reaching up and across the gallery wall. Jónasson referred to this piece as Pandora's box unleashing itself, being presented in an invasive way, and illustrating the growing legacy of plastic existing within the environment.
Despite the disappointing prevalence of plastic in our everyday lives and in remote places where it shouldn't be found, she addresses the dichotomy of its existence in nature.
"There's plastic [technology] that makes our lives better and easier, and in some cases more beautiful. But it also has duality, it has a creative aspect, and a destructive aspect," Jónasson shared.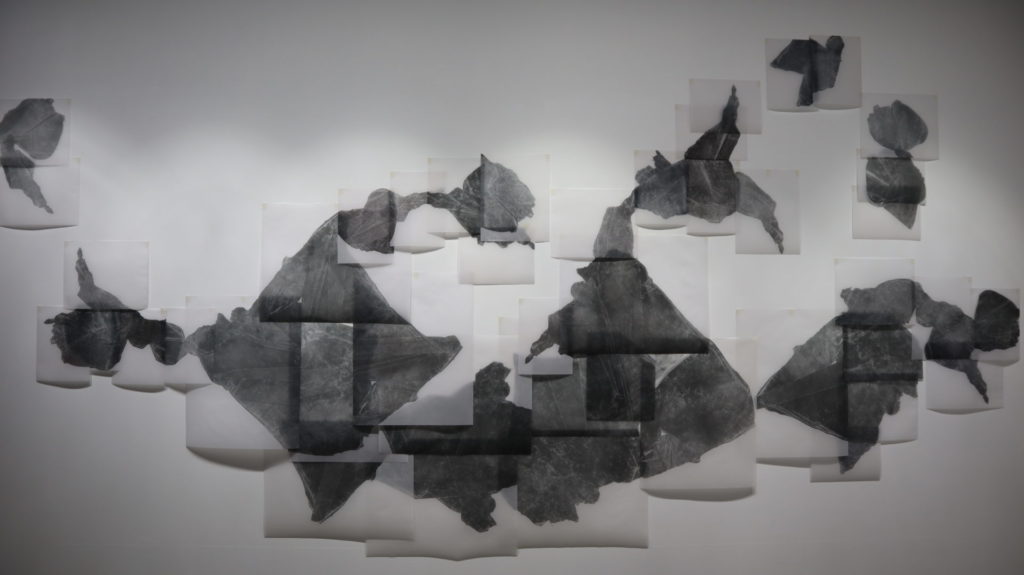 Looking down into thirty souls is like looking into shallow water, with each layer stratifying something magical to find within its rune-like swirls. While most gallery pieces summon the viewer's gaze upwards, the three glass installations ground the hanging prints. They reflect the small pools of water that Jónasson encountered on an island called Amsterdamøya, which lay within a meadow abandoned by a bird colony.
An ode to ecopsychology, which studies the relationship between humans and the natural world, are three prints titled Rorschach I, II, III. Rorschach inkblots are used as projective tests to peer into the perceptions and creativity of viewers. These inkblots guide viewers toward Jónasson's overarching themes in synthesis, which is the idea of natural and artificial elements interacting to create something new.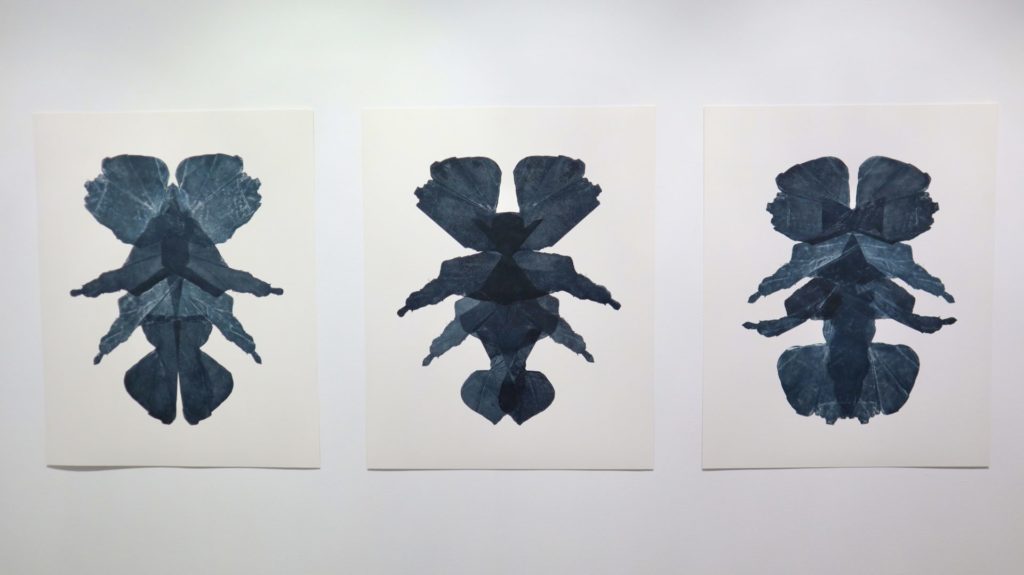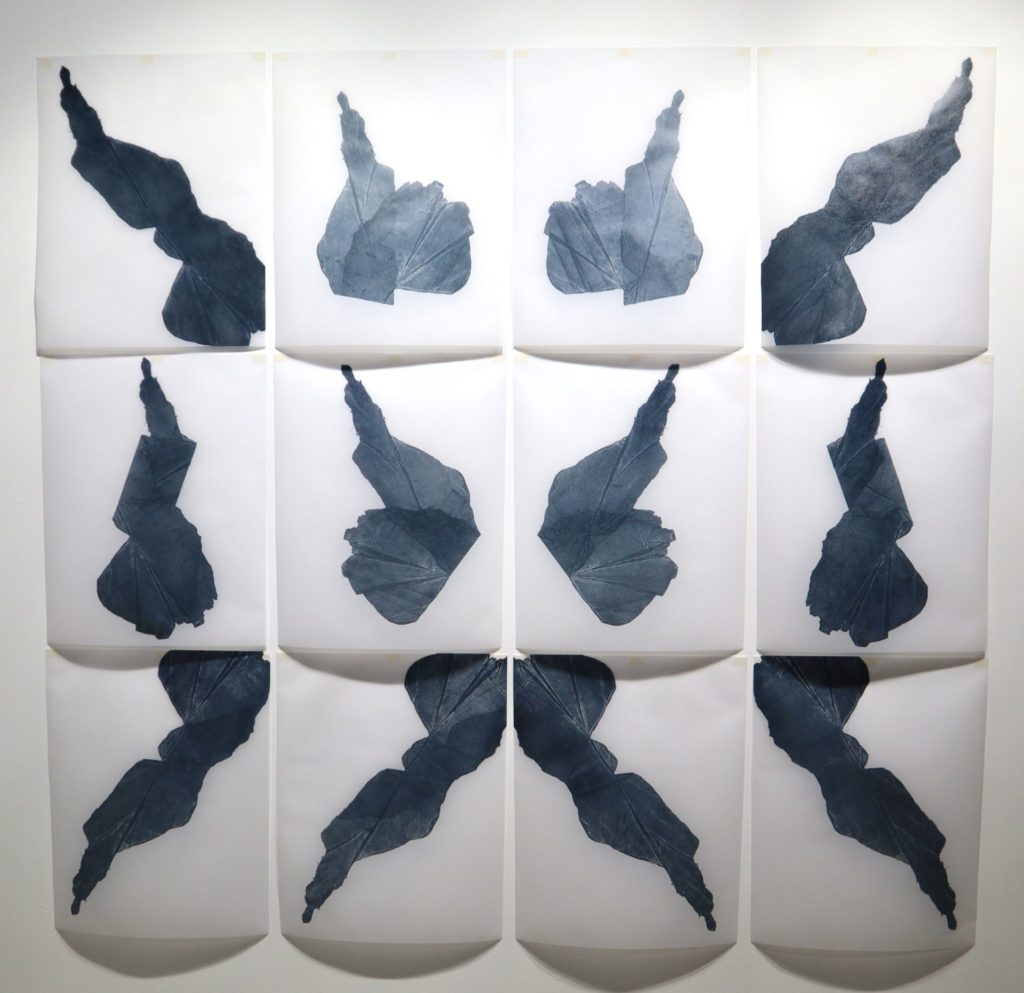 Another collection of monoprints, solostalgia, refers to emotional distress from environmental change. Beyond plastic being an invasive or pervasive entity, its synthesis within nature is transformative.
The shapes within the prints seem alien, yet are also embued with familiar natural textures. This piece resembles geometric fractals which continuously replicate themselves — perhaps referencing the microplastics which exist not only in the environment but also in our own bodies.
In a unique piece featured in her exhibition, Jónasson uses her body accompanied by the texture of the Fjortende Julibukta (Fourteenth of July) Glacier to create a scroll-like print. There is a short video displayed, titled Touching the Earth; Glacier ritual I.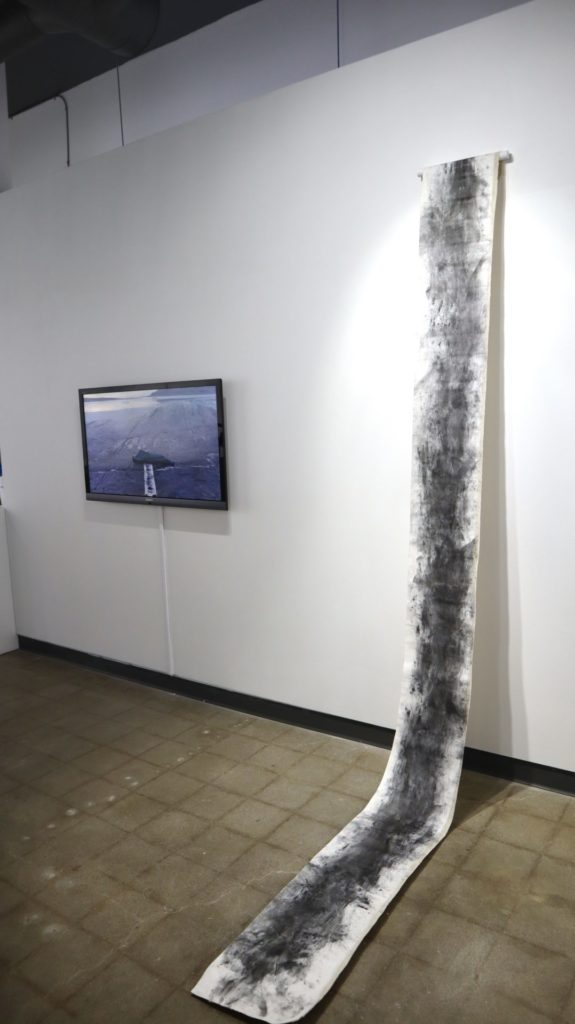 Whilst laying within the concave textures of the Glacier's icy surface, Jónasson described the feeling as a fleeting embrace.
Interestingly, this also connects the mortality of glaciers with global warming, such as the one used to create this piece.
"It's this idea of our mortality, and the ephemeral quality of glaciers in the climate crisis," Jónasson said.
synthesis explores our own ecopsychology towards an age marked by human impacts on the environment. By merging natural and artificial elements, this exhibition calls viewers to reflect on our feelings and perceptions towards the natural world we are actively shaping.
---
Every year, The Gateway publishes hundreds of articles like the one you just read that are free for everyone to access. But The Gateway needs your support to continue publishing its award-winning journalism. Please consider donating today, even a small amount can help the University of Alberta's only newspaper continue serving the campus community. Thank you.