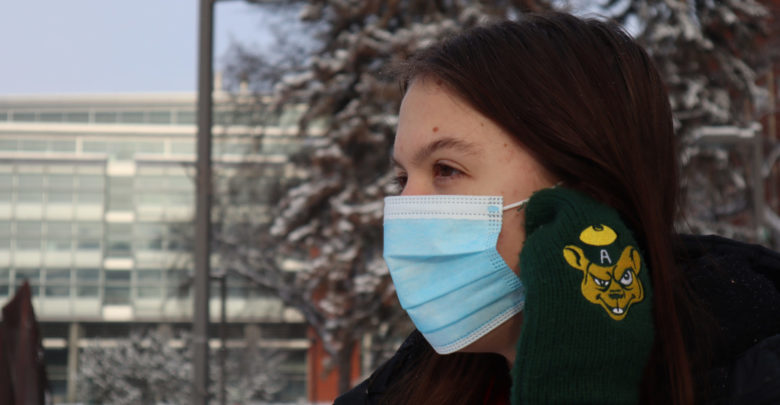 The marked presence of the COVID-19 pandemic has never fully disappeared from our daily lives. Health and safety precautions that were once hallmarks of social change, have evolved into recognizable social norms.
Many businesses have continued to offer complementary hand sanitizer to their customers. Corporate offices and post-secondary classes have stopped glorifying and encouraging people to come in sick. After working from home during pandemic peaks, we have learned that virtual accommodations and remote learning can be accessible and easy. Now more than ever, it's common to see masked transit-goers board buses and trains in a post-pandemic Alberta.
These examples demonstrate that people in Alberta no longer feel like the presence of a public health crisis, like the pandemic, is necessary to proactively mitigate risks to public health and safety. Initiatives such as masking in public spaces like classrooms are effective, and haven't disappeared as respiratory illness rates surge in our province — but these measures should be taken beyond recommendations during times of need.
In a decision that seemed to surprise Canadian campus communities despite these new norms, the University of Waterloo chose to reinstate their mandatory mask mandate for indoor public spaces on November 9.
UWaterloo's associate vice-president of communications, Nick Manning said, "we've been looking at the data in the community and across Ontario, and [we are] seeing some trends that indicate we might be seeing more COVID-19 now and in the future."
In the midst of seasonal flu, COVID-19, and new Omicron variants in our province, many students are wondering when, not if, this mask mandate will return to the University of Alberta. The Association of Academic Staff University of Alberta (AASUA) has already requested that mask mandates be reinstated on campus for the health of students and staff moving forward.
It seems as though U of A students have been continuously battling illness since fall midterms began. Now, as the term progresses after students return from break, that trajectory of sickness won't slow down. With Alberta tipping over 1,000 COVID-19 current hospitalizations in the past couple months, bringing back masks for the winter semester would provide students a sense of security. After all, just because the pandemic is believed to be over, why should we give up our previous dispositions to protect public health and safety during flu season?
We should model UWaterloo's approach to current illness trends, and reinstate the mask mandate on campus at U of A.
Our campus community has had few issues endorsing mask mandates in the past. The majority of students recognize the preventative science behind personal protective equipment (PPE), like medical masks and face coverings. When social distancing can't be maintained in dynamic spaces like lecture halls or laboratories, the mask prevents increased transmission of illness, allowing us to gather and learn safely.
With the transition to full in-person learning in fall 2022, unfortunately many students still attended classes while sick in an effort to keep participation grades high. In the midst of a tough winter of respiratory illnesses and COVID-19 cases in Alberta, students should not have to choose between their own health or their classes.
The act of wearing a mask demonstrates empathy for the well-being of others. With a growing need to monitor illness on campus, masking allows us to engage with one another without the added anxieties of getting sick, or spreading illness to others, as in-person classes continue.
When the campus community reconvenes after holiday festivities, the typical semester flu season shouldn't start the term with us. U of A should reinstate the mask mandate. Without it, the university should anticipate a return of many masked, or sick, students on campus in January.