Arts & Culture
Campus & City
SUB Farmers' Market comes back after pandemic to showcase local businesses
What was once a weekly spread of local products became a monthly feature of familiar and up-and-coming faces.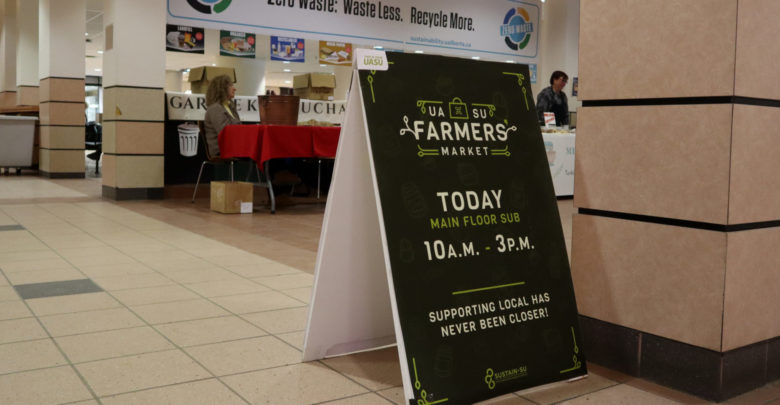 Lately, going to the Students' Union Building (SUB) every third Thursday of the month has been a treat. Seeing the friendly vendors selling at the University of Alberta Students' Union Farmers' Market (UAFM) puts a smile on my face, especially because I haven't seen them since the pandemic started.
The UAFM is hosted by the UASU's student sustainability service Sustain SU. On the UAFM's website, Sustain SU describes the market as a "gathering place" for the campus community, the vendors, sustainability-focused student groups, and community partners.
The UAFM's pre-pandemic run every Thursday filled up the hallways around the ground floor SUB InfoLink. Sustain SU plans on hosting six markets for the 2022-23 year, resuming on February 16 for the winter semester. I happened to interview both familiar and up-and-coming faces from the November 17 market, the third and final one of the Fall 2022 semester.
UAFM vendors feature a variety of products, from food and fermented drinks, to stationary, crafts and jewelry
Three familiar stalls from 2019 were selling their delicacies. Hedy's Homemade raspberry jelly is a crowd favourite and features Hedy Peterson's selection of jarred fruit jams, salsa, and pickled vegetables. TJ Brenton from Doughnut Party was eager to share the latest flavor rotation hidden in their iconic pink doughnut box. And Ferihan Kurt of Melodi's Kitchen showcased both sweet and savoury Turkish delights.
Fans of fermented drinks also had their selection at the market. U of A alumnus Jason Greidanus had samples of his Grey Dog Distilling rhumb, a rum made from Alberta-sourced beet sugar and molasses. Vera Baraz's Garage Kombucha featured a bottle deposit program, where students can return their bottles after finishing their homemade flavored kombucha. Carrie Boon from Fallentimber Meadery displayed cans of mead made from fermented clover flower honey from Water Valley, Alberta.
If stationary and hobby crafts are your thing, you're in luck. Angie Perez's Under This Moon YEG showcased the moon and other astrological elements on her affirmational stationary products and tote bags. U of A alumna Emily Lui displayed her Knots & Crafts YEG jesmonite trays, macramé, reusable bags, and scented heat packs. Lui also featured her and her sister's Life with Littles Co. scrunchies and hair accessories on her booth.
Fashion-savvy students flocked around the market's jewelry stalls. TC Creations, created by MacEwan student Tori Cooper, uses local upcycled and thrifted pieces for her one-of-a-kind jewelry. Titi Fueston's gold-plated Tikkhu Jewelry is inspired by nature, the zodiac, and her travels in Khumbu, Nepal. Kaitlyn Choi's Comma Jewelry jewelry and hair accessories are outsourced from South Korea.
UAFM vendors reflect on their experiences as small business owners and coming back to in-person markets
Almost all the vendors I interviewed said that perseverance is a key part to building your own business. When starting a business, Lui discussed how anyone can "start anywhere and do what you love."
Greidanus compared maintaining a business with his previous experience working in the navy and disaster and emergency management.
"You make the plan but once you've started stepping off and implementing the plan … you need to be flexible, adaptable, kind of roll with it, be open minded, and creative."
Fueston learned how to set boundaries between herself and her customers, saying that "sometimes you'll get pushed around or taken advantage of, and you still kind of just stretch your limits."
It's also important to know and cater to your customer base. Yasemin Kurt from Melodi's Kitchen learned about sustainability as well as health and food safety to "adapt over the years to different requirements of each market."
Baraz also mentioned that "everybody has their favorites, so it's been really, really helpful to find out what sells the best, just through interaction with customers."
As I walked around the SUB Farmers' market, both students and vendors enjoyed interacting with each other. Sarah Peterson from Hedy's Homemade said that the pandemic was a "big thing that hindered [them], as it did a lot of other people, but it was nice that [they] were in the position that [they] could come back."
"I've met so many people … the people are friendly, the people are calm," Cooper said. "Shopping local is truly like what people say it is."
"People are very understanding and kinder than the general public [compared to Doughnut Party's] other locations," Brenton said.
Bringing back the UAFM to SUB makes shopping at local small businesses accessible to U of A students, especially after the pandemic. As Boon puts it, "Albertans love local … they love stuff that's not mainstream."