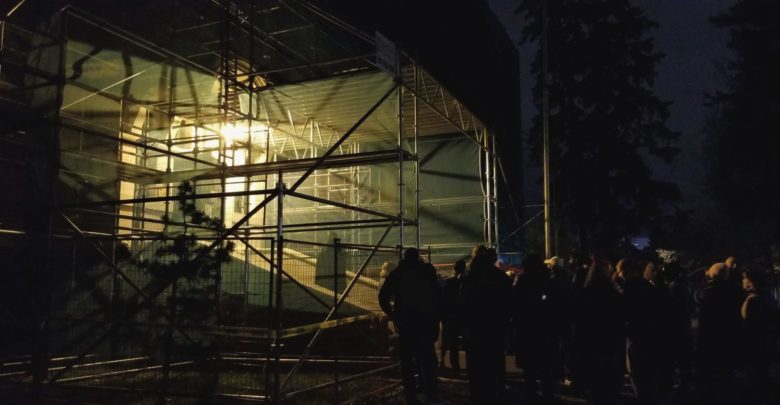 Now, I'm a firm believer in the paranormal. So walking around Whyte Avenue hearing about all the ghosts that haunt all the places I frequent was horrifying. But even if you're a skeptic, the Old Strathcona Ghost Tours is an excellent way to spend a night on the town.
Nadine Bailey, the owner and creator behind Edmonton Ghost Tours, told us at the beginning of our tour that everything she says is all true, and researched by her personally. The ghost stories Bailey shares range from terrifying to downright depressing. There's an even mix of tales about accidental deaths, murders, and forlorn lovers.
The tour explores the every day parts of Whyte Avenue that Edmonton residents have walked past countless times, but probably never stopped to check out. The Walterdale theatre, Strathcona Hotel, and Old Scona Academic High School are some of the buildings featured on the tour, with dark stories that illuminate you to their past.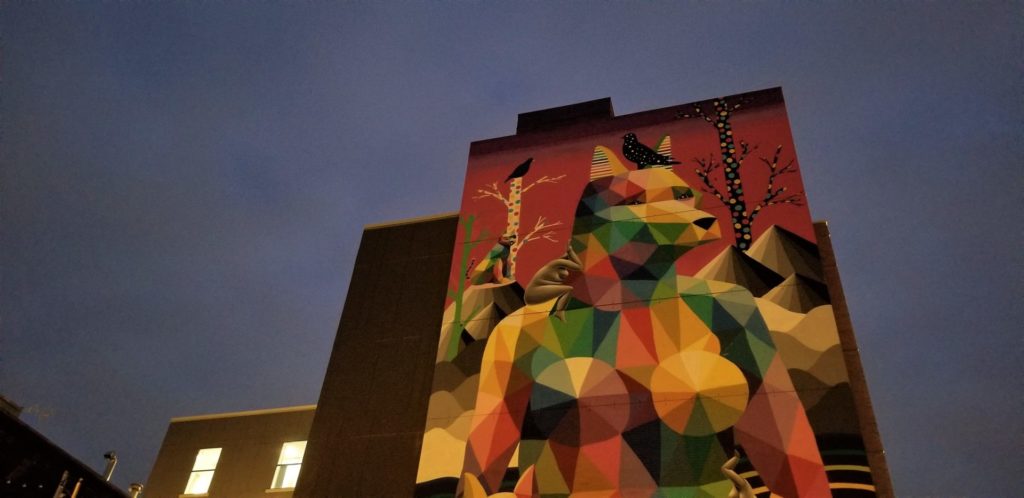 Throughout the tour, Bailey includes stops that are haunting in a very different way. Every Edmontonian has seen, and been plagued by, the illusive 'wolf with boobs' mural that stands across from the Farmers' Market, and has probably wondered what it even means. Bailey recounts her meeting with the artist, Okuda San Miguel, and talks about what the mural means specifically.
If you think the ghost tour is just an opportunity to have pure fear coursing through your veins, you're sorely mistaken. She has a unique gift to roast everyone on the tour for the most preposterous, unbelievable things. At one point, Bailey was telling the crowd about the Strathcona Orange Hall. Many organizations have rented the hall, including the Church of Scientology.
Because Bailey riffs off of the crowd so much, there's room for lots of banter from the audience. As a result, there's a really fun energy to the ghost tour that makes it a really chaotic experience. People laughing out loud, and yelling in response to Bailey, is not unusual to experience on the tour. If randomized barbs and nonsensical jokes are your speed, then you'll love the Old Strathcona Ghost Tours.
Just beware — the tour group size can be quite large and loud, especially with the loud bustling of Whyte Avenue. Bailey comes prepared with a giant megaphone, just in case the microphone she already uses is too quiet. There's also no risk of losing Bailey in the throws of Whyte Avenue. She wears a billowing black cape that makes her exceptionally easy to spot.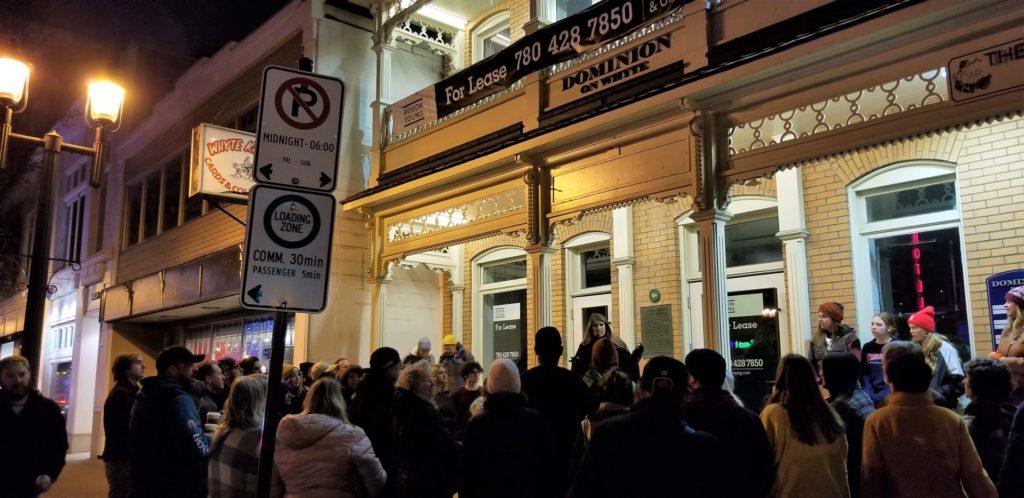 As is always the case with anything involving true crime, there might be a worry that the cases will be mishandled or glorified. Despite her jokes, Bailey handles each case with care, and very rarely sensationalizes them. For example, Bailey tells the story of a young woman who committed suicide inside her bedroom in the apartments above the Princess Theatre.
Suicide isn't an easy thing to talk about. It can be easy to glorify events like these for a laugh or a scare. I was initially concerned but Bailey exceeded my expectations, and made sure she focused on making the right parts spooky. Regardless, if you're someone who doesn't handle gore or disturbing events well, this might not be the tour for you.
Besides this one, Bailey has other haunted ghost tours, like one of North Campus, which goes until November 12. And let me assure you, the University of Alberta has its fair share of creepy tales and terrifying stories. And, if you need alcohol to help calm your nerves, Bailey provides a Haunted Pub tour too!
But not all of Bailey's tours are spooky. If you get tired of ghost stories, there's always her historical walks of the Edmonton and Mount Pleasant cemeteries. Unfortunately, these are done for this spooky season, but keep an eye out for next year!
Even if you don't believe in the paranormal, the Old Strathcona Ghost Tour has something for everyone. Plus, the walk itself is short, only lasting about an hour and a half. In the crisp fall weather, it's the perfect way to enjoy the last of the colourful leaves. Besides, either you believe in ghosts and you're going to be shaking in your boots from fear, or you'll learn some creepy historical facts about Edmonton!