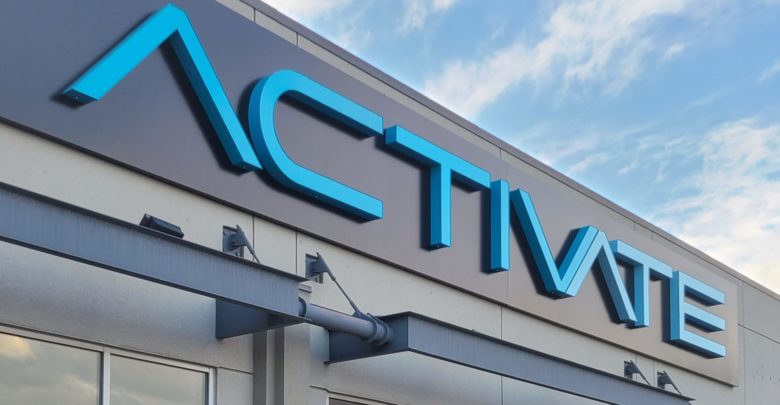 We've all watched spy movies and thought to ourselves "I could totally do that" and Activate Games is just the place to test your inner James Bond.
Activate is an active gaming facility that showcases a variety of themed play rooms. Their South Edmonton Common location, the first in Alberta, joins others in Ontario, Winnipeg, and various states in the U.S..
Every room is centred around one theme, and each of its games takes a new spin on the unique layout of that room. It seamlessly combines the visuals and feel of a video game with the thrill of an escape room.
Complementary to the game experience, you can compete on a nationwide leaderboard for the best score. If you do well enough, you can earn cool rewards — like merch and YETI mugs — just for playing.
Inside Activate, the stark white walls and video monitors gave the place a super futuristic look. When my friends and I first walked in, we were struck by how sleek the lobby was. The special high-tech wristbands they gave us provided access to the lockers and all the rooms, setting players loose to explore.
The games all have a Ready Player One vibe. The rooms had pitch black walls, with various lights illuminating the tiles on the floors and walls, buttons, and screens. In the 75 minutes we had to explore all that Activate has to offer, here were our top three rooms:
Laser
The objective of Laser — the toughest room we visited — is to duck through a laser-filled room and get to the other side. After a few rounds, the lasers begin to move around. Another game mode in this room has you pick up laser guns to shoot targets. It's a very intense room, and feels like Mission Impossible, putting players through a real trial of flexibility while getting hearts racing with flashing lasers at every step.
Mega grid
Mega grid is one of the coolest looking rooms: a large rectangular room, with a full grid of light-up tiles on the floor. The main game mode is a "floor is lava" situation. It was the first room we tried, and we enjoyed the very high energy playing experience. This room was described as the most popular by staff, and it's easy to see why: mega grid is fun, but also offers a real challenge to players.
Hide
Hide was by far our favourite room. It's a medium-sized square room covered in buttons, with a huge eye on each wall, and a large pillar in the centre of the room. To beat the room, you must hit the correct numbered buttons on the wall, in descending order. After a few seconds, one of the eyes will start to flash, and you have to hide behind the pillar before the eye opens and catches you. Racing from button to button is exhausting, but the threat of being caught by the eyes keeps you running. The other game modes for this room were fantastic as well, with just as much running for your life.
Activate is a really cool experience. Between the awesome rooms and just hanging out with your friends, you'll be hooked. It comes at a good price as well: only 25 bucks for over an hour of entertainment.
Though Activate is exhausting, it's also exhilarating. You'll definitely walk out of the building on sore legs, but you'll also be glad to have shaken off some of that post-pandemic, couch-potato lethargy. If you're looking for some weekend fun, Activate should definitely be at the top of your list. I know my friends and I will be heading back soon, with the hope of making it onto the leaderboard.