Arts & Culture
Campus & City
Childhood memories on scrip land: A conversation with Kiona Callihoo Ligtvoet
Using non-linear storytelling, Callihoo Ligtvoet tells stories about growing up with her moshom on scrip land.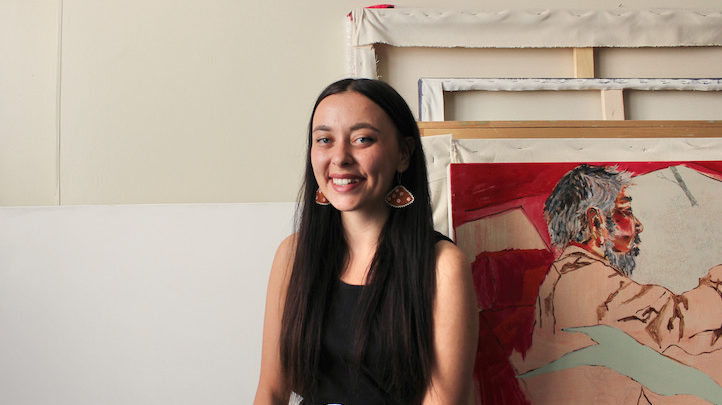 This is the fourth article in a four-part series about Edmonton's 2022 LGAAA Emerging Artist Award recipients.
With memories of growing up with her moshom and relatives on scrip land, artist Kiona Callihoo Ligtvoet uses her art to create a personal archive of those stories and experiences.
Callihoo Ligtvoet's work focuses on painting and printmaking and representing the emotions felt within her memories — whether they're grief and loss, or joy and belly laughter. Using non-linear storytelling allows her to freely express the "hotspots in [her] memory that are really precious."
These storytelling moments stem from Callihoo Ligtvoet's heritage, which is mixed Cree, Métis, and Dutch-settler. Although she does not make work that is related to traditional teachings to give her family privacy, she still bases her work on her childhood and memories surrounding it.
One of Callihoo Ligtvoet's ongoing projects is Seeking, which is in collaboration with Lan Florence Yee, an artist based in Toronto and Montreal. This ongoing work is a postering project, wherein the artists create text-based posters that are put up in their respective communities. Some of Callihoo Ligtvoet's pieces include posters that say "a ride to moshom's," "a non-white saviour??," and "an archive that has me in it."
"[Seeking] was during a time where we were both really trying to connect to a lot of the longing that we were feeling in our identities," she said. "So, we decided we wanted to make a really low-pressure project for ourselves that was just based on what we were seeking, what was fulfilling for us, what wasn't being fulfilled, [or] how to hope to be fulfilled."
By postering, Callihoo Ligtvoet's art has been perceived by a much larger community — one that she says has been circulating online "especially [by] other Indigenous people." Some of the posters were removed quickly, but the ones that managed to stay up yielded "really special" moments for Callihoo Ligtvoet.
"Some of [the posters] stayed up pretty long. And a year later, I went to check on one that's 'seeking a cabin by the lake for my mom,' and somebody had written on it. They had said, 'I hope she gets it.' And I thought that was really, really sweet."
Callihoo Ligtvoet's latest exhibition was at Latitude 53, and it was her first solo showing. Titled These Are the Things, the exhibit navigates intergenerational grief and longing, but also a thank-you for what was not taken.
"The title came from a poem that my mom wrote when she was younger," she said. "It was, 'these other things they took from us, they left us bare,' and that reoccurred through the poem and she says, 'these are the things they couldn't take.'"
"I wanted to make an exhibition on the things that they couldn't take, which [are] the stories that I had, the memories that me and my family have living on that scrip land still, caring for that land still, and caring for one another still."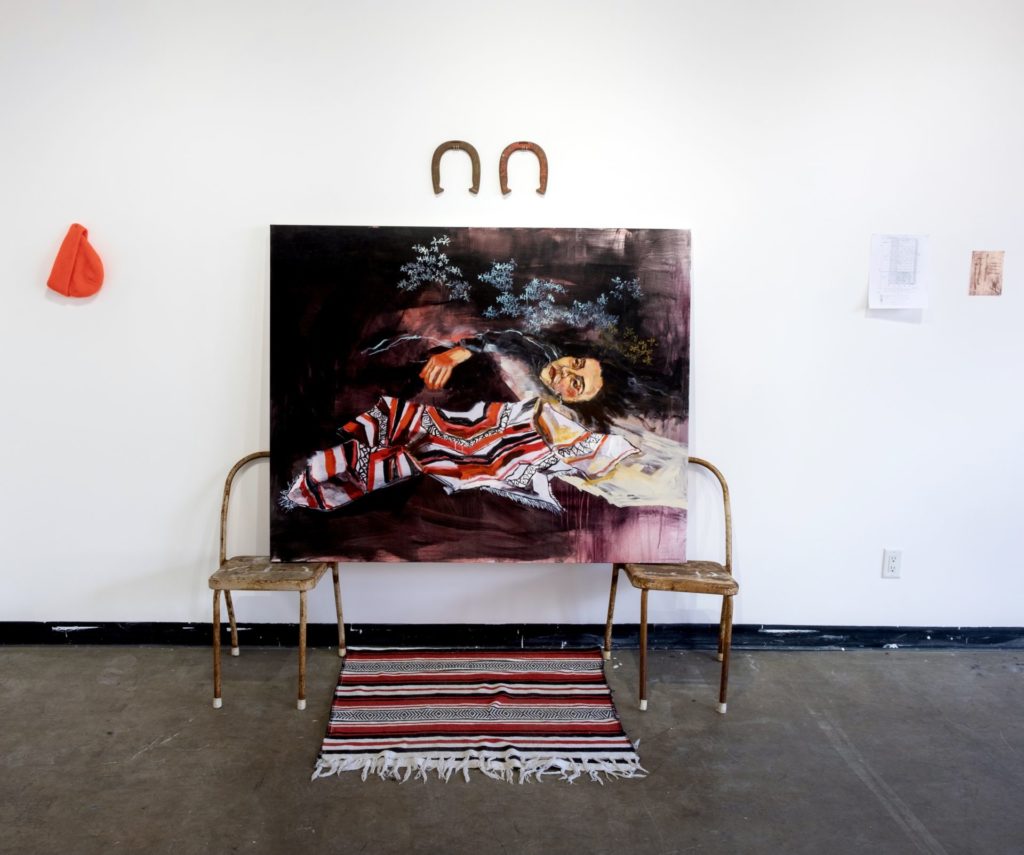 As a multidisciplinary artist, Callihoo Ligtvoet has recently also finished a graphic novel titled We Were Younger Once. Also told in a non-linear fashion, this graphic novel tells mini stories of Callihoo Ligtvoet growing up with her moshom and the visits that take her home today.
"I'm really excited to have [the graphic novel] out there and to show it," she said. "My family really collaborated on it with me. We got to share a lot of stories together … and it was fun to see how we each remembered some of these stories."
"[These memories are] really a bunch of really beautiful, little mundane things that we went through day to day that my memory really held onto and that maybe I don't necessarily always feel like I know how to share otherwise."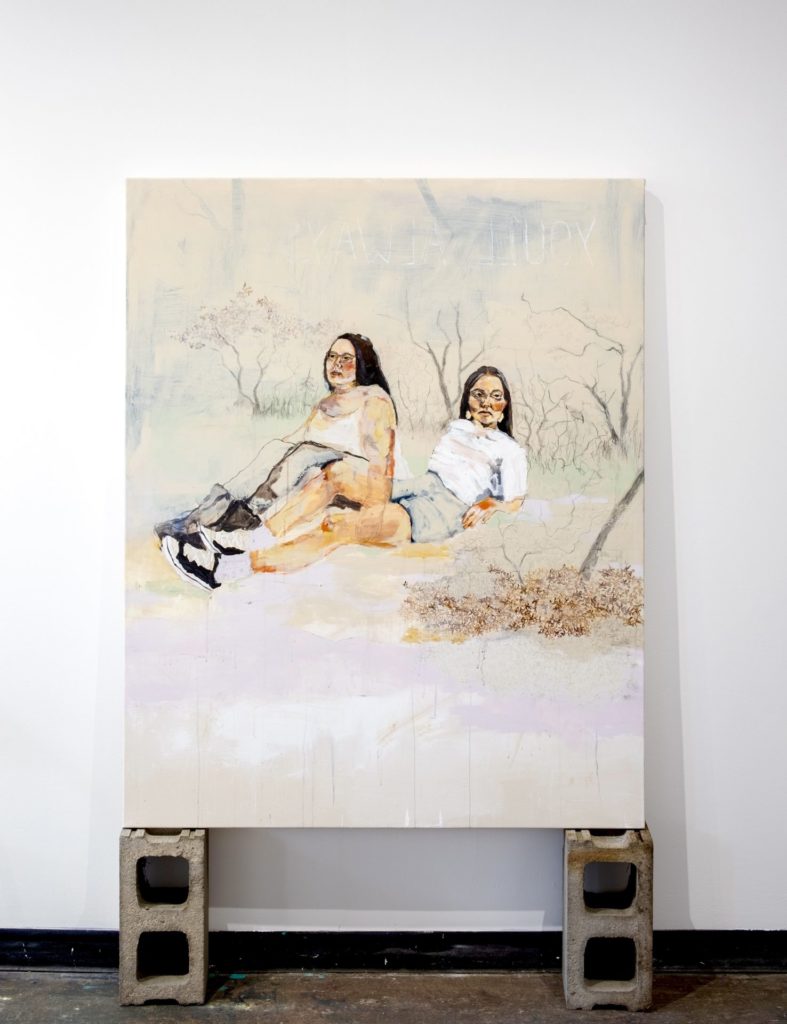 The graphic novel is just one example of how Callihoo Ligtvoet shows her multidisciplinary work. Working with multiple mediums allows her to "continue to be playful" by exploring other options and being unafraid to try new things.
Because her family is so central to her work and her life, Callihoo Ligtvoet plans to use some of the money from the Lieutenant Governor of Alberta Arts Awards (LGAAA) Emerging Artist Award to pay them consultation fees and give back to them.
"It was really validating to receive the call that told me that I will be receiving the award, and I told my family right away," Callihoo Ligtvoet said. "Now I get to afford to pay them more consultation fees because [what's] really important to me and my work is that I'm honouring their experiences too."
"Even though the work often comes from just my independent memories, I recognize that we all lived on that land and some of my memories touch their memories, and I'm really grateful that they support me so much in the ways that I want to tell stories alongside them."