Campus Life
News
U of A Botanic Garden launches for summer with new programs and facilities
The garden is offering more learning opportunities, reopened show homes, and new dining options.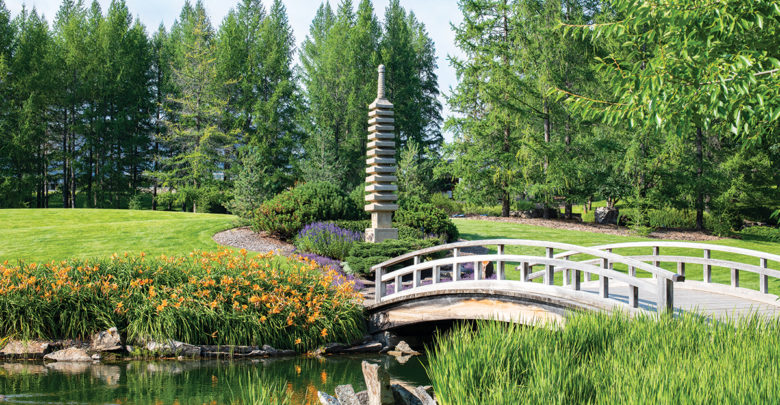 The University of Alberta Botanic Garden has started the summer season with new programs and facilities for guests. These programs and facilities include a new welcome centre, more learning opportunities, newly reopened show homes, and dining domes.
The newly built award-winning welcome centre was built along with a patio cafe.
Sarah Pratt, marketing and communications coordinator for the U of A Botanic Garden, said the welcome centre is a "beautiful building." 
"[The welcome centre] is one of the first things that you see when you come into the garden," she said. "It's a very warm, welcoming space."
The leaf-shaped centre remains on theme as part of the garden; it is designed to relax visitors with a botanical space as well as indoor and outdoor seating to enjoy food from the menu created by Joe Simpkin, the new chef, for the patio cafe. The new menu is focused on locally sourced ingredients and home-cooked meals.
The onboarding of Chef Simpkin earlier this year also contributed to the return of the Twilight Picnic Experience which will be starting again in June. The Twilight Picnic Experience is an opportunity to enjoy a picnic box during the evening in the garden.
"Whether it's date night, a birthday, or it's a friend's night out, to be able to go to [the Botanic Garden] in the evening and have this delicious picnic box while sitting on a blanket — it's just magical," Pratt said.
The garden is hoping to build on previous Twilight Picnic experiences by adding programming around the picnics such as music or guided tours of the show homes. 
Guided tours of the tropical show homes are also offered during some daytime hours as part of the garden's new daily Learning and Discovery Moments Program. This program is included in the admission cost.
This program offers guests a closer look on topics such as horticulture, wildlife and guided forest walks, natural dyes, chickens, and includes cooking demonstrations and crafts. Different topics are presented by University of Alberta faculty members, garden staff, volunteers, and community partners. Learning and Discovery Moments can be found on the botanic garden's website.
The Botanic Garden also has new and improved children's programming. Some of the experiences designed for children's enjoyment and learning include: pond catches at the learning dock, music, storytelling, various versions of hands-on fun, and weekly events.
For mushroom enthusiasts, the botanic garden is welcoming the return of the Mushroom Expo in August. The expo is held by the Alberta Mycological Society and includes foraging walks, tasting of mushroom recipes, mushroom identification, and displays.
Pratt added that the garden wants to improve the experience for guests and make it more interactive.
"We want to elevate the guest experience … because we know there's a lot of different audiences … [so] we want to be able to offer not only things to see, but interactive things to do."