Campus Life
News
U of A Black Medical Students' Association health fair encourages representation in medicine, informs Black communities
The event aimed to inform visitors about their health and encouraged Black youth to explore medicine as a career path.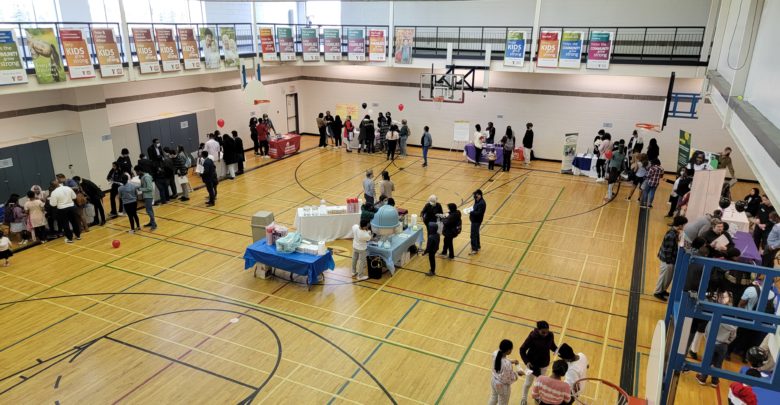 The University of Alberta's Black Medical Students' Association (BMSA) held a health fair featuring booths with health and wellness information for the African, Caribbean, and Black (ACB) communities. The BMSA also established itself as a resource for ACB youth pursuing medicine.
On April 30, the BMSA Health Fair was held at the Castle Downs Family YMCA. The health fair was a free event designed for Edmonton's Black communities.
The booths at the health fair covered topics such as obesity, women's health, mental health, pediatrics, and public health. The fair also featured booths from their sponsors.
Fisayo Aruleba, BMSA president and a second-year medical student, said the idea behind the event was to "engage the community and establish [the BMSA] as a resource."
Aruleba said the turnout for the event was "amazing" and that the BMSA plans to hold health fairs in the future.
"We actually had people waiting for us before starting the event; I had no idea how many people would show up," she said. "We had a lot of engagement … [a health fair] is definitely something we plan on doing more in the future."
At the event, BMSA members were able to mentor ACB youth in pursuing medicine as a career path. Aruleba emphasized the importance of ACB representation in health care.
"[The BMSA wants to establish] ourselves as a resource. If people wanted to reach out and ask us questions, ask about our paths to medicine … there's not just one way to get into med school, there's not just one way to be a physician, there's a variety of options, and we're hoping to provide that kind of information."
Aruleba elaborated on the underrepresentation of ACB in medicine she saw at the U of A.
"In my year, I'm in a class of [around] 164 [students and] there are three Black people in my class, the year before that there was only one," she said. "Having a health-care population that represents the larger population is something that is beneficial for the community as a whole."
The health fair also presented the community with food trucks, bouncy castles, henna artists, and face painting.
Aruleba said she was happy that the health fair engaged kids and people across all generations.
"It was very nice to see the community come together for us, to engage with each other, and have a good time."