Arts & Culture
Campus & City
Last exhibits of FAB Gallery season explore family inheritance
While 'a tension' invites viewers to examine trauma in their home spaces, 'PATTERN 2451' asks viewers what is valuable.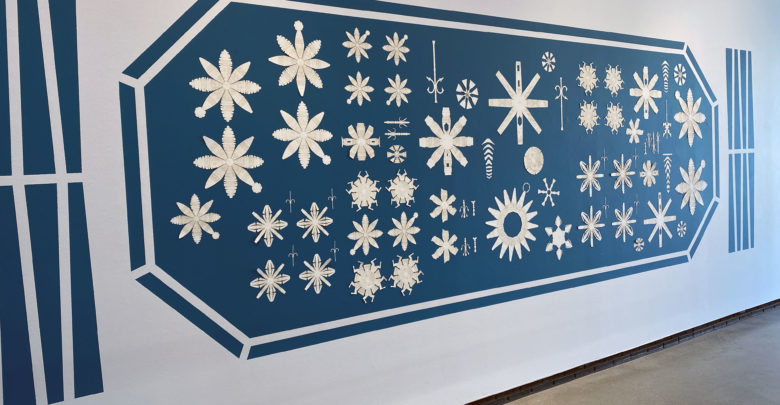 To wrap up the 2021 – 22 season in the Fine Arts Building (FAB) Gallery, Emily Hayes's a tension and Heather Savard's PATTERN 2451 explore the different ways that families hand down trauma and perceptions of value.
Both exhibits are running from May 10 to June 3, and show the work of two Master of Fine Arts (MFA) recipients. Hayes received her MFA in printmaking and Savard in intermedia.
Downstairs, Hayes's a tension exhibition features a variety of mediums, from rugs to wood to glass. The connecting factor between her pieces is the fact that they are found objects. Particularly striking in her exhibit are the three rugs. Two are found rugs, which have words cut out of their fabric, and the third sits alone in its own sectioned off area. The third is also significantly larger than the others, entitled "Visitor's Information" and reads "Where do I go from here?"
"Visitor's Information" is also the only piece that sits by itself, a decision that Hayes mentioned was deliberate.
"There was really only one piece that I felt had to be in a certain location, and that's the last rug," Hayes said. "I thought it was really pertinent that [Visitor's Information] be at the end of the exhibition just because I don't really have an answer to this question of 'What happens when trauma occupies space in this way? What does it feel like?'"
"I think that's such a broad inquiry and I think it's a question that I'm going to be looking at and dealing with for the rest of my life."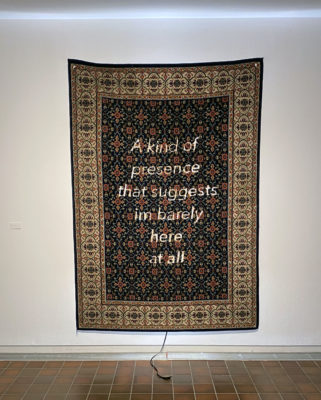 This rug is also the oldest in the exhibition, and Hayes commented that the art of rug hooking is a "revered skillset" in Newfoundland, where she's from. For Hayes, interacting with these materials means to impart a message within them.
"When I ask questions like 'Where do I go from here' — I thought about that a lot when I was younger, when I would have these difficult moments," she explained. "I specifically made that work … in the four months after [my father's] passing, and I was really dealing with leaving my family, leaving that space, and feeling like they were very vulnerable and being torn with that predicament."
"I started thinking about using an object that already existed so as to reference inheritance in some ways, thinking about what it would mean to receive something, and for me: to interact or intervene on top of it, to create my own message."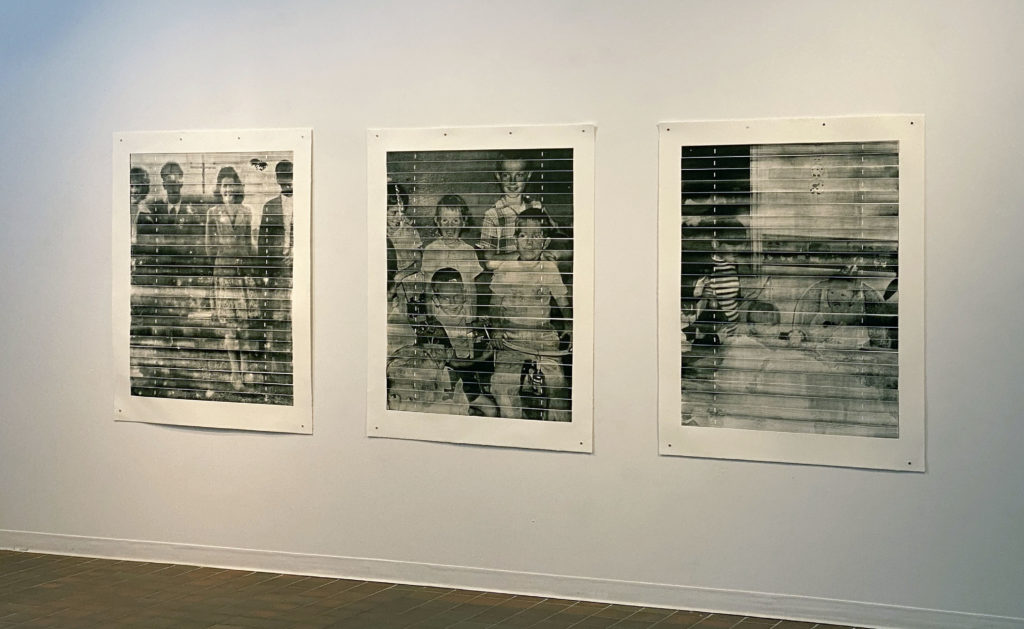 a tension is an exhibit that feels almost eerie, with multiple family photos faded, and erased on glass and wood mediums. Hayes's message about family trauma and the way it ripples across the surface of communities is presented in a series of familiar objects and their manipulation after being found.
"My goal in the exhibition is for people to be brought to a home space of their own so they can contemplate how traumas occupy their spaces and how it continues to impact them in their day-to-day lives," Hayes said.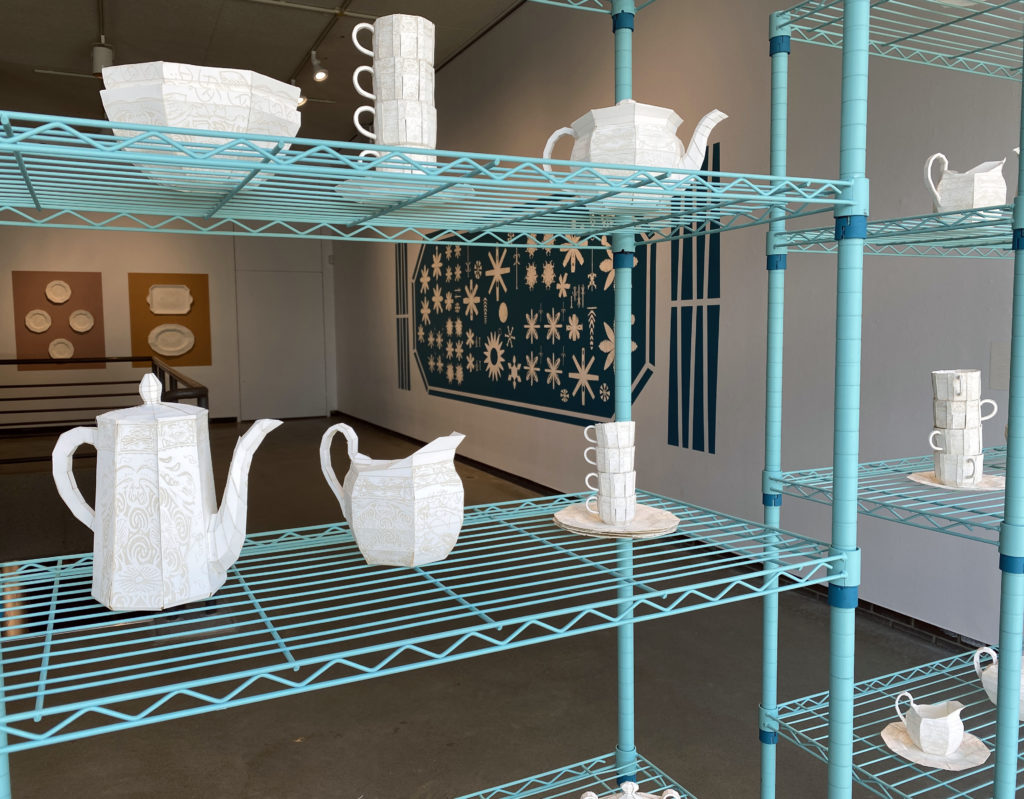 Upstairs, Savard's PATTERN 2451 also speaks to family inheritance, but in a different way. Her exhibit was based on a tea set that she had received from her grandmother, and the experiences of packing and moving away.
"[PATTERN 2451 is] responsive, and it's an exploration of value," Savard said.
Savard's exhibit is a variety of muted colours, which she described were derived from the tea set. Though the colours are not an exact match, their inspiration is drawn from her own life, much like the shelves that display intricately folded and painted paper models of everyday items. On the shelf included several sets of tea cups, bowls, and tea kettles.
In the second room of her exhibit, Savard's creations come to life in full colour, as the muted off-white of the paper fades away and is replaced by colourful paper castings of bowls and broken cups, and in the centre — various kitchen appliances covered in a colourful pattern. Again linking back to her grandmother's tea set, the pattern is derived from there.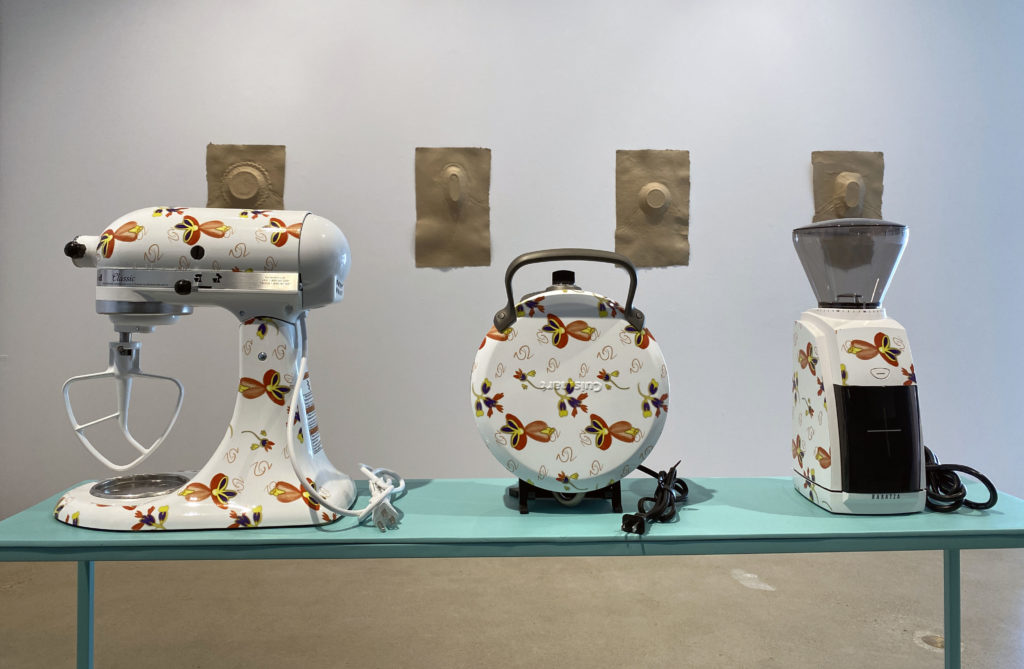 "I was thinking of what is valuable, and what is valuable to me in a similar way [that] my tea set was to my grandmother," Savard said. "I was thinking of displaying ornament on the kitchen countertop … things that adorn our countertops, [and are] kind of objects of luxury [that] are more contemporary."
PATTERN 2451 ultimately challenges visitors to examine how definitions of luxury come about, the formation of value, family inheritance, and the need to buy. Savard explained that for her, the idea of how others perceive value was an outcome of her exhibit that she appreciated.
"I've heard a lot of stories about [visitors'] grandmothers' tea sets and their china," Savard said. "Thinking about what is valuable to them, not necessarily [having] to align with … what I think is valuable, but hearing any other stories of value and packing and moving and what it makes them think of — I always really appreciate that."