Arts & Culture
Campus & City
Play Review: 'Rochdale'
In the backdrop of war, civil rights, and the space race, can Rochdale residents make their utopia work?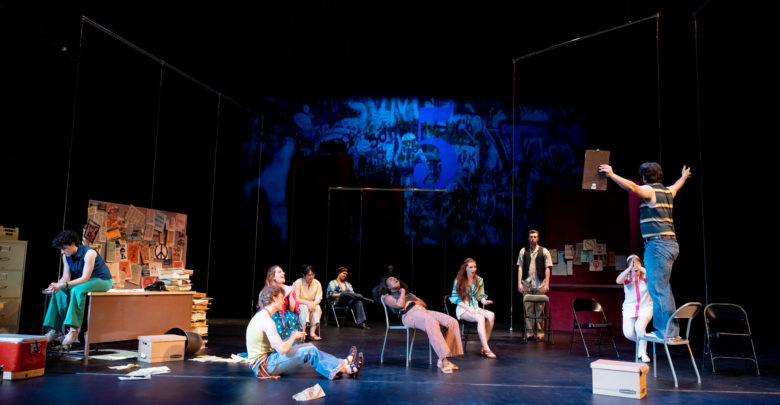 Rochdale is a play by David Yee based on the fall of Rochdale College, an experimental student-led residence that was meant to provide affordable housing and education. 
The play follows the elected manager of Rochdale College, Whitman (Dean Stockdale) after her two-month disappearance. Whitman returns to find the co-op residence in shambles. Alongside her (now ex) boyfriend Dennis (Ben Kuchera), her friends, and other resident family, Whitman has to figure out what to do about her dream falling apart before her.
In 1968, Rochdale College in Toronto was opened to battle against the capitalist society that we live in. This era of hippie counterculture was challenging the previously unquestioned society, and they were demanding change.
Rochdale College was the first free university in Canada, and had it been successful, most likely would have revolutionized education and living styles. Not only did the building have education opportunities, but it included health care, jobs and more — similar to the collective housing that has grown in popularity in recent years.
The play does a phenomenal job at exploring how this utopian idea was beyond its years. This idealistic idea was brought up during the years with immense changes: NASA was about to land on the moon, communism was considered a violent threat against democracy, and a war was happening in Vietnam.
Amongst all of this, these few people were able to band together and work towards a dream of co-housing not only where people could afford to live but also allowed for the creation of a family among the residents in their unique living conditions.
A plus? The play is hilarious.
The humour starts with Gerry (Colin Bluekens), one of the Rochdale residents, waking up in the office wearing not much more than a body harness. Ranging from slapstick humour to luscious satire, the play has something for everyone to enjoy. 
However, one scene stuck with me, and not for positive reasons. There is one scene where Whitman is searching the floors, and she runs into one of the tenants on the seventh floor. This is all well and good, until the tenant begins to explain how Whitman needs to help him out. He has lost his room to a drifter and he had to join the group of Hindu people just to get a room.
Him expressing this in an exaggerated way as a White man is what is supposed to make this scene funny, but the joke fell flat. Although there are other satirical scenes that challenge stereotypes throughout the play, this joke did not land.
The other satirical scenes in the play challenge stereotypical ideas of people, such as the ongoing joke where the tenants believe Mao (Grace Li) only speaks Vietnamese when she is also fluent in English. Mao's joke, however, is flushed out and eventually turned against the characters by Mao herself when she calls out the other tenants.
Unlike Mao, the Hindu joke puts Hindu people at the brunt of the joke, and neither the White character nor any of the other Hindu characters discussed again following this interaction. If the writer or director had chosen to leave out this scene, nothing would have changed or felt lacking. In fact, I believe the play would have been better.
Disregarding that scene, the play was well done. It was entertaining and well-timed. With students at the University of Alberta facing tuition increases once again, the concept of co-housing and free education is an illuminating idea for many (or at least for me). Perhaps though not as good as some of the previous plays I have had the chance to review, the play was enjoyable.