Institutional
News
Budget 2022 Q&A with Demetrios Nicolaides, Minister of Advanced Education
Minister Nicolaides answered questions about provincial investments, cuts to the U of A, and affordability for Albertan post-secondary students.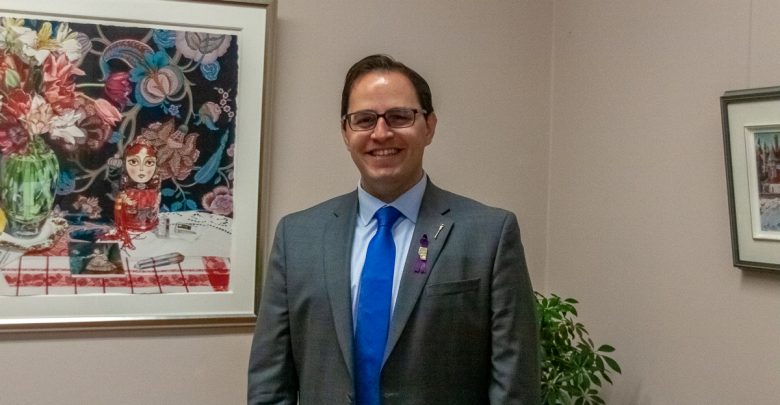 The United Conservative Party unveiled Budget 2022 on February 24, which included significant impacts for post-secondary education.
The Gateway interviewed Minister of Advanced Education Demetrios Nicolaides to ask about the investments in Budget 2022, the disproportionate funding cuts to the University of Alberta, and what increased enrolment will entail for those already enrolled in post-secondary education.
These interview responses were edited for clarity and brevity.
The Gateway: What are the key takeaways from this budget for post-secondary students and staff in our province?
Demetrios Nicolaides: We're now at an important turning point. We of course have been through a few years of a challenging economic and fiscal environment, but what Budget 2022 represents is a turning point where we are now in a position where we can begin to expand seats that are post-secondary institutions, invest more in student assistance to expand enrolment and improve affordability, and to invest in other initiatives and programs that will help students develop the skills and competencies that they need to succeed.
Q: How will the Alberta at Work program affect advanced education in Alberta?
Nicolaides: As part of the Alberta at Work Initiative, advanced education is receiving $235 million in new funding over three years. It's going to support student financial assistance and access to post-secondary education, connect[ing] education to jobs to help expand experiential learning, and work-integrated learning opportunities. But the lion's share of that is $171 million over three years to create 7,000 additional seats for our post-secondary institutions. This is really historic. It could potentially be one of the largest, if not the largest seat expansion programs in our province's history. It's a very unique and exciting time for post-secondary education.
Q: What kind of implications do you think this expanded enrolment will have for post-secondary education students?
Nicolaides: More and more students and families will be able to pursue post-secondary education right here at home. With these new dollars, we'll be able to expand spaces and some of those in-demand programs [will] hopefully bring down some of those admission criteria and help more Alberta students and families send their kids to school right here at home in our in our own province, which I think is something that we all want to see.
Secondly, I think one of the other important implications of the seat expansion initiative is that we will be expanding seats in in-demand programs. There's a lot of demand for new talent in areas like tech, aviation, computer science, health, and other areas. So by expanding more seats into these in demand programs, students can pursue with a greater degree of confidence, education in those areas and then look towards a successful career in in-demand fields.
Q: What are the government's plans to ensure that there is an adequate student to faculty ratio, even with this expanded enrolment?
Nicolaides: Our institutions will put that to work, to recruit faculty, to develop new programs, and to achieve those outcomes that we need. We will be asking our post-secondary institutions to tell us which programs they can expand, by how many seats, in what time frame, and at what cost. I would imagine a significant portion of these funds would go towards recruiting new faculty.
Q: What is Budget 2022 doing for students who are studying in areas that Alberta at Work or the expanded enrolment doesn't affect — say students who might be currently enrolled in a social sciences or humanities program?
Nicolaides: One of the things that is a benefit for all students in Budget 2022 has to do with additional support in student assistance and student aid. There's $12 million over three years to expand. We are also increasing [and] creating new bursaries for low-income Albertans to be able to access a post-secondary education and stay in post-secondary education.
Q: It seems like U of A is still bearing more than the University of Calgary, just in terms of percentages. Why has the U of A received a disproportionate amount of budget cuts in comparison to other institutions in Alberta?
Nicolaides: They received the most in funding than any other institution. Back in 2018-19, the University of Alberta received over $600 million in operating funding from the provincial government.
No two institutions are the same and nor should two institutions receive the exact same amount of funding. There's a lot of variety in demographics, student population, demographics, and even programming, and research activity. But we have looked at some of those comparisons, including with the University of Calgary. Some of the other variables that we used were size of the institution based on student population, but also size based on budget to help draw comparators.
They shouldn't have the exact same funding per student levels, but we worked to try and close those gaps because there was a very significant gap in funding between the U of A and the U of C.
Q: How will young Albertans be able to afford post-secondary education if tuition keeps increasing?
Nicolaides: At the end of the day, decisions about tuition increases are up to each individual institution. The government doesn't set tuition rates. To ensure that tuition rates do not increase too significantly, we have implemented a cap of seven per cent so an institution can only increase tuition by seven per cent this year and next year, they'll only be able to raise tuition to the inflationary measure of Consumer Price Index (CPI).
– With files from Mitchell Pawluk