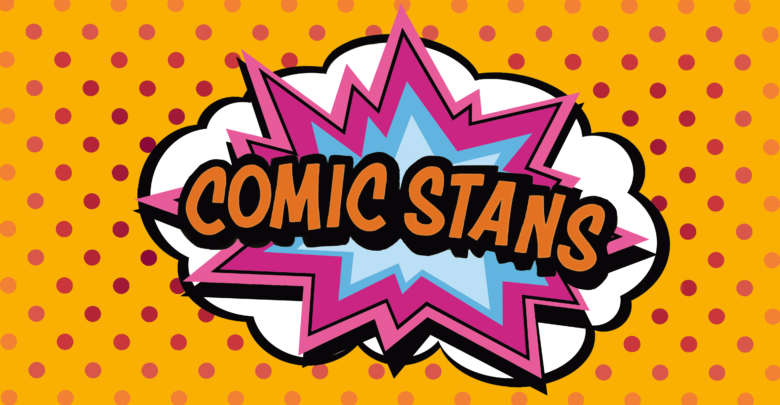 Welcome to Comic Stans! In this column we discuss comics and comic characters that represent different communities and answer questions about comics for those who might be interested in getting into the comic genre!
This week's comic is one of my personal favourite characters, America Chavez! 
America Chavez is the first Latinx, LGBTQ2S+ character to appear in Marvel comics. America was born and raised by her mothers in the Utopian Parallel, a parallel universe utopia in the multiverse. Her powers? Not only the classic super-strength and flight, but she can also punch holes in reality to traverse the multiverse.
After her mothers sacrifice themselves to save the Utopian Parallel, America goes off on her own to prove that she can be a hero like her mothers were.
Settling on Earth, America was taken in by the Santanas – a Latinx family in the Bronx. As one of Earth's superheroes, she takes up the mantle of Miss America, becoming the hero we know today.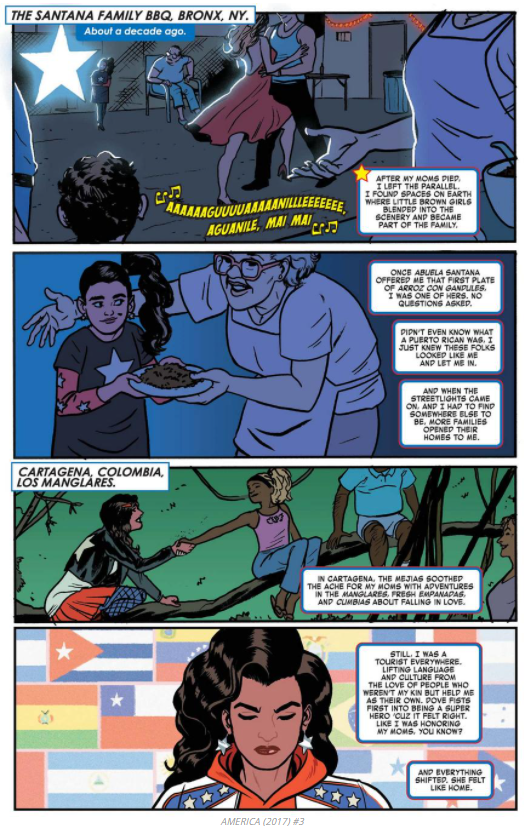 As expressed by Marvel themselves, "Even with all her immense power, America Chavez's greatest strength is an unapologetic love for herself and her found family."
Although America first appeared in Joe Casey's Vengeance run as Miss America dressed in a star spangled bustier, I prefer to think of her first appearance being in Kieron Gillen and Jamie McKelvie's Young Avengers in 2013. It's in Young Avengers where America's character begins to set in and become more than bustier and hair. She delves into her own character and sets up long-lasting relationships with other Marvel superheroes, like Kate Bishop.
In the last few years, America has grown into having solo runs of her own comics, including America (2017), and most recently America Chavez: Made in the USA (2021). The authors in each of these runs were both Latina.
Gabby Rivera, having written America, is not only Latina, but also a lesbian. In a TED Talk, Rivera discusses the importance of superheroes like America are to children and youth as they grow up.
Having grown up with Latina women in the Bronx, Rivera grew up hearing stories about women surviving in a world but she also knew the importance of being soft and caring, and being able to allow yourself to ask for help.
"[This] was the first thing that I wanted to give to America," Rivera said. "The thing that I wished I could have given to my abuelas and my tía. The thing that I'm trying to give my mom now: permission to be soft. Like, it's okay to sit in silence and go on a journey just to discover yourself and your pain will make you crumble, and you will fall, and you will need to ask people for help, and that's okay. And that being vulnerable is good for us."
This is what gives America her strength. Not only is she a hero with superpowers that allow her to fly and punch star-shaped holes in the universe, but she is also able to admit (although reluctantly) when she needs help. Yes, she is able to take on the world — the universe — by herself, but she doesn't always have to.
Have I convinced you yet?
You'll see America Chavez in the upcoming Doctor Strange in the Multiverse of Madness film coming this May!
Recommended starting place: Young Avengers (2013) by Kieron Gillen and Jamie McKelvie
This is a great starting point for new readers. Although it introduces quite a few characters, the comic run takes time to explore each one. This is one of the first Marvel comics I ever read, and it introduced me to almost all of my favourite Marvel characters to date.
Like I stated earlier, this is also the comic where America becomes her own character, sans sexualization.
Question of the month: How do you find a jumping-in point for reading comics?
The best way to jump into comics is to explore the options out there. Start looking at best of all time lists or a genre that you might be interested in. Goodreads, for instance, is a great place to start looking for book recommendations. It has lists made by various types of readers that will allow you to explore thousands of different comics.
If you're someone who enjoys podcasts, look into comic podcasts. Not only will you find podcasts that review and talk about comics, but there are also podcasts that do read-throughs for comics and talk about major points in comic continuums. Two of my favourites are B!tches on Comics and My Marvelous Year.
Once you find a character or series that you might be interested in, there are so many websites that provide reading orders and lists that all you need to do is type in "[comic name here] reading order" and you're sure to find a list for that comic.