Arts & Culture
Campus & City
Cultural Affairs
'The Great Whorehouse Fire of 1921:' a scorching reminder of the prairie identity
In the production, the two protagonists present two different ways of life and the morality of self-survival.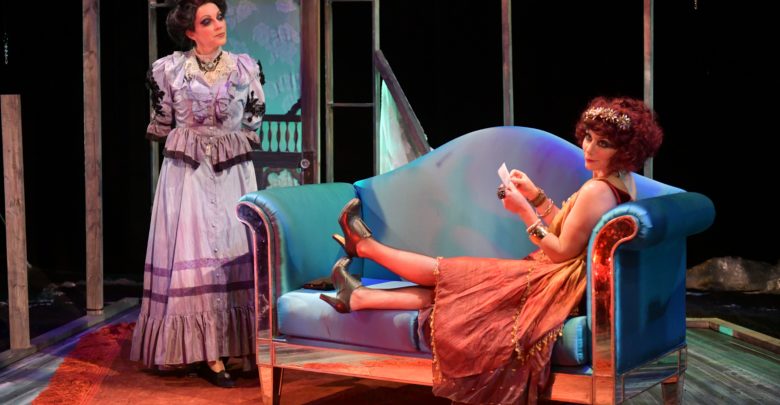 The Great Whorehouse Fire of 1921, written by Linda Edwards and directed by Trevor Schmidt, using devastating irony and empathy, reminds us that grey's existence on the prairie's moral palette is not a modern phenomenon.
Set in the mining town of Big Valley (around 80 kilometres southeast of Red Deer), the entire drama takes place as several conversations between Isobel Hastings (Sue Huff), a worldly madam who runs the local brothel, and Florence Smith (Twilla MacLeod), a local wife, who meet while one of Hastings' employees is giving birth.
The two are introduced as opposites, with their differences serving as both comic relief and as points of introspection. Their contrast is emphasized by the beautiful character and costume design, with Hastings in a flapper dress made of proud reds and Smith wearing a more modest blue frontier-style dress.
While the two have different tastes and aesthetics, they bond over their shared loneliness, finding solidarity, comfort, and help in each other. Each presents an alternative, valid version of femininity, and it's through this difference that the social system and order of the town is explored, allowing for a more complex image of early 20th century women.
Yet, while being fictional, this drama grounds itself in reality. At its core, the relationship between Hastings and Smith is one of an outsider and insider, and the play emphasizes how rigid and difficult to resolve a relationship this is. Hastings introduces Smith to the phrase "find the opportunity," teaching her how to make the best of a poor situation and change it.
The climax of the play finds Smith turning this against Hastings. The townswomen discover their husbands have been frequenting Hastings's business, and through accidental arson burn up Hastings's house and business. Threatened by Hastings's desire to pursue legal justice, Smith chooses the town and its security over their friendship, forcing Hastings out by reminding her how the justice system will have an easier time siding with the townswomen than with a madam.
Throughout the production, I found myself oscillating between the two characters, relating to both and unable to pick a clear-cut side. Hastings's expulsion is entirely undeserved, but Smith's need to preserve what little security and stability the town offers is not difficult to empathize with. Systems tend to resist change — something we've seen a lot in the past few years.
As Albertans, I think we have a certain pride in our ability and strength to endure hardships ranging from economic to environmental, with our pre-oil history of poverty and our bitterly cold winters. But how much of this strength comes from reacting to and rejecting the different, either in values or actions? It's very easy to defend your family when everyone else is an enemy; you'll never miss when you pull the trigger.
The Great Whorehouse Fire of 1912 is a Northern Light Theatre production playing at the Varscona Theatre until November 28, at which point there'll be a digital presentation.