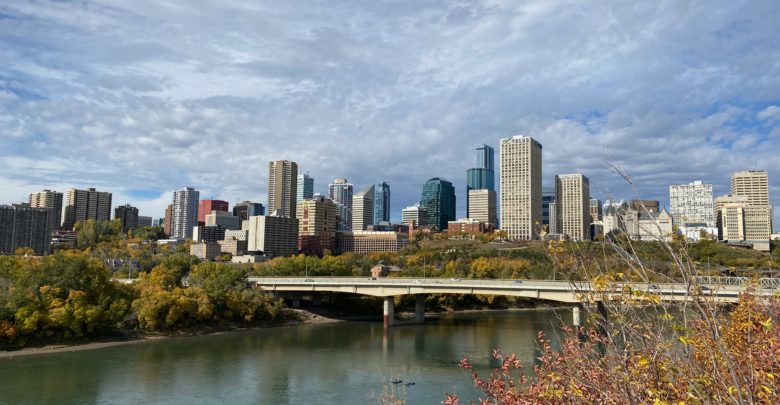 It can get boring recycling the same four fall activities every year. 
Corn mazes are cool and all, but how many times can you realistically get lost before it gets dull? That's why I've compiled a list of the top five unique autumn Edmonton activities! Ranging from date nights, to deep scares, to educational experiences, these activities will make this fall memorable and not even a little boring.
1. Indigenous Peoples Experience at Fort Edmonton Park
Fort Edmonton Park recently underwent massive renovations that added depth to all aspects of the park, but I particularly recommend the Indigenous Peoples Experience, which is a brand new exhibit that just opened over the summer. Considering September 30 marked the first National Day for Truth and Reconciliation, now would be the perfect time to take a walk through the different parts of this exhibit, which include an outdoor hike, a short film about residential schools, a museum detailing the history of Indigenous peoples in Alberta, and a shop with local Indigenous vendors.
Indigenous activists are asking Canadians to learn more about Indigenous history and culture, especially Canada's role in their colonization and genocide, and this is a perfect and accessible way to do so. The exhibit is run by Indigenous and Métis people who have a wide variety of knowledge and insight into all aspects of Canadian history. The event is open every weekend from noon to 4 p.m. until December, and tickets cost $20 per adult.
2. Halloween markets
Halloween markets combine two of the main fall highlights: shopping for Halloween memorabilia and farmers' markets. Go check out the variety of vendors, artists and prizes at these themed marketplace events with completely free entry — I mean, how can you refuse? Technically, by not having to pay to get in, you're saving money (which is the exact line of thinking I used to trick my partner into agreeing to this particular date idea). Between the two markets, there are seventy local vendors and artists specializing in all things Halloween. To add to the unique experience, each market operates exclusively at night, from 7 p.m. to 11 p.m.. Each market has a different theme, making it accessible to people with different tastes and interests; if one isn't for you, just hold tight until the next!
The first, a Pop Culture Night, is on October 15, with the second, ALT After Dark, on October 29. To boot, both are in the heart of Old Strathcona at the Performing Arts Centre on Gateway Boulevard, making it easy for students to get there after their last classes.
3. Edmonton ghost tours
For all the history buffs out there who also have a taste for the paranormal, Edmonton Ghost Tours is the perfect activity for you. There are five available tours for people of all ages and interests, including on our very own campus.
If you've ever wandered around the University of Alberta, peering into the old buildings and wondered who (or what?) might be haunting them, the U of A Haunted Hike will surely clue you in. Hint: there is definitely more than you would think. But, if a boozy tour is what you're looking for, the Haunted Pub tour will take you to all the bars in Old Strathcona that have their fair share of paranormal activities. However, if those two options sound too spooky, they also offer a ghost-free historical walk at the Mount-Pleasant cemetery. Starting at $16 dollars a ticket, these tours are the perfect inexpensive fall activity for the whole family.
4. Haunted hike
Everyone in Edmonton knows that there are two main horror houses around Halloween: DARK at Fort Edmonton Park and Deadmonton on Gateway Boulevard. Let me suggest a third, more unknown and even scarier option: the Haunted Hike. With prices averaging at $17, this spooky haunted adventure can't be beat. Located just outside Vegreville, the beautiful fall scenery is an added bonus of this activity. As well, for people who are unvaccinated, the Haunted Hike offers select days where anyone can go (October 1-10), as well as those for just the vaccinated (October 15-31). With timed tickets starting at 6 p.m. and ending at 11 p.m. on weekends, this is the perfect group activity or double date for Halloween.
5. Candlelight concerts
If being scared isn't really your speed but you're still looking for the perfect fall date night to wow your partner, candlelight concerts are the perfect event. At candlelight concerts, you will enjoy 60 minutes of music from a string quartet, can choose from a variety of alcoholic and non-alcoholic beverages, and enjoy the immaculate ambiance. There are a wide variety of genres available for all concert goers, ranging from pop culture to classical.
Located at the Pioneers Cabin, each concert has a romantic atmosphere and ambience that will really blow you away. Some of the themes they offer include Romantic Classical, Film Scores and Hollywood Epics, and Candlelight Halloween. As well, the events run through October and November, so there's plenty of time to pick which concert you want to attend! With tickets starting at $40, it's pricier than the fall activities listed above, but I can assure you that it's well worth it.