Arts & Culture
Campus & City
'Fever Land' delivers stunning production and a heartfelt message
Through examining the life of a lonely woman, Fever Land reminds us that life isn't easy but it should be enjoyable nonetheless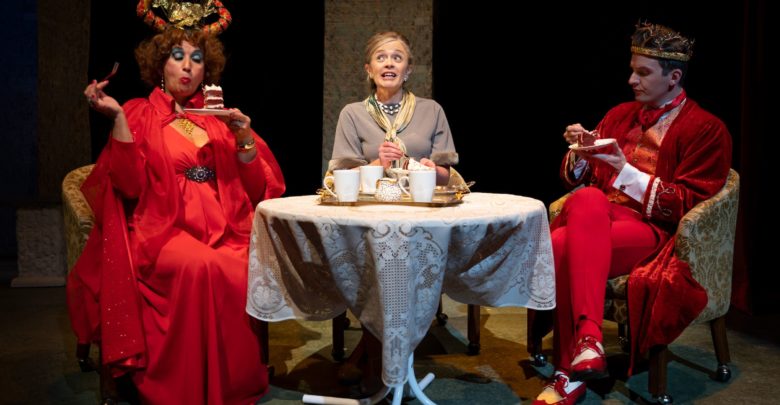 If you had the chance to revisit moments in your past, what would you visit?
Fever Land by Stewart Lemoine is a production presented by Teatro La Quindicina currently playing at the Varscona Theatre. The play follows Betsy: a single woman who lives in Winnipeg and spends her days teaching, going to choir practice, knitting, and reading — honestly a little too relatable if you ask me.
One day, Betsy needs to audition for her choir (one she has been involved with for years) and in the middle of her audition, she is visited by the Erlking, one of the rulers of the Fever Land realm. The Erlking takes Betsy back to his realm and together, they travel back in time to revisit the moments of Betsy's life that give her a thrill — curing her affliction through raising her temperature.
As the audience, we get to visit these various moments of Betsy's life that lead up to the beginning act of the play. We follow Betsy Locke (Jenny McKillop), the Erlking (Andrew MacDonald-Smith), Myrtha who is Queen of the Wilis (Cathy Derkach), Diane Tupper (April Banigan), and Clark Tupper (Garett Ross), navigating the affairs of a lonely woman with a lonely heart.
Playwright Lemoine has created a heartbreakingly beautiful production with a lovable cast of characters. Not only are the characters well written, the actors each fit the roles exquisitely, making the 90-minute play feel like only 30 minutes and leaving you wanting more.
Honestly, I wasn't sure what to expect when I first signed on for this play, but colour me impressed. This play hit all of the right places for me: comedy, romance, and tragedy. Betsy — the quiet, lonely, single Betsy — was a little too relatable for me, and the humour of this play was a little dark and twisted, but perfect for the average university student. The comedic metre was perfectly delivered by the cast. The interactions between the Erlking and Myrtha were executed flawlessly between MacDonald-Smith and Derkach, the phone calls between Betsy and Clark were such dry humour that you can't help but laugh, and the timely inserts of Diane were executed perfectly.
Of course, the romance and tragedy were just as prominent. You can't help but feel for Betsy. She starts off as an anxious and flustered woman who can't sing through an entire song. The audience follows along with her and the Erlking looking at how this shut-in woman had her life changed one day in a zoo (for better and for worse) through a love affair and friendship. McKillop does such a phenomenal portrayal that by the end of the play, viewers have felt everything that Betsy has: anxiety, love, excitement, heartbreak, vengeance, and more.
Although humorously portrayed, Fever Land shows the audience that life should be fun and enjoyable, but also reminds us that life isn't always easy. It should get your blood pumping and you should do the things that thrill you and make you excited to live. If you want to spend your days knitting and reading, then do that — but don't sit watching life go by while you watch the squirrels in the park. Take risks. Be okay with who you are. Love, and sometimes, hurt. But more importantly, remember that it's never too late to start living.
Go and watch Fever Land at the Varscona Theatre! On now until October 10.