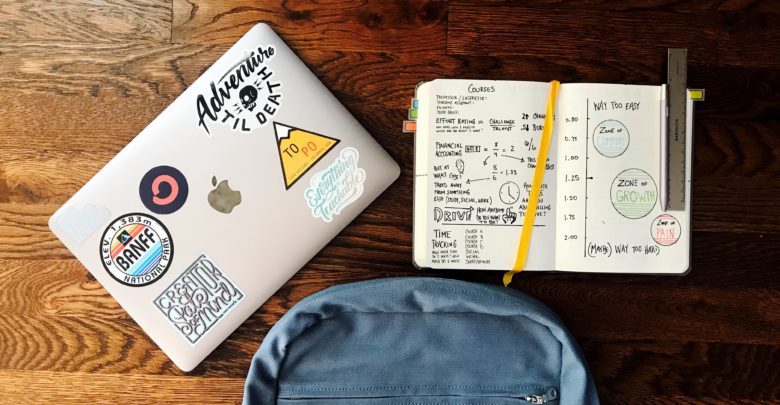 With the restrictions lifted and students safely back on campus, everyone is asking the same big question: am I truly ready for in-person classes?
Whether you are entering your first year or you are an experienced student, I have compiled a list of the top five back to school essentials to help make this transition back to campus a breeze.
1. COVID-19 kit
The first must-have that I know I will have in my bag, is a COVID-19 kit. This kit is a pouch that will go in my backpack and will be constantly supplied with fresh masks. I would say between two and three is a good amount for having as backups. Also having some sort of disinfectants like wipes, hand sanitizer or sanitizing spray in your kit is a good idea. Having this kit in your bag will help you be less stressed about easing back into on-campus learning while also preparing you to follow the rules from the university. I personally like the nylon cotton masks that stretch over your ear as you can bring them home and easily wash them and have them for the next day. 
2. Headphones
For me, the second school essential is a pair of headphones or earbuds to mellow out. Your brain needs a break just like your legs do, and having to go back to 8 a.m. to 5 p.m. classes will be overwhelming at first. Having those 10 minutes when going to the next class just to mellow out to your tunes gives you that mental break, making you refreshed for the next class. I recently got the Airpod Pros which have a noise-canceling feature that is amazing. It also has a transparency feature so you can switch between the modes and are able to listen to sounds around you. I regret not getting these prior to my first-year classes as I get distracted easily when it is noisy at home and they would have helped me focus.
3. Tools for taking notes
The third essential is a tool to take notes. Because of COVID-19 and having to do my first year of engineering online, I got myself an iPad with an Apple Pencil using the discount Apple provides during back to school. If you get a tablet, you never have to worry about grabbing a new scribbler when you are on the last couple pages for a class, nor do you have to figure out what to do with your notes after the semester is done. You can write notes in apps like GoodNotes or Notability and then save them using the iCloud drive. Another benefit to having a tablet for school is that you can download your textbook onto it and then use it as your textbook as well. In the long run, it can help you save a lot of money. If tablets aren't your thing, consider the Five Star Notebinders. They are thin, flexible, and come in handy with transporting your notes to and from campus. 
4. Writing supplies
Fourthly, writing supplies will be key this year as there is potential for more in-class assessments now that we are back in-person. Mechanical pencils, specifically the PaperMate Clear Points, are a personal favourite as they have grips and are really easy to refill for both the eraser and lead. Another good option would be the Pilot Frixion Ball Erasable Gel Pens. The nice thing about these pens is that you can write out your notes clearly in ink but you are still able to erase any mistakes afterward. For highlighters, the Sharpie Chisel-Tip pocket style highlighters are the way to go. They never bleed through to the next page and they have a selection of neon colours to help you identify those key points in your notes.
5. Backpack
Finally, the most important one: backpacks. For me, this is especially a struggle as my back always gets sore during those long days on campus and commuting from home to school. I have a Fjallraven Kanken backpack in plum, and my back no longer gets sore — bye-bye back pain! This company designs sustainable backpacks that come in many colours and styles. They help many students, including myself, by preventing back problems with the unique structure of the bag and straps that include a seat pad on the inside. This feature serves as a seat if you are sitting on the ground outside or when inside the bag, protects your back from the sharp corners of your books. 
With some kind normality finally coming to everyone this school year, it's going to be a tough transition. Long gone are the times where we could roll out of bed and log into Zoom University. But having these five must-haves will help you be prepared not only for this school year but for the new normal that is to come.