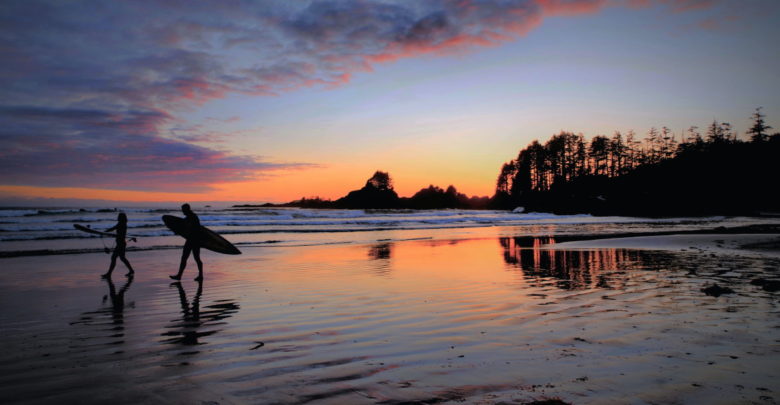 Tofino is a stunningly beautiful British Columbia district with sandy stretches of beach and ocean breezes that you just can't find anywhere else in Canada. It's hard to believe that such a gem is just a three and a half hour drive from Nanaimo and a quick 90 minute plane ride away from the frozen tundra we call home.
If you ever wanted to visit Tofino or are just tired of Edmonton and want a change of scenery, check out this quick guide to the oceanside paradise.
1. Getting to Tofino
The fastest way to get to Tofino is to take the one and a half hour flight from Edmonton International Airport to Vancouver International Airport, rent a car, take the B.C. Ferry from Vancouver to Nanaimo, Vancouver Island and then drive three and half hours west to Tofino. I flew with Flair Air since it was the most affordable option and cost me less than $250 for a round trip flight from Edmonton to Vancouver.
The best ferry to take is the Horseshoe Bay to Departure Bay ferry route which operates on a daily schedule. In the summer months, it is important to either arrive at the terminal early or purchase a reservation which guarantees you a spot on the ferry.
Once you arrive on the island, you will drive through the rugged Alberni Valley and rich green rainforests on your way to Tofino. Please note that the road is winding and treacherous at certain points — you can potentially plummet off of a 100 foot cliff and into the ocean if you're not paying attention. Cell service is also spotty at best and there are no petrol stations for the last 85 kilometres of the trip.
2. The Town of Tofino
Tofino is actually a part of the Pacific Rim National Park, but most people will stay in the town of Tofino when they visit.
Note that eating out in Tofino is extremely expensive. For example, a small meal can cost you upwards of $30, which is just crazy. If you are able to I suggest preparing meals ahead of time to save money. However, if you don't mind your credit card melting on you and choose to eat out, restaurant seats disappear shockingly fast around the dinner hour so it would be wise to book a reservation ahead of time. I had breakfast at The Schooner on Campbell Street and they had superb breakfast options.
3. A room with a view
There are no shortage of places to stay in Tofino, ranging from the posh Wickaninnish Inn on Chesterman beach, down to the affordable HI Tofino where you can share a hostel for around $30 a night. You can even go camping at one of the numerous campsites that adjoin many of Tofino's beaches, like Surf Grove at Cox Bay. 
I stayed at the Tofino Harbourview Motel which was a great balance between budget and location — I highly recommend it. Every morning I had a stunning view right into Tofino harbour and the motel was a five minute walk away from town. It was also super clean and the beds were extremely comfortable. If I were to go back to Tofino again, I would stay at the Harbourview motel again without a doubt .
4. Go surfing!
Tofino has a really cool and unique surf culture that world-renowned for its 35 kilometers of soft sandy beaches and year-round surfing. I had the opportunity to take group surf lessons with the Tofino Surf School on Main Street and they provided everything from my wetsuit to the surfboard. All I needed to bring was a towel.
We surfed at Cox Bay which by noontime is packed with hundreds of surfers. The instructors were really nice and would actually spend time helping you one-on-one if they saw you struggling — i.e. me. It was a unique experience to surf in the ice-cold Pacific Ocean and it certainly beats the West Edmonton Mall wave pool! 
5. Visit some of Tofino's beaches
Luckily Tofino's spectacular beaches are sandy, which means that you can walk them barefoot. At times it can feel so picturesque that you can forget you're in Canada and not Honolulu! The beaches that are worth visiting are Chesterman Beach, Long Beach and Cox Bay. You can sunbathe, go for a swim or host a beachside barbeque — the choice is yours! If you want to go for a hike inland, I suggest the Rainforest Trail and Radar Hill.
6. Go for a bike ride!
Tofino may be known as a surfing mecca, but in my opinion biking is equally popular there. Biking is green, affordable and provides a quick way to get around and see Tofino. There are also endless bike trails so it's easy to get around.
I rented my beach cruiser from the Tofino Bike Co for a day so that I could ride over sandy Chesterman Beach and explore the town in comfort. What was cool was that the beach cruisers for rent at the Tofino Bike Co were designed by hand in Tofino by a local engineer. They were built for Tofino's beaches and are low maintenance, rust free and belt driven.
7. Visit nearby Ucluelet
The district of Ucluelet is Tofino's forgotten sibling and it doesn't get enough attention in my opinion. If you want to get away from touristy Tofino and immerse yourself in island culture, you need to visit Ucluelet. It isn't as busy as Tofino and has nearly the same shops and services.
If you're lucky, you can watch the haunting, eerie fog roll in and swallow up the town whole. If you can, you have to visit the lighthouse and walk the trail that circles around it. Unfortunately the only downside is that Ucluelet is 30 kilometers away from Tofino, so it is a bit of a drive away.
Thank you to Nissan Canada and Roxane Barry for assisting me in providing me a vehicle for this article. Much thanks to Edward Marchese of J.S. Auto for preparing the vehicle for me. Further acknowledgements to Tessa Humphries from BC Ferries for helping schedule me a reservation.