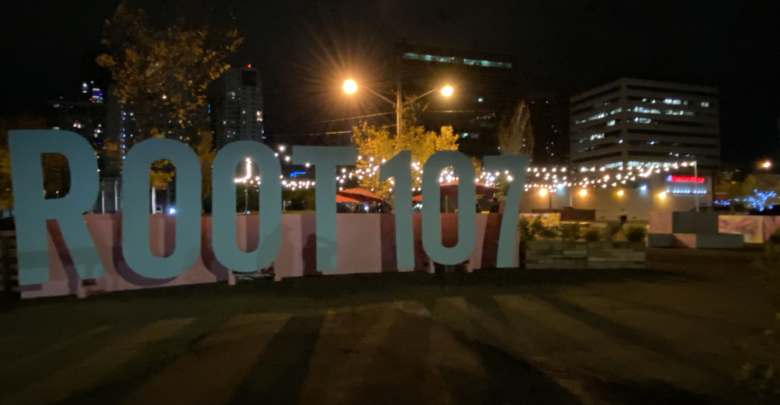 On 107 St. just between Jasper Avenue and 101 St. is a pop-up park called Root 107. It's an awesome little venue that has been hosting a bunch of events ranging from live music to food trucks. 
I went there with a friend of mine on September 25 to attend a short films screening hosted by the Edmonton Short Film Festival (shocking who hosted it, I know). Going there, I honestly had no idea what to expect; I had just worked a full shift, I hadn't had dinner, and frankly, I was exhausted. But my friend and I were committed to seeing some short films, and, honestly, it was worth it. 
By the time we got there it was close to 8:45 p.m. My friend and I fumbled around trying to find parking in the area but thankfully there was an abandoned parking lot maybe two blocks away; not bad for downtown Edmonton.
If I had to describe the park in three words or less I'd call it surprisingly serene. Illuminated by soft warm lights and enclosed by walls covered in street art, the place was shockingly calming. It was a quiet little venue that you wouldn't expect to find in downtown Edmonton. Even the giant baby-blue sign that welcomes you into Root 107 practically says "Hi! We're a hip little space where you can just chill." And I mean this in the best possible way.
I went there to watch some short films and I was blown away at how good some of them were.
The Witch of Odova Woods by Justin Cauti was an extremely eerie horror-like film with very little dialogue so one can just take in the amazing cinematography that was present.
My personal favourite had to have been Bunny, Don't Let 'Em Get Your Goat directed by Daniel Blanchard, an extremely funny slapstick-style action film about a man in a bunny costume training for the "the big day." It was awesome to see these films (all of which were Albertan-made) as they exuded a passion for filmmaking and with a venue like Root 107, these creators were able to show off their amazing talents.
This sentiment was very similar to that of Daniel Blanchard, who was actually there to talk about his film. When asked about the importance of a venue like Root 107 for events such as this, Blanchard emphasized the importance of visibility and accessible platforms.
"Root 107 is ideal for [events like] this because passersby can see, they can come, they can participate. It allows us to open up the arts community to a wider audience, [and] to the people at large," Blanchard said.
Root 107 was an extremely fun time. Even in my tired state I found myself enjoying it, from the environment to the films presented there and I absolutely recommend checking it out.
September 30 is the last day it will be around, where they will be having live music and food trucks coming in. Don't miss it!