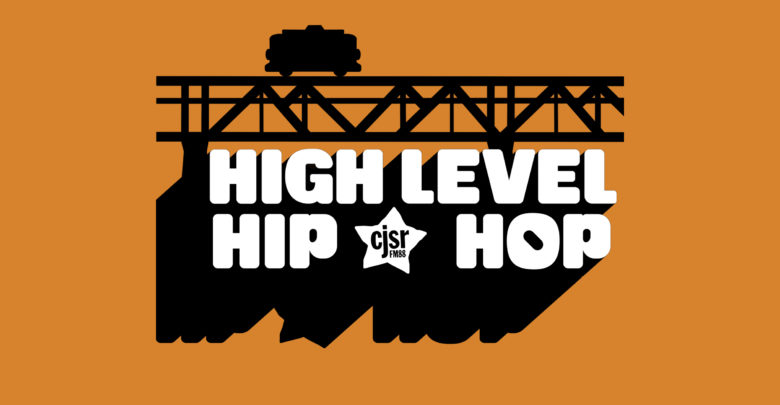 Edmonton's hip hop scene is a diverse one, and High Level Hip Hop is a podcast highlighting that. The podcast features conversations with some of Edmonton's hip hop artists, while also being produced by U of A alumni.
High Level Hip Hop is a six-part podcast series made through CJSR, the campus and community radio station. It launched August 10 with six episodes in total. The show is a snapshot of Edmonton's current hip hop scene.
Producers of the show include U of A alum Tom Ndezeki and Biboye Onanuga. Onanuga and Ndezeki host the first episode of the podcast, where they interview Edmonton legend Arlo Maverick. Later on, other hosts join them to speak to and introduce the guests.
The podcast is also the first one to have live music recorded at CJSR. Each interviewee recorded a fresh track for the podcast.
Biboye Onanuga is the show's main host. He is also the Production Intern for the podcast, and the drummer for local group Good Information. Good Information plays music that marries jazz and hip hop — one reason why Onanuga is familiar with Edmonton's hip hop scene. Through playing for this band Onanuga has met various artists, including the podcast's first guest — Arlo Maverick.
Onanuga explains that the podcast is a chance to educate music listeners. Like podcast co-host Tom Ndekezi describes, "hip hop doesn't just live at the top of the charts."
"[We'd like to] tackle the perception of hip hop in terms of its topical diversity … When people start listening to people who aren't on the top of Billboard charts, they realize that there's a bunch of different things spoken about in hip hop and there's a bunch of different stories to be told," Onanuga said. "It's a medium of expression that doesn't determine what the content of the expression will be."
High Level Hip Hop illustrates the diversity of the hip hop scene, while only interviewing six artists for its first season. The process for choosing artists to be interviewed was based on the currency of their musical history — making the podcast a relevant and true representation of Edmonton's hip hop scene today.
"We wanted to make sure we feature femme artists because there are femme artists in Edmonton. We wanted to make sure we had older artists like Arlo, and brand new young artists," Onanuga explained. "The common thread is that all the people on the list are currently active and actively releasing music."
With guests like Arlo Maverick and PLEASEBENiCE being featured in the podcast's first launch, High Level Hip Hop shines the spotlight on some of Edmonton's artists, but not all. Onanuga expressed an interest in further seasons, where the podcast could interview artists who didn't make the cut in the first season, or branch out to documentaries.
"Some of the artists who were featured … were already working on a hip hop documentary of the hip hop history in Edmonton. [The documentary will] present less so a snapshot of the scene, and more so the history of the scene," Onanuga said. "If not, we're stoked to have more conversations with all of the other artists that we didn't get to include. Especially me, because a lot of my friends were on the list."
As COVID-19 restrictions are peeled back, live music is also returning. Onanuga also stressed that fans of hip hop should see and support their favourite artists in person.
"It's a very supportive scene. I think people are just really excited to see hip hop based in their own city so people come out to things," Onanuga said. "[I want to] encourage people, now that we're somewhat in the clear [of COVID], to go to an outdoor show … Now that a lot of [artists] are performing all the time, don't just listen to the music on the internet. Go see them in person."
High Level Hip Hop highlights the local hip hop scene with the help of resident hip-hop enthusiasts. If you're interested in learning more about local hip hop, this podcast is the perfect place to start. With a cast of amicable hosts and knowledgeable guests, this podcast is sure to please any music-enthusiast looking to broaden their horizons.
Check the podcast out on Spotify and Apple Podcasts