Campus Life
News
Federal Election 2021 Meet the Candidates: Liberal Hibo Mohamed
What asked what single issue is most important to her, Mohamed mentioned addressing hate crimes and racism.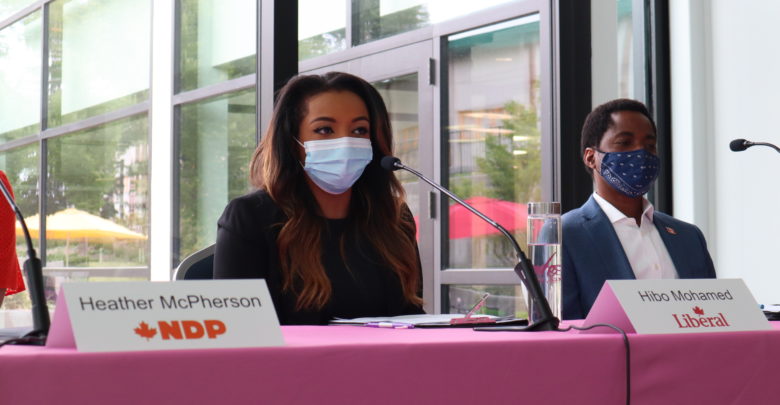 Meet the Candidates Federal Election 2021 edition is The Gateway's series of interviews with candidates running in Edmonton Strathcona. This is the second of five articles.
With the September 20 federal election just around the corner, The Gateway sat down and interviewed candidates from the major parties running in Edmonton Strathcona electoral district.
Hibo Mohamed, Liberal Party of Canada candidate for Edmonton Strathcona, was interviewed for the second installment of this series.
Mohamed was born in Somalia, settling with her family in Edmonton 14 years ago. She graduated from the University of Alberta in 2020 with a bachelor of arts degree in political science and art & design.
The Gateway spoke with Mohamed to find out more on how, if elected, she plans to represent the residents and students of Edmonton Strathcona in the House of Commons.
Responses have been edited for clarity and length.
The Gateway: Why did you decide to run in this election?
Mohamed: I never really saw myself as a politician; I volunteered in my community for quite a long time and when I got involved in politics, I saw politics as a great way to further serve my community. I never assumed that I would ever run for office, to be honest. I decided to run this year because it's really important to have a voice at the table when so many decisions are being made. I don't think there are enough young people in government, and people of our generation and younger are going to be the ones who foot the bill. I want to have a voice.
The other reason that really pushed me over the edge is [because of] all of the hate crimes in the city. It's been absolutely horrible the last three to four months. It's been pretty horrible and I feel, to be honest, quite fearful. I feel like it has changed the way that I and my family live our lives… I believe that we have a lot of great elected officials, but part of the reason why racism has not really been fixed is that there are not enough people of colour in government.
Prosecuting for hate crimes is incredibly complex and sometimes just easier to prosecute the crime, but I believe that to make it easier to label something a hate crime and to be actually able to prosecute it is incredibly important and effective. That will make it clear that this behaviour is unacceptable and that we acknowledge there is a pattern of it.
What is the single issue that is most important to you?
There's a lot of issues that are important to me because I think they're all interconnected. The biggest one is addressing hate crimes and racism. Hate crimes are the most extreme and most violent form of racism, but then there [are] other ways people do racism — in housing, [in the] work [environment], when [individuals] seek health supports, etc.
One way for me to address that is child-care. I think it's really important to give people the space in their life to think. If someone is stressed out and incredibly financially strained, they might not be in a position to want to report a hate crime just because they'll think, 'Oh, I don't have money. I don't have a lawyer, and I have much bigger pressing problems than this.' 
When it comes to housing, I can tell you from my point of view, there's a lot of racism in housing and the housing crisis has been its worst. I don't want to just deal with the violent hate crimes, I want the root of the issue to be dealt with. So having a more equal, more prosperous society is really important, especially [when] we will be building a lot during this recovery. We have the ability to push forward a lot of progressive issues forward and it's really important that we have a voice in that.
What is your party doing to support post-secondary institutions, specifically considering financial cuts they may be facing?
Campus Saint-Jean is supposed to be funded by the federal government and the provincial government. The provincial government has not been paying its fair share, so the federal government has stepped in for the school year and has been footing the bill — 95 per cent of the operation costs. Next year [the federal government will be covering] 75 per cent and the year after 50 [per cent].
The other thing is I've been very happy [about] when I was a student was low-income grants, and I was very happy that those were increased during the pandemic. My last semester before graduating was the COVID-19 semester; halfway through that semester everything got shut down, and I was under a lot of financial pressure. I was really happy with the planned emergency student benefits.
Right now the government has increased low-income grants and we have introduced middle-income grants. We closed student loan interest for federal student loans interest for six months, and then that was extended from six months to two years. A re-elected Trudeau government will make sure that federal student loans have no interest like forever — [a Trudeau government would] permanently eliminate that.
My favourite policy that we will enact as a re-elected Trudeau government is we will bring on 1,200 mental health counsellors to make sure that every single post-secondary institution in the country has as many counsellors as we need and that will be free of cost. Students don't have to pay for it; they don't have to worry about insurance.
Coming out of COVID-19, I'm sure a lot of people are stressed —  a lot of financial stress, feeling like they've lost out a year, half a year of their life; maybe they haven't done well in school — whatever problems they've had, a lot of people have it much worse now, so I really do believe it's important to have mental health as part of health care. As a member of parliament, I will absolutely advocate for that and more.
When looking at student affordability, there are lots of components to consider, including food and job insecurity, debt, housing, etc. If elected, what component would you prioritize when supporting students?
It's a very complex issue. I want to deal with the roots of this issue. Housing is an issue and that is why my party has invested a lot in housing. In 2017, the federal government established the housing strategy, and that is the first time any federal government has really addressed any kind of housing issue.
As a part of our plan, we will have rent-to-own; we will have tax breaks, [which] will make it easier for people under 40 to own a home; we will introduce a buyer's bill of rights to make it easier for people to fight for their rights but to also eliminate really horrible things like blind bidding. In that legislation as well, equality and anti-racism are also a part of that. That will absolutely benefit the whole country, but also young people and students. When they come to the job market, the Liberal government has invested a lot in renewable energy to move the whole country forward into a green economy. The government has invested billions of dollars in every single industry to help the recovery and will continue to do so. That will create a lot of job opportunities. 
When it comes to health and mental health — because I do believe that this is a part of it, I don't think people can really go out there and do their best or make good decisions if they feel they are not well. Investing in health care and mental health is also something that's going to help people and all of the initiatives that I talked about earlier to help students. The elimination of the federal student loan interest and the introduction of the low and middle-income grants… will help students when they're in school and after. After they graduate, we have invested a lot in housing, have invested a lot in the green economy, and also we have a child-care program, so if people choose to start families, they wouldn't have to choose between having a family and financial security.
How will your party work to concretely address climate change?
When Jason Kenney did not do his part and clean up the orphan wells, the federal government invested historic amounts into cleaning the environment. We have started an initiative to help retrofit public buildings to make them more energy-efficient. We will establish a $2 billion Futures Fund, which will help Alberta and also other provinces transition forward to a green economy in a just way. Part of that funding will go to addressing systematic issues such as pay inequality and to address the reality that right now in the oil industry.
We will make sure that in this new, green industry, everybody is represented — that people feel equal, [that] it feels like racism and pay inequality are eliminated.
How will your party concretely work to support Indigenous communities and students?
Colonization is something that has taken a long time to take root and it is the shame of our country. In my opinion, there's nothing that anybody can do or say that can erase that or change that, but what I do think it is important is for all people to reconcile. Truth and reconciliation are critically important to me. As part of the COVID-19 recovery plan, the government has invested a lot in Indigenous communities and will continue to do so. 
I acknowledge that there has been a lot of promises that were not followed through, not just by my party but other parties, and also parties that never won government. All of us are part of the problem and it's really important to acknowledge that the federal government under many [different leaders] has made decisions for Indigenous communities and that is not okay. It's incredibly important that Indigenous communities make decisions for themselves. My party has a platform that wants to invest in Indigenous communities, infrastructure, education, and also to invest specifically in women.
The U of A is an institution that was created over 100 years ago, and at that time there were residential schools. I always think about the fact that when I was younger, like when I was in school, I never had to deal with any of the horribleness and the trauma and the death that Indigenous kids had to deal with. It's really important to me that we invest a lot in truth; I want to know what happened and I also want justice.
Given that the U of A does have a French-speaking campus, Campus Saint-Jean, what would your party do to support French Canadiens?
The federal government has invested a lot in Campus Saint-Jean, and we are supporting the campus even though Jason Kenney is not doing his part. We paid 95 per cent of the official cost for this year, and [will pay] next year [by] 75 per cent, and [the] year after is going to be 50. If Jason Kenney does not do his part, the federal government will continue to support Campus Saint-Jean.
Something that is currently important to me is to make it easier for Black Francophones to come into the country and to be Canadians. There has been a lot of focus on making sure that English Canada is very diverse, but it's also important to have Francophone communities that are incredibly diverse, cohesive, and strong.
If you were to choose one initiative or area of policy, what makes your party stand out from the rest?
I think that we have the highest-rated, most feasible, most credible climate plan. A lot of scientists, people who are outside of [the] Liberal party, who are independent, have rated our plan to be the best. It's incredibly ambitious, it's incredibly amazing, and I'm incredibly proud of that. We have done well in the past and I want to do more. Climate change is the single biggest issue of our time. Of course, there are institutional issues that exist within climate change; people of colour are the ones that deal with the brunt of floods and all those issues. So it's important to me that we address climate change. It is also really important to me that we have a well-written, ambitious plan.
If you were to steal credit for any great piece of art/song/film/book/etc., which one would you claim?
That's actually a really easy one. I'm an artist, and the painting I've always loved is "Starry Night." I know it's cliche, but I've always loved that it was in pastel, and it was layers and layers and layers of paint. "Starry Night" by Van Gogh — that one. Absolutely.