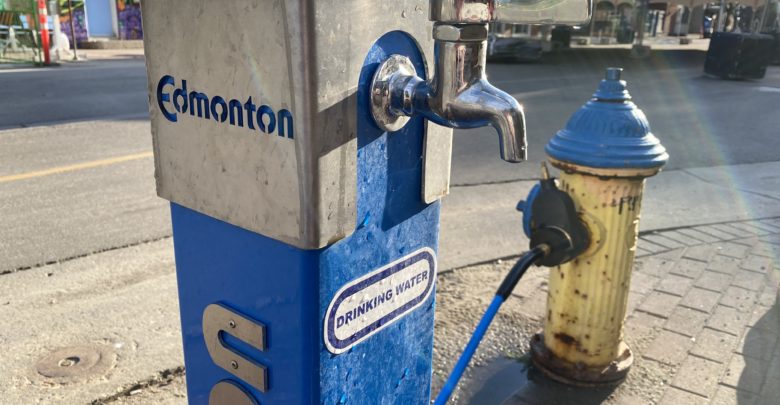 The City of Edmonton launched a new pilot program in July where they convert fire hydrants into water stations. The project, which improves access to a basic necessity, has significantly helped Edmontonians beat the heat and the city should consider making the program a permanent staple in the summer.
The project started as a way to give free water during the summer for those who don't have access to it. There are five stations across Edmonton that began operating on July 14. Anyone is able to fill up their water bottles from these stations
Since the project is a pilot program, these water stations are not a permanent fixture in Edmonton — they will only be here until October 31. Edmonton is not the only city to have taken up this new initiative. Many other cities across the country have also created similar fire hydrant water stations including Calgary, Vancouver, and Montreal. 
Edmonton does not have enough public water fountains and in the past people have taken to social media to express their displeasure about the lack of access to water. This new water station project is an excellent addition to our city and something Edmontonians have been asking for.
It is also a great way to help vulnerable people who lack access to a basic necessity. Particularly during a summer as hot as this one. Next summer is also likely going to be just as hot — if not more. Intense heat waves are likely to occur more and more often. Most Edmonton residents are not used to the unprecedented heat we experienced this summer — myself included — so having access to drinking water while outside in the scorching heat would be a situation that many people will appreciate.
Having water stations where individuals are able to refill their water bottles also encourages people to bring their own reusable water bottles with them. This can lead to a decrease in plastic water bottles being purchased. We get to help the environment and have water that is easily accessible — two wins. 
The implementation of these water stations has been one of the best decisions the city has made. This is definitely a project that money should be spent on and who knows — it might even encourage other municipalities across Alberta to adapt similar solutions. It would be ideal if the city decides to continue this project and let it become a permanent fixture in Edmonton.